(Field Trip Fridays capture interesting, fun, food-related and/or fishing adventures that I like to share with you!)
2015 was the first time I heard about Sarasota County's selection of Orphan Train for its "One Book, One Community" effort, sponsored by the Library system and the Historical Resources department (you might have a similar program in your area).  It's a community-wide project in which residents are encouraged to read the same book, concurrently, and come together to discuss it (maybe meet the author, too).  Chosen books are usually those that acknowledge some form of commonality, encourage discussion, and promote a shared love of reading.  It's a wonderful concept, and a great opportunity to connect folks.  I love that.
Recently, while at a local plant sale, I was happy to meet a smiling gal wearing a floppy hat and handing out flyers about the "One Seed" program.  Mindy Hanak is the Community & School Gardens Coordinator who oversees the community and school gardens throughout Sarasota County.  Turns out that in late 2016, her team at the University of Florida's Institute of Food & Agricultural Sciences (UF/IFAS) Extension & Sustainability division wanted to create an edible gardening experience that could be shared by an entire community, simultaneously, and the "One Seed" program was born.
So how does it work?  Each Summer, Mindy's team gathers suggestions and votes from the community about which crop to grow and they announce the winner around October (a good time to start crops in southwest Florida).  Then they get the seeds out into the community, and Master Gardeners offer classes on how to grow them.  All folks have to do is get the seeds, attend a class (optional), plant them in a backyard plot/raised bed/pot on the patio, care for them and enjoy their harvest!
This year, the selected crop is Red Russian kale (see top pic).  I love it because it's mild, tender and sweet (moreso than common Curly kale).  It's delicious raw or cooked, and especially lovely in fresh salads with its beautiful blue-green colors.  It's also easy to grow in southwest Florida, and can be harvested as early as 25 days (i.e., 'baby kale') or picked at full size.
Seeds for 
One Seed
 can be found at the
Extension Office
on Clark Road and at County libraries.  To participate, check out the website, keep an eye on the calendar for classes (there's one coming in early November), and watch for blog/social media posts.  They've also started a seed library where you can drop off seeds for a variety of crops and pick up others (it's in the early stages, too, so if you're interested, please get in touch with the office) — "seed saving" dates as far back as civilization itself, a way to share a harvest with a community and ensure longevity of crops.
I'm planting the kale seeds in my own garden, which is coming along nicely: 6 varieties of tomatoes (including 2 heirlooms), sweet potatoes, sweet & hot peppers, collards, broccoli, and healthy bunches of rosemary and lemongrass; a little Elderberry bush, Beautyberry, more butterfly attractors, Muscodine grapes and pineapples (including my first ornamental/baby pineapples!); chard, beets and more herbs will get going when the heat settles down.  Oh, and my little Meyer lemon tree has 6 lemons SLOWLY turning yellow/orange.  Here are a few pics: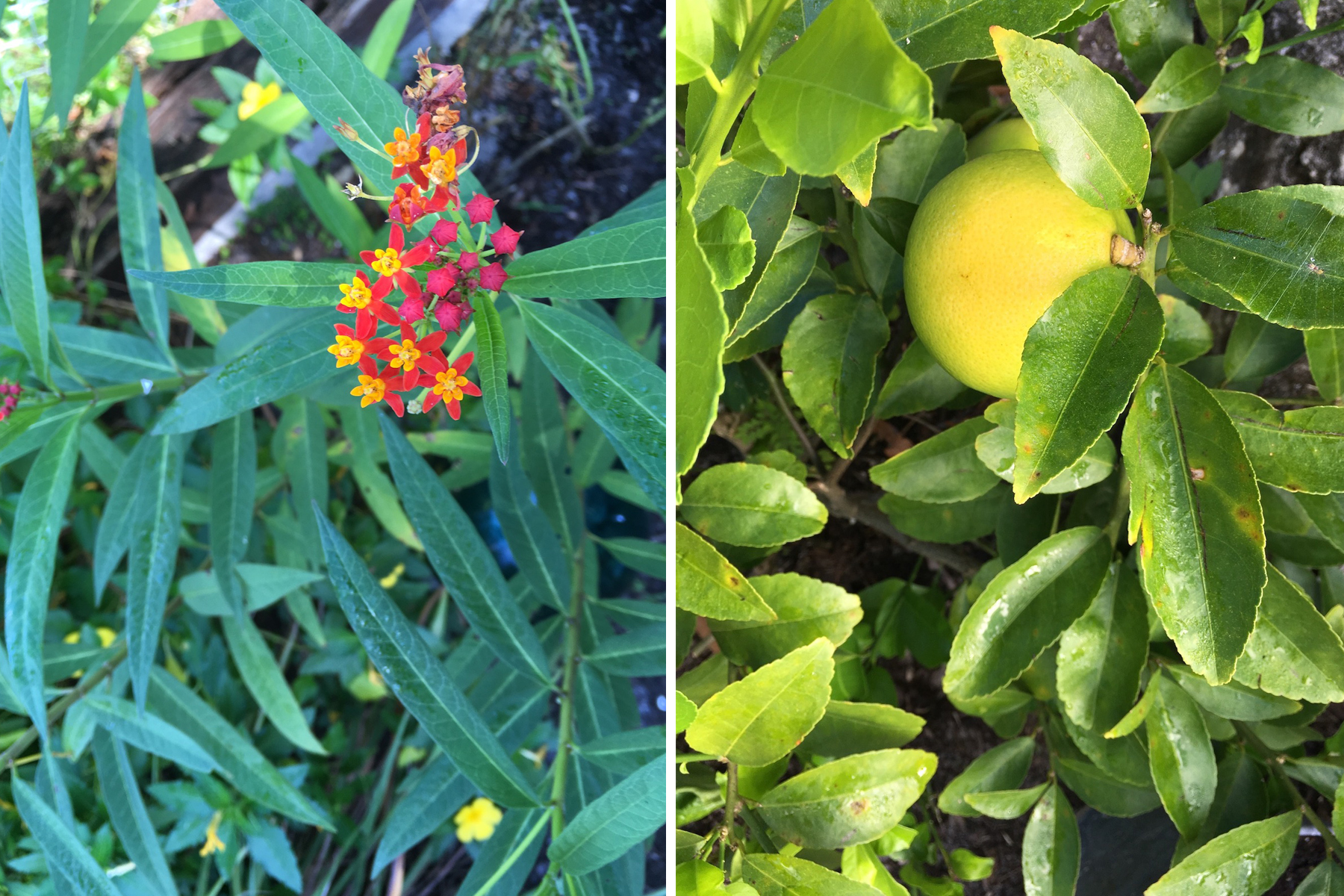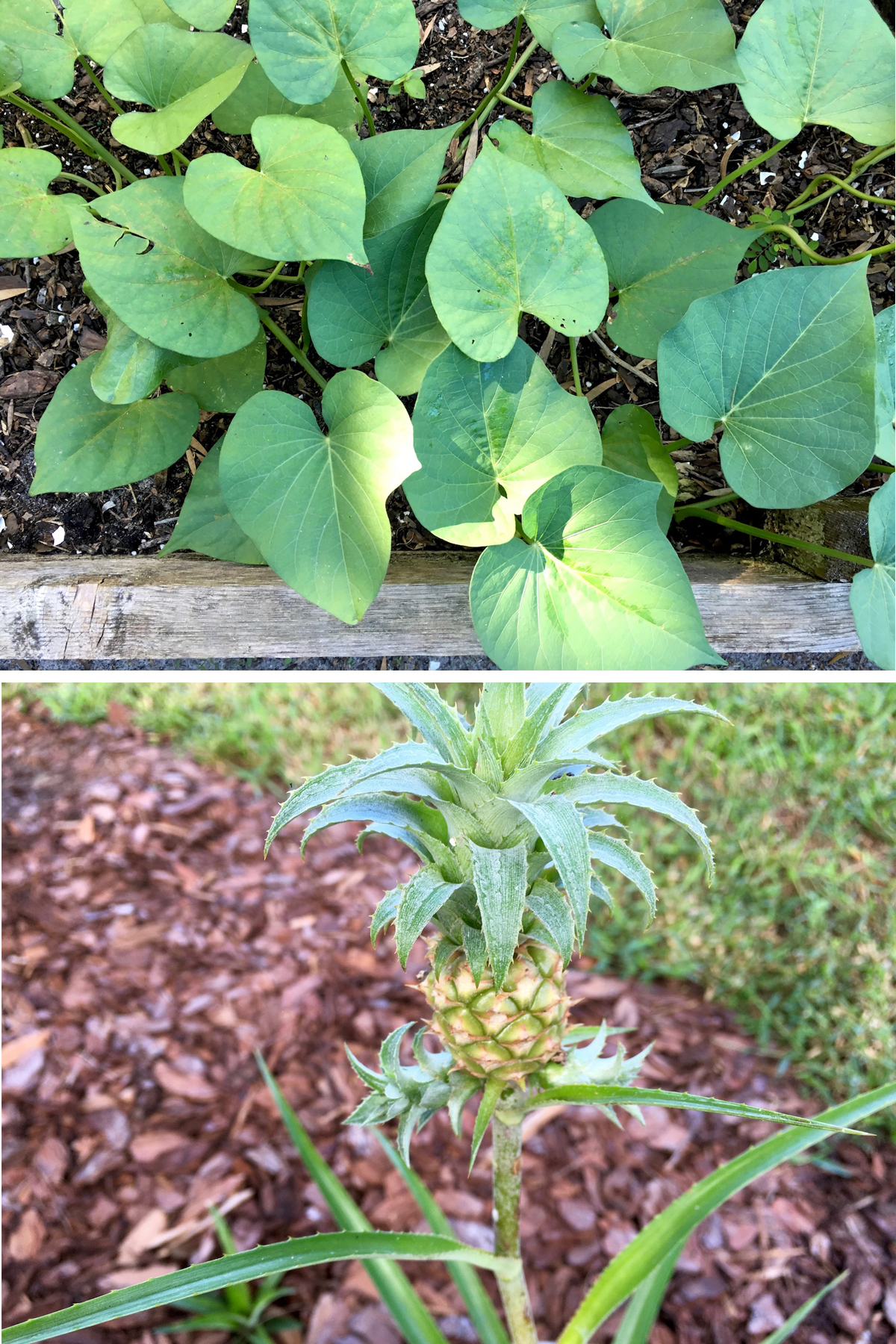 It's so rewarding to get your hands dirty in the garden and to harvest after all your hard work. So, even if you have just one pot on your lanai, please plant something — herbs, flowers, or edibles — it's a lovely way to contribute beauty to the world, and it all starts with one seed 🙂
P.S. Having trouble finding kale seeds for this program? Contact Mindy Hanak at mhanak@scgov.net or 941-861-9815.