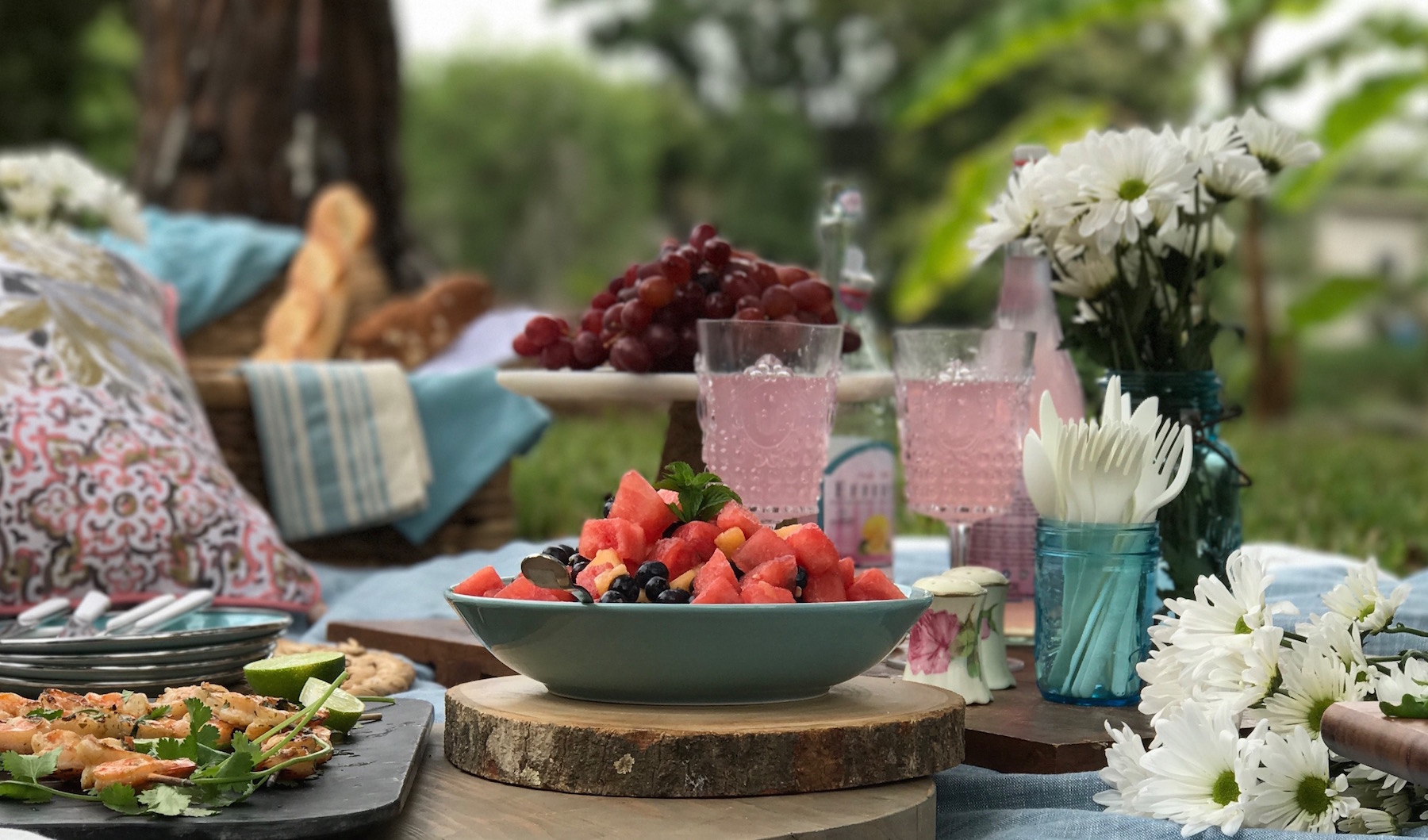 I recently wrote an article for a lovely magazine called Edible Sarasota titled Florida Picnic, which included my own creations for summer dishes like chicken sandwiches with mango-mayo, lime-infused berry salad, peach/mint panzanella, and lemongrass-lime shrimp.  Please check out the link for the full story, and the recipes, if you'd like to know more 🙂
As I sat at my desk to write, I thought about traditional picnics – the ones with the blue or red checkered tablecloth, a cute basket to hold all the good stuff, little containers and bags filled with wonderfully tasty things like fried chicken, potato salad, watermelon, potato chips (an absolute must in my book), lemonade, plastic utensils, paper plates, and plenty of napkins (which you end up chasing regularly).
I also thought about my childhood picnics.  They were sort of a big deal in my family – a chance to enjoy delicious food, eat with our hands, and be out in the fresh air. I especially remember olive & pimiento sandwiches with mustard, lettuce and tomato, and my mom's macaroni salad — so good. My dad typically liked to find a sturdy/clean picnic bench, but I preferred hanging out on a blanket on the ground – it was more 'picnic-y' in my book – and we usually used dad's heavy wool, green Army blanket because it was perfect for keeping sticks, bugs and dirt from poking through. A picnic offered a sense of adventure, because we didn't really know what mom had packed, so we anxiously awaited the unveiling. And for some reason, we were immediately hungry when we arrived at our spot, even if we had recently eaten! I guess there's something about fresh air that makes a person hungry. . .
Those 'traditional' picnics are awesome, but a picnic, in whatever form, can happen anywhere. As a matter of fact, for this article's photo shoot, one happened right in my own backyard! If you haven't tried it yet, your backyard is a great place for a picnic because you can simply toss down a blanket, and you don't need to fight traffic to get somewhere. Plus, if you run out of something, you can just dash into the house to get more. I like that.
A picnic can happen on a boat with hot coffee and blueberry muffins (one of my faves), on a park bench with a sandwich and a bag of chips from the deli, or on the stoop of a big building, where you have just enough room to spread a napkin on which to rest a straw-filled soda and a peanut butter & jelly sandwich.
Picnics come in all forms and they're magical things because you don't really have to follow rules or etiquette – simply sit in the sun or the shade of a mossy tree, take off your shoes, remove your tie and lie back in the cool grass, all while enjoying delicious treats and the company of friends or loved ones.  It doesn't really matter WHERE you go for a picnic, just be sure to go, because it's good for your soul.
I saw a quote somewhere that went something like "Happiness is like a potato salad that, when shared with others, becomes a picnic." That sure sounds like happiness to me!
P.S. when you go on a picnic, be sure to bring potato chips, in honor of me 🙂