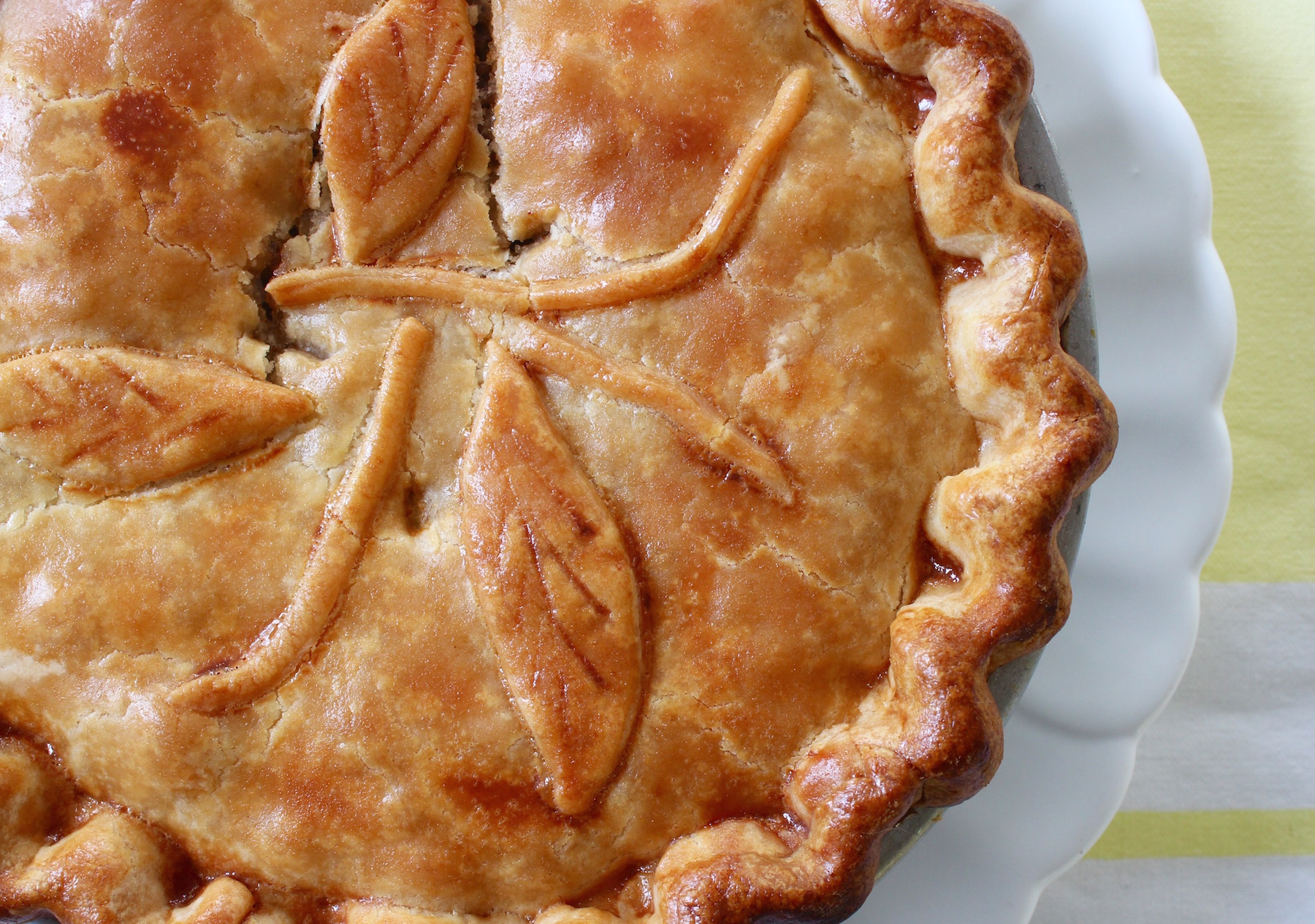 Happy New Year! It's hard to believe 2015 is behind us, but I'm already looking forward to everything 2016 may bring. And to celebrate New Year's Day I made something special to honor my family's French-Canadian roots.
Tourtière (meat pie) originated in Québec and is a treat typically made for Christmas or New Year's (sometimes, both!).  There's a long history of this pie in Canada and just about every family (and certainly, every province) has its own version. Many French-Canadian dishes, including this pie, have a distinct flavor profile that combines savory meats with sweet spices like cinnamon, cloves and nutmeg – this might sound a little unusual for those who haven't tasted it, but for those of us who grew up on it, it's like a warm hug from a loved one.  The filling is usually made with ground pork and/ or beef, potatoes, onions and spices, and it's baked in a flaky pie crust. It's deliciously rich and even better with a side of ketchup (yup, I said ketchup).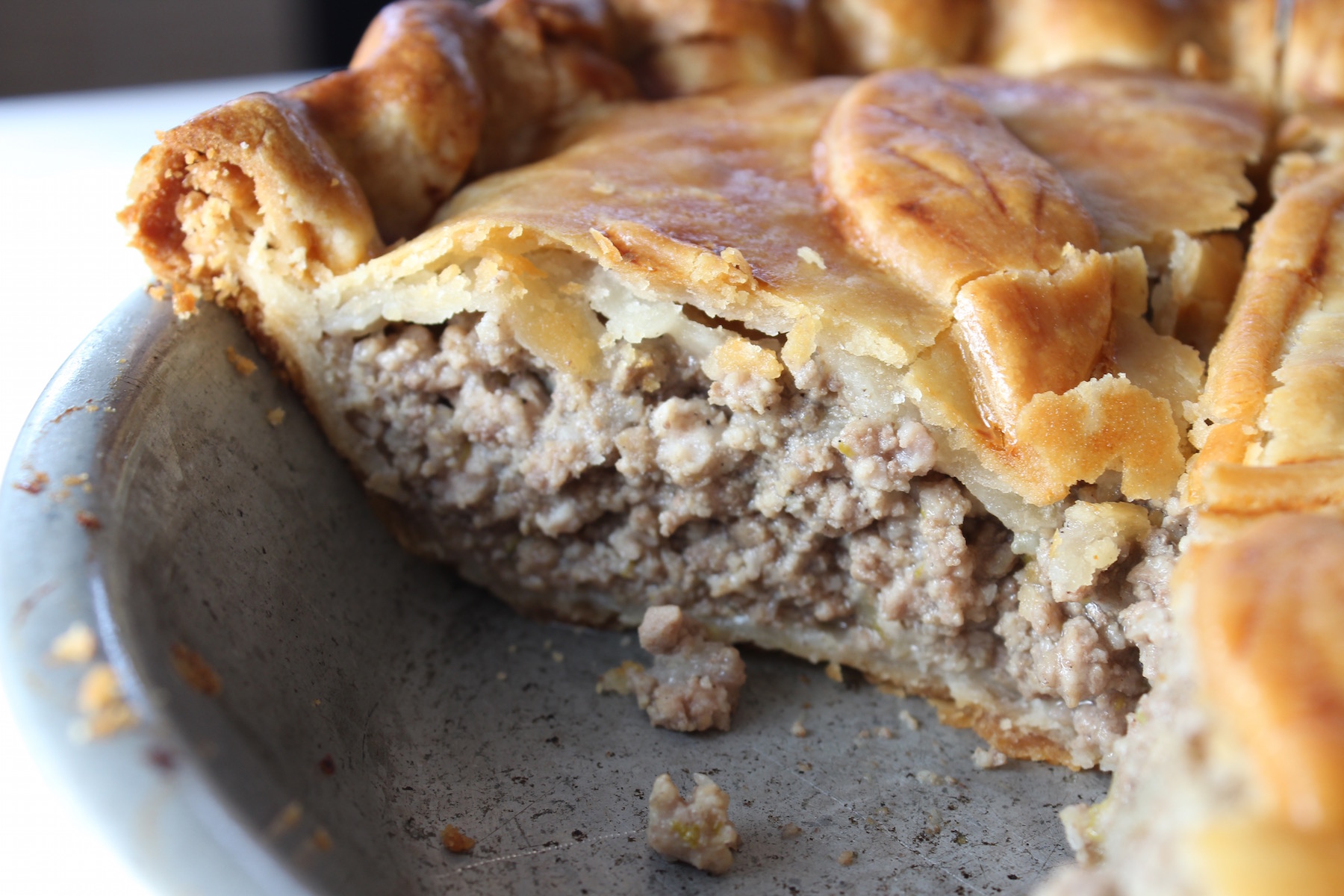 It's truly one of those heritage dishes that I treasure, and it always reminds me of gatherings around our family table. We've made it pretty much the same way for decades — ground pork and ground beef, allspice (which incorporates flavors or cinnamon, cloves and nutmeg), onions, celery and potatoes. My family tends to keep the flavor on the milder side (i.e., less "clove-y"), but it's all up to personal taste.  The filling is tender and juicy and it complements the flaky crust beautifully.  Here's a close-up.  Doesn't it look good?!?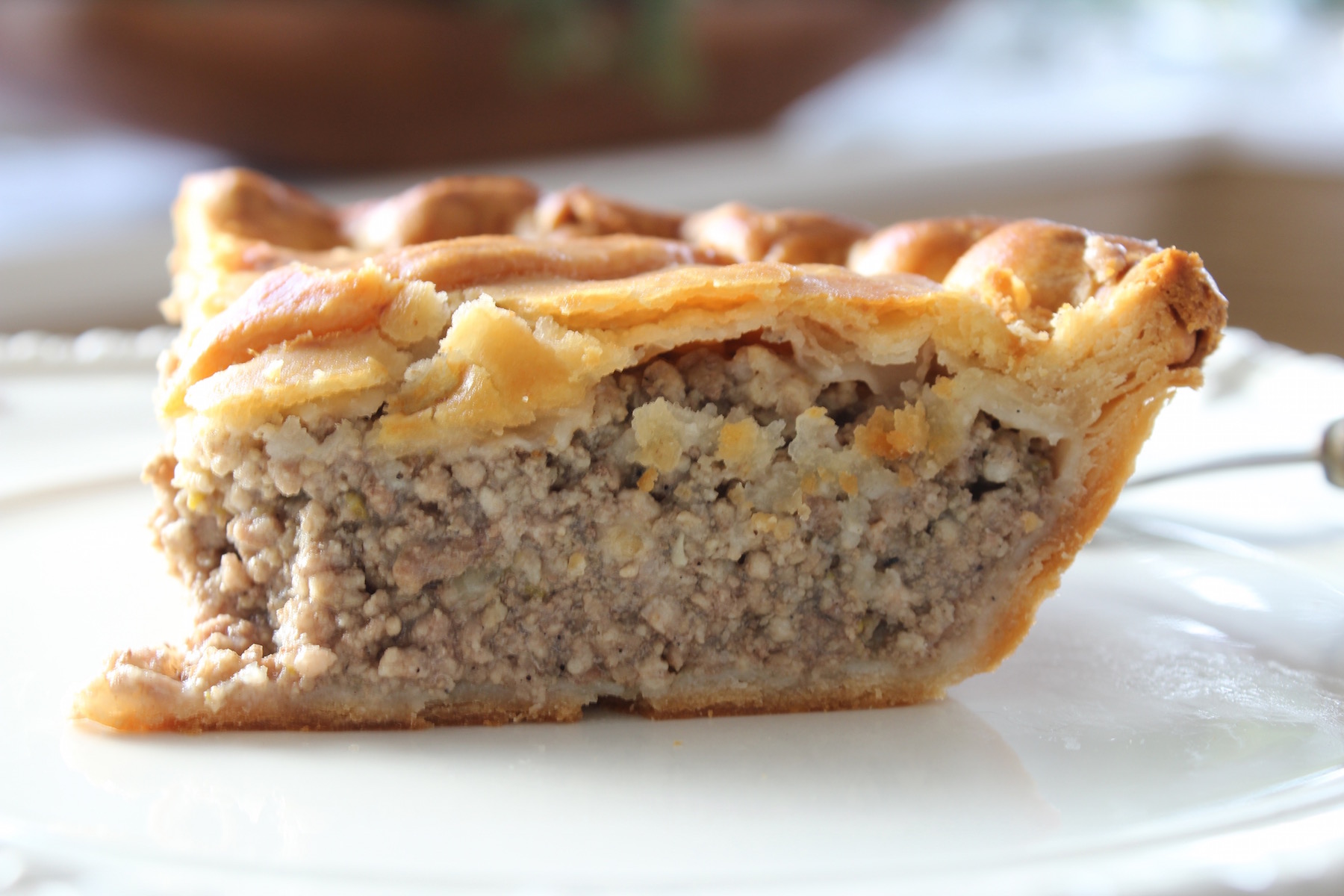 Even though I live far from most of my family, by making this pie every holiday season, I still feel connected to them. Every bite of this pie reminds me of our Christmas meals around my grandmother's table, where there was always a bottle of ketchup 🙂
I wish you all a very happy and healthy year in 2016!

French Meat Pie
Canadian French Meat Pie is simply delicious. . .
Author:
My Delicious Blog
Serves:
1 pie (8 servings)
Ingredients
Meat Filling
½ lb. ground pork
½ lb. ground beef (I used chuck)
1 small onion, finely diced
1 stalk celery (with leaves), finely diced
¼ c. fresh mashed potatoes OR dry potato flakes
1 tsp. kosher salt
¼-1/2 tsp. freshly ground black pepper (to taste)
¼-1/2 tsp. ground allspice (to taste)
Crust
2 c. all-purpose flour
1 tsp. kosher salt
⅔ c. vegetable shortening (Crisco)
5-6 Tb. cold water (I usually use 5 Tb.)
1 Tb. white vinegar
1 egg, beaten
Instructions
For the Filling:
Add meat, onion and celery into a medium saucepan and mix to combine.
Add just enough water to cover the mixture.
Bring to a boil, then reduce heat to simmer on low for about 2 hours, uncovered.
After 2 hours, remove most of the fat and some of the liquid so it's less soupy (reserve it).
Add salt, pepper and allspice, to taste.
Add potatoes. Stir to combine and taste for seasoning. If the mixture is too dry, add back in some of the cooking liquid. (It should be moist, but thick enough to be cut into pie wedges and not fall apart).
Set aside to cool for about 30 minutes until pie crust is prepared.
For the Crust:
In a food processor, add flour, salt and vegetable shortening.
Pulse several times to form pea-sized pieces.
In a separate bowl, combine water, vinegar and egg.
Through the processor's feed tube, slowly add the egg mixture and pulse to bring the dry and wet ingredients together.
Remove the dough from the bowl and form into two balls. Flatten into medium disks, cover in plastic wrap and refrigerate about 1 hour.
Prepare/Bake the Pie:
Heat oven to 400 degrees (375 if using a glass baking dish).
Remove dough from refrigerator and allow to sit at room temperature for about 10 minutes.
Sprinkle a work area with a little flour. Using a rolling pin, roll out one disk of dough big enough to fit into a 9" pie plate.
Line the pie plate with the crust.
Add the meat filling and cover with the second rolled out crust.
Trim excess dough, then seal and crimp the edges in a decorative pattern.
Add decorative pastry accents to the top crust using leftover dough (optional).
Using a small knife, make 3-4 steam holes in the top crust.
Whisk 1 egg with 1 tsp. water and brush the mixture over the top crust, to ensure a brown crust.
Bake for about 50 minutes, or until the crust is golden brown.
Serve hot.
Note: this pie may be refrigerated or frozen for a later use.