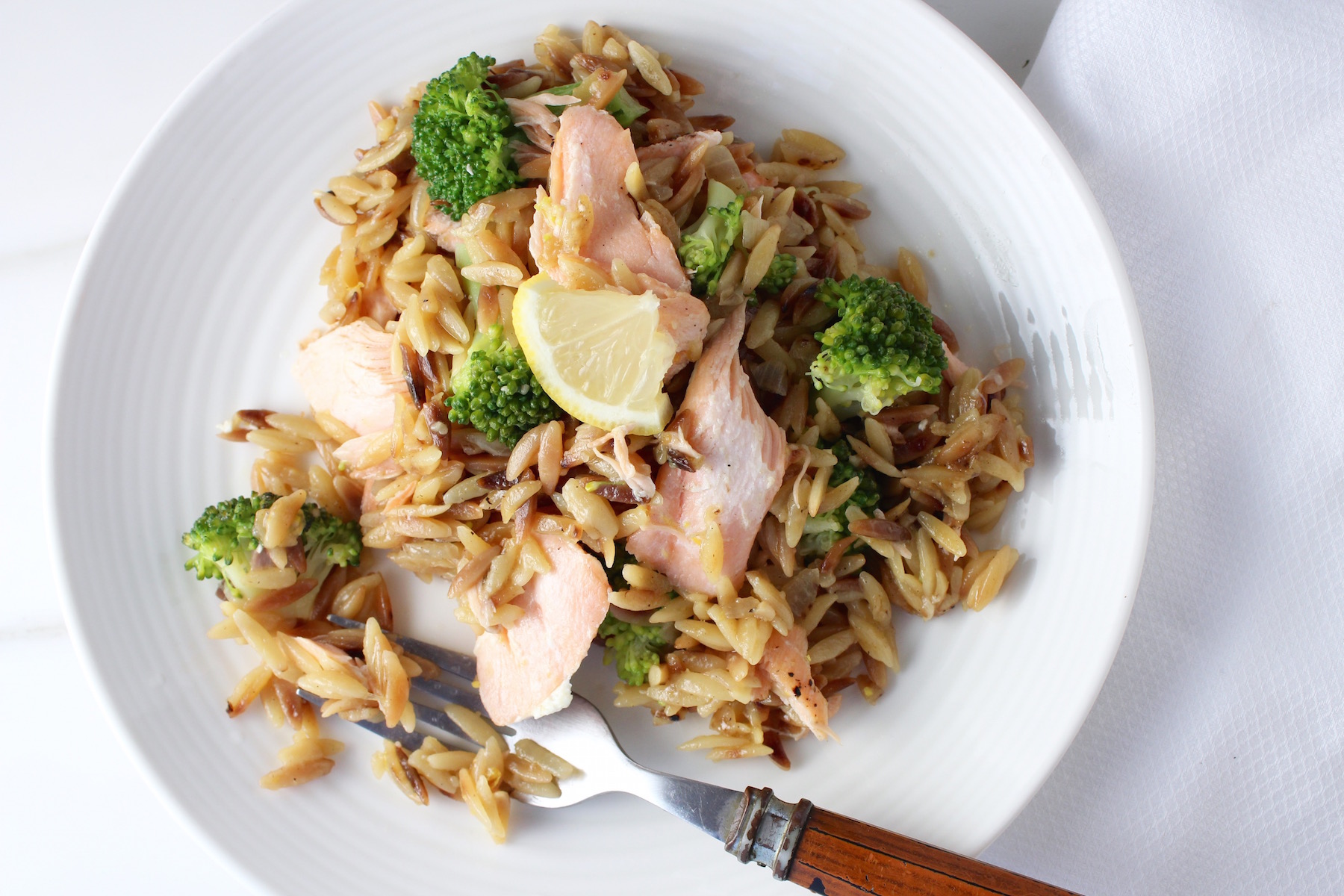 Risotto. . .tender, creamy arborio rice, slow simmered in a flavorful broth, with lots of butter and cheese. It's so good I could eat just that for dinner and call it a day.
My favorite risotto was served to me many years ago at a small, family-run restaurant in Kansas City. I can't even remember the name of the place, but let me tell you, they served a mean risotto with roasted chanterelle mushrooms, fresh parmesan, wine, lots of butter and even truffle shavings. It literally melted in my mouth. But I may not have enjoyed that amazing dish had it not been for a passionate, young server. You see, while reviewing the menu I was concerned about the rich risotto's calorie count and thought I should have something lighter. . .But when I expressed hesitation to my server, he told me in no uncertain terms "There's nothing wrong with enjoying something truly decadent once in a while, because you only live once!" Well, that was all I needed. . .and soon it was there, in front of me – a steamy bowl of deliciousness.
Since it's not really smart to regularly enjoy a big bowl of rich, creamy rice for dinner, it's wise to have an alternate recipe in your arsenal — something a little lighter, you know?  This recipe is made with that little rice-shaped pasta called orzo. It's normally cooked like pasta, in boiling water, then mixed into whatever your heart desires. But today I'm starting it dry in a skillet with tasty oils, onions and garlic — just like the starting process for risotto!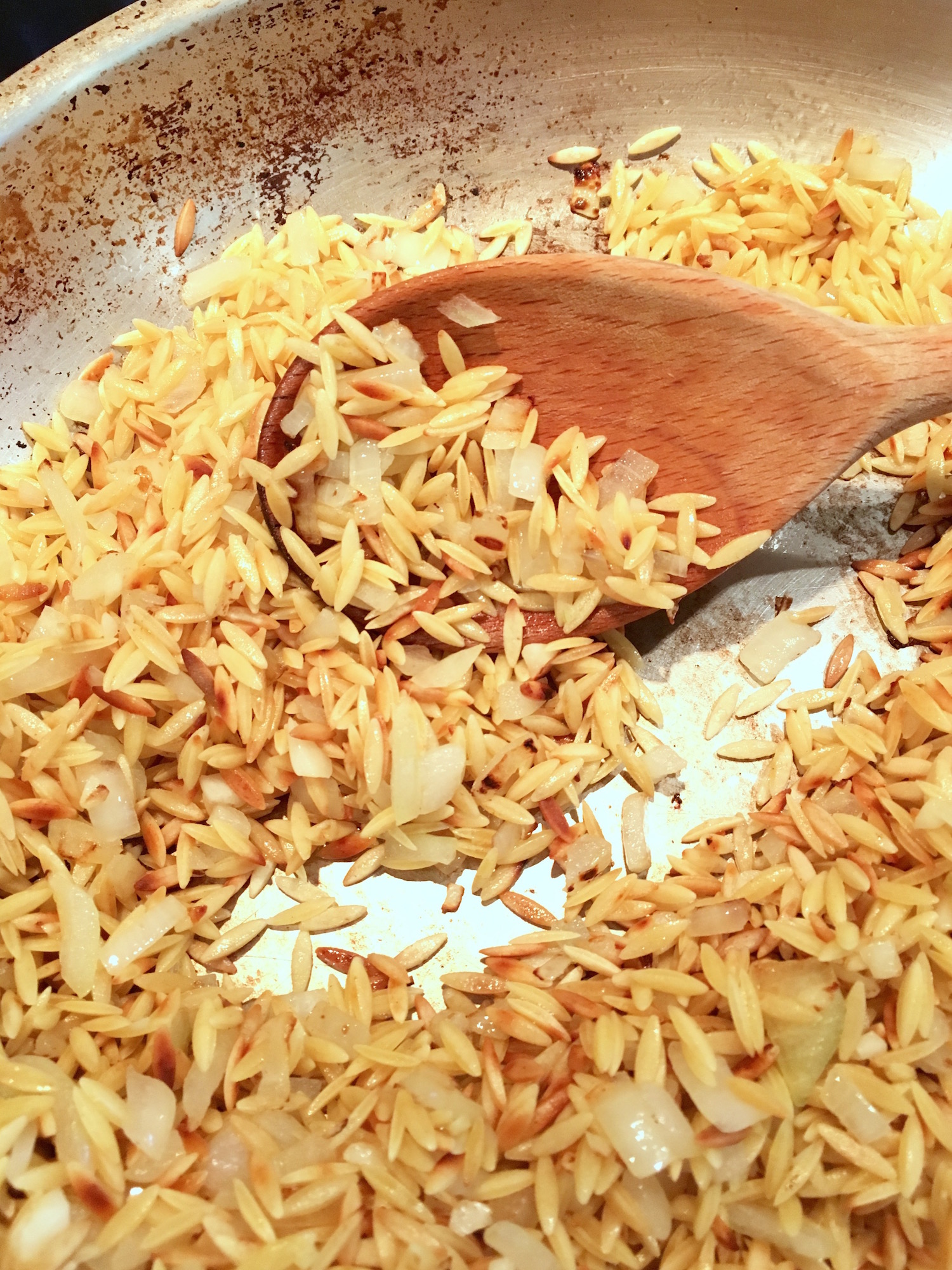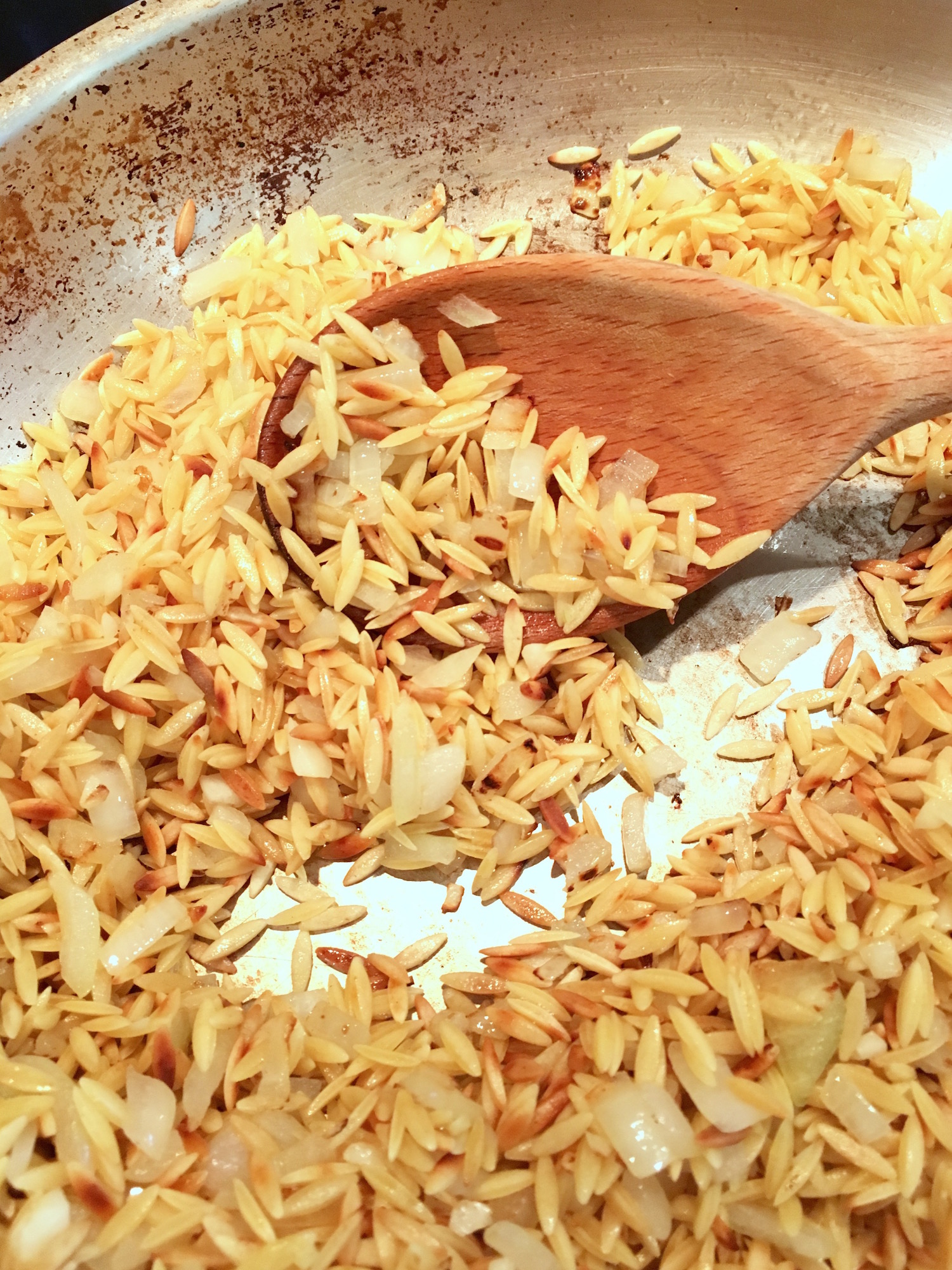 When it browns, the orzo takes on a nutty flavor and gets itself started on the road to deliciousness. By adding warm stock, a little at a time, the liquid gets slowly absorbed into the orzo so it cooks the way risotto does, and when the liquid is all absorbed, it's officially done.  Then toss in whatever looks good — shrimp, asparagus, sausage, cheese, toasted pine nuts, capers, raisins or roasted onions.  (Note: proteins should already be cooked, since you don't want to dry out the orzo by overcooking it). I added parmesan, roasted salmon, lemon juice, parsley and blanched broccoli (it's in season in Florida now that the weather has cooled) and my friends at Geraldson Community Farm are growing some beauties, like this one: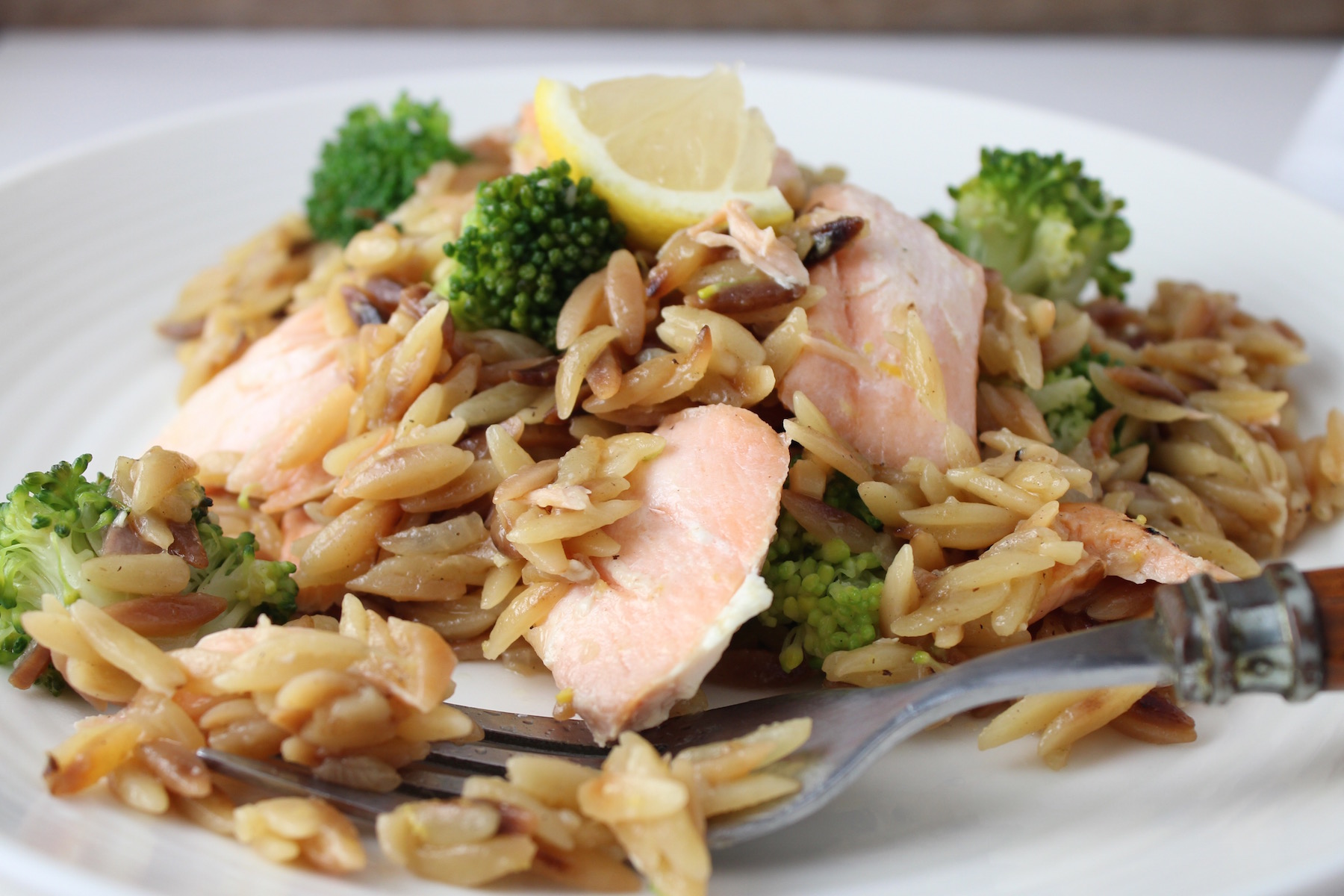 This makes a great (semi) one-pot meal for dinner, one that you can feel pretty good about since it has elements of amazing risotto, sans some of the guilt 🙂
And if you'd like a little more orzo inspiration, check out Orzo Salad with Tomatoes, Basil & Balsamic.

Orzo Risotto with Broccoli & Roasted Salmon
Salmon, orzo and broccoli make a great combination for dinner.
Author:
My Delicious Blog
Ingredients
Salmon
1 lb. skin-on salmon fillet
Dash kosher salt
Dash freshly ground black pepper
Broccoli
1.5-2 c. small broccoli florets
½ tsp. kosher salt
Toasted Orzo
1 Tb. unsalted butter
1 Tb. olive oil
1 small onion, chopped
2 cloves garlic, minced
1 c. dry orzo
2¼ c. chicken or vegetable stock
½ tsp. kosher salt
¼ tsp. freshly ground black pepper
Juice & zest of one 1 lemon
Handful fresh parsley, chopped
¼ c. freshly grated parmesan
Instructions
Prepare Salmon:
Heat oven to 350 degrees.
In a non-stick, oven-proof pan, sprinkle a little olive oil and heat to medium/high.
Sprinkle fish with a little salt and pepper.
Place fish in warm pan, skin side down, so it starts to sear.
After a few minutes, turn off heat and place pan in oven to allow the fish to finish cooking -- this takes about 10-15 minutes, depending on thickness of your fillet. Cook until the flesh flakes apart, then remove from oven and allow to rest a bit. Remove skin and dark areas at the skin line. Break up the fillet into small pieces; set aside until ready to use.
Prepare Broccoli:
While salmon cooks, bring a saucepan of water and ½ tsp. salt to boil. Drop in broccoli pieces and blanche about 5 minutes. Remove with a slotted spoon and place broccoli in ice water for a few minutes. Transfer to a bowl and set aside until ready to use.
Prepare Toasted Orzo:
In a non-stick pan, add butter and olive oil and heat to medium.
Add chopped onion and garlic and mix until coated. Cook to slightly translucent (about 5 minutes).
In a separate pan, simmer the stock and keep over low heat until ready to use.
Add orzo to the onion mixture and stir to combine. Stir frequently as the orzo browns over medium heat (about 5-7 minutes).
Reduce heat to medium/low, then add about ½ c. of warm stock to the orzo mixture and allow it to slowly be absorbed by the orzo (reduce heat if it's bubbling too rapidly). Before it gets too dry, add another ¼ - ½ c. of stock, stir well, and allow it to be slowly absorbed. Keep doing this until all the liquid is fully absorbed and the orzo is tender.
Add kosher salt and pepper, along with lemon juice, zest and parmesan. Mix well.
Add salmon and broccoli, then sprinkle with a little more lemon juice and parsley just before serving.
Notes
If the orzo seems a little 'dry' after incorporating your veggies and/or proteins, just add a little more stock to make it a bit creamier.