Stuffed Winter Squash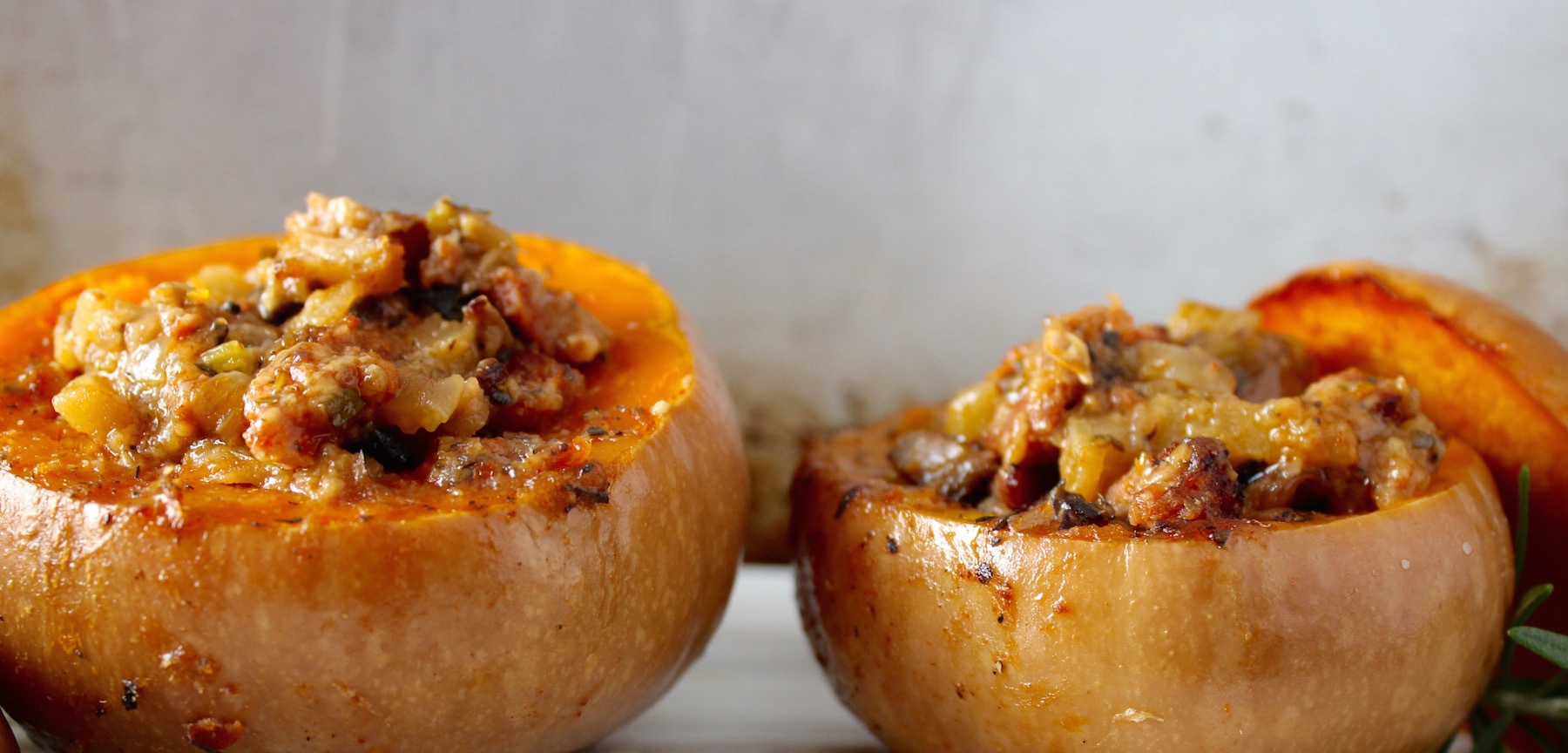 Author:
My Delicious Blog
4 small winter squash (or 2 larger size like Acorn, Buttercup, etc.)
2 Tb. unsalted butter
1 small yellow onion, chopped
1 stalk celery, chopped
4-6 small mushrooms (cremini or white), chopped
dash kosher salt
dash freshly ground black pepper
½ Granny Smith apple, chopped
1 tsp. fresh rosemary, minced
½ c. Spanish Chourico OR Italian sausage (casing removed, crumbled)
10-12 Ritz OR saltine crackers
3-4 Tb. chicken broth
Heat oven to 375 degrees.
Prepare the squash - if using small sizes, cut off the tops and scoop out the seeds. Reserve the tops to roast alongside squash. If using larger squash (like Acorn), cut the squash in half (lengthwise) and scoop out the seeds.
In a small skillet over medium/high heat, melt butter then add onion, celery & mushrooms. Sprinkle with salt and pepper and stir to combine. Reduce heat to medium and allow the mixture to sweat - about 2-3 minutes - then remove from heat.
In a small bowl, add chopped apple and rosemary then add warm onion/celery mixture to bowl.
In the same pan, toss in crumbled Chorizo (or sausage) and cook on low for a few minutes. When done, add to bowl.
Add crushed crackers to bowl.
Add 1 Tb. at a time of broth to mixture and stir after each addition -- you just want enough broth to hold everything together, but not be mushy and wet.
Taste and add more salt and pepper, if needed.
Mound each squash cavity with as much filling as it will hold.
Place the squashes in a 9X13 baking dish and add about about 1 c. of water to the base of the dish. Be sure to place the squash lids flat in the dish (they'll make nice toppers for the cooked squash).
Cover with foil and place into hot oven.
After about 40 minutes, remove foil and test squash with a small knife. If it comes out clean, they're cooked. If not, return to oven, uncovered, until soft (total cooking time is about 50-60 minutes). Check periodically to ensure they're not overcooking.
Remove and cool before serving.