Cod, Lemon & Scallions in Banana Leaves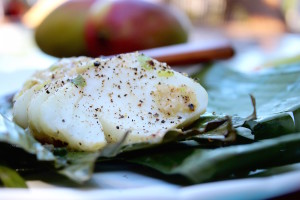 Author:
My Delicious Blog
4 pieces of Cod (about 3-4 oz. each)
4 banana leaves, cut into large pieces (approx. 12" X10" or however big you can get them)
4 Tb. unsalted butter, softened
1 garlic clove, minced & smashed
4 Tb. scallions, minced
1 tsp. fresh ginger, grated
1 lemon, zested
dash kosher salt
dash freshly ground black pepper
Rinse and pat dry Cod fillets. Lightly season each side with salt and pepper.
Prepare the compound butter in a small bowl by combining the butter, scallions, ginger, lemon, salt & pepper. Mix well to combine.
Lay the banana leaves onto a counter and place a piece of fish in the center of each.
Spread some of the compound butter on the top and bottom of each fillet.
Wrap the sides of the leaf over the fish; fold under the ends and tie each package with a piece of kitchen string/twine.
Wrap each bundle in foil (to avoid loss of the delicious butter mixture) - optional.
Place the bundles directly onto a hot grill and cover.
Cook for about 15 minutes.
Remove from grill and carefully open packages. Top fish with fresh lemon juice and serve in the banana leaves.
If your banana leaf is narrow or you have too many tears, simply use two leaves to ensure the fish is fully covered, then wrap with twine.
Recipe by
My Delicious Blog
at https://www.mydeliciousblog.com/roasted-cod-in-banana-leaves/