Key Lime Pie Bites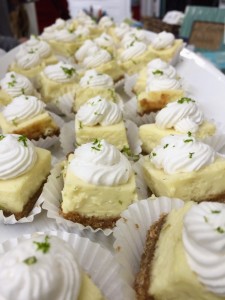 Author:
My Delicious Blog
Serves:
approx. 64 pieces
1 sleeve plain graham crackers (each pkg is different, so be sure you have 10 crackers!)
5 Tb. unsalted butter, melted
⅓ c. granulated sugar
4 egg yolks (reserve whites for meringue, if using)
2 tsp. lime zest (about 24-36 Key Limes or 6-8 regular/Persian limes)
1 14-oz. can sweetened condensed milk
⅔ c. freshly squeezed key lime juice
1 c. heavy whipping cream
1 Tb. confectioner's sugar
(add Lime zest for garnish)
Heat oven to 350 degrees if using a square, metal baking dish (8X8). If using a glass baking dish, reduce to 325 degrees.
Break up the crackers and place them into the bowl of a food processor. Pulse several times until you get fine crumbs. Note: if you don't have a food processor, place the crackers in a large plastic bag, seal it and crush with a rolling pin.
Add sugar sugar to the crumbs and pulse until combined.
Add the melted butter and pulse once or twice to combine.
Pour the mixture into an 8X8" baking dish and press lightly into the corners and up the sides.
Place in oven and bake for 8 minutes, until lightly brown.
Remove from oven and allow to cool.
Add egg yolks and lime zest into a stand-up mixer bowl fitted with a wire whisk and beat until fluffy (about 5 minutes).
Pour in the condensed milk and continue to beat until combined (3-4 minutes).
Lower the mixer speed and slowly add the lime juice, just until combined.
Pour the mixture onto the crust.
Bake for about 10 minutes, until the filling has just set.
Cool on a wire rack. Note: once cool to the touch, place the pan in the freezer for about 30 minutes. This will make cutting 1" squares much easier when removed from freezer.
Cut into 1" squares and place on a baking sheet or decorative tray.
Refrigerate squares for about 2 hours.
When ready to serve, combine whipping cream and sugar in a small bowl and whip on high speed until stiff peaks form. Place cream into a piping bag and top each square with a decorative dollop, along with some lime zest.