Tasty Salmon Patties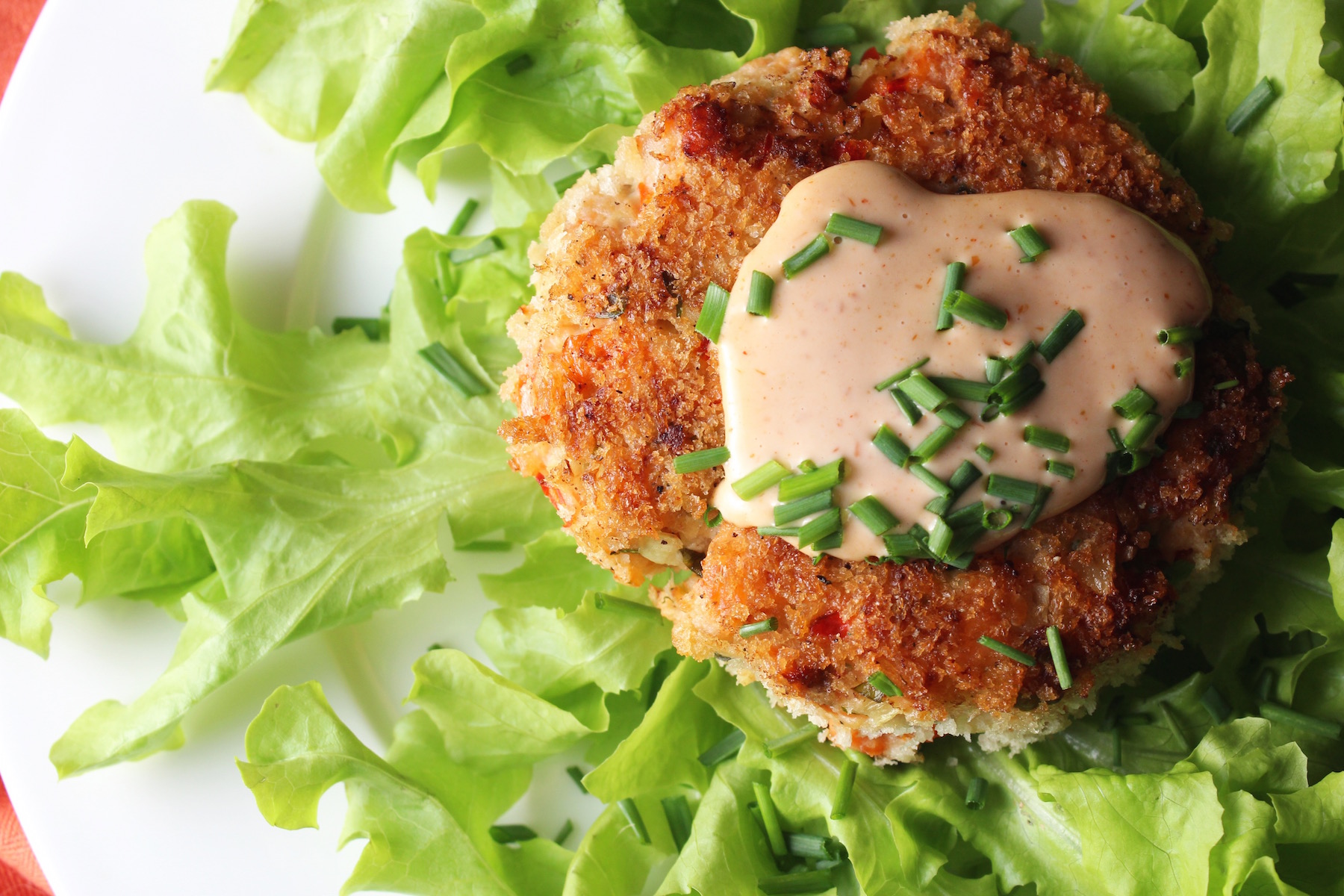 Author:
My Delicious Blog
1 lb. fresh salmon fillets, skinned
1 clove garlic, minced
1 shallot or small yellow onion, minced
3 Tb. red bell pepper, minced
~2 Tb. fresh basil, minced
~2 Tb. fresh parsley, minced
1 tsp. fresh lemon juice
1 egg, beaten
½ c. Panko bread flakes (*)
¼ tsp. kosher salt
⅛ tsp. freshly ground black pepper
2 Tb. coconut oil
* you'll need an additional ¼+ c. to coat patties before cooking
3 Tb. mayonnaise
1 Tb. sour cream
1 Tb. Sriracha
If salmon is not skinned, simply remove the skin with a sharp knife and discard.
Divide the salmon in half.
Place half the salmon in a food processor and pulse a few times to break it down -- this helps the patties stay together. Transfer to a mixing bowl.
Using a sharp knife, chop the remaining salmon into small pieces (but don't overwork the fish to make it mushy); add to the mixing bowl.
Add in garlic, onion, red bell pepper, basil, parsley, lemon juice, egg, salt and pepper and ½ c. Panko. Mix well to combine then refrigerate at least 30 minutes.
Make the Sriracha Sauce by whisking all ingredients in a small bowl; refrigerate until ready to use.
Add approx. ¼ c. Panko to a small dish (this will be used to coat the patties before searing).
Form 4 patties (size about 4-5" across, 1" thick), then place each in the Panko dish to coat both sides. Set aside.
Heat oven to 350 degrees.
Heat a large, non-stick, oven-proof skillet on medium/high. Add coconut oil. Place each patty in the pan, then reduce heat to medium. Once the first side is golden brown (about 2-3 minutes), carefully flip and cook until the other side is slightly brown (about 1-2 minutes). Note: you may need to add a bit more coconut (or olive) oil to the pan if it's too dry - you don't want them to burn!
Remove from burner and place the pan directly in the pre-heated oven, uncovered.
Bake for about 10 minutes (you don't want to overcook) until patties are just firm to the touch.
Remove from oven.
Place the patties on a bed of dressed greens, then top each with a dollop of the Sriracha Sauce.