Shrimp Cakes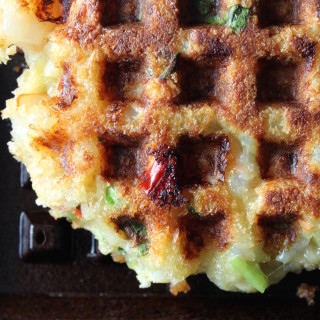 Author:
My Delicious Blog
½ lb. large shrimp, peeled & deveined
2 Tb. red bell pepper, minced
2 scallions (white & green parts), minced
1 Tb. fresh ginger, grated
1 small clove garlic, minced
2 Tb. fresh cilantro, chopped
½ tsp. sesame oil
½ tsp. vegetable oil
2-3 dashes Sriracha (or any hot sauce)
Zest of 1 lime, plus juice of ½ lime
¼ tsp. kosher salt
Few dashes freshly ground black pepper
1 egg, beaten
6 Tb. Panko bread flakes (add a bit more if the mixture seems too wet)
Coarsely chop half the shrimp and place in a mixing bowl.
Place the other half of the shrimp in a food processor. Pulse a few times then transfer to the mixing bowl.
Add all other ingredients into the mixing bowl. Stir to combine, then cover and refrigerate about 1 hour for the flavors to merge.
Form mixture into 4 balls and shape into medium sized patties.
Coat each patty in some Panko on a small plate; set aside.
Heat a waffle iron to a hot setting.
Spray olive oil or cooking spray onto the iron grills. Place each patty on the iron (I actually cooked 2 at a time so they would have even heat).
After about 3 minutes, lift the top to ensure they're looking ok, then replace cover and cook another minute (4 minutes total), depending on how thick your patties are.
Remove from the waffle iron and serve with a side of sweet chili sauce.