Warm Barley, Kale & Date Salad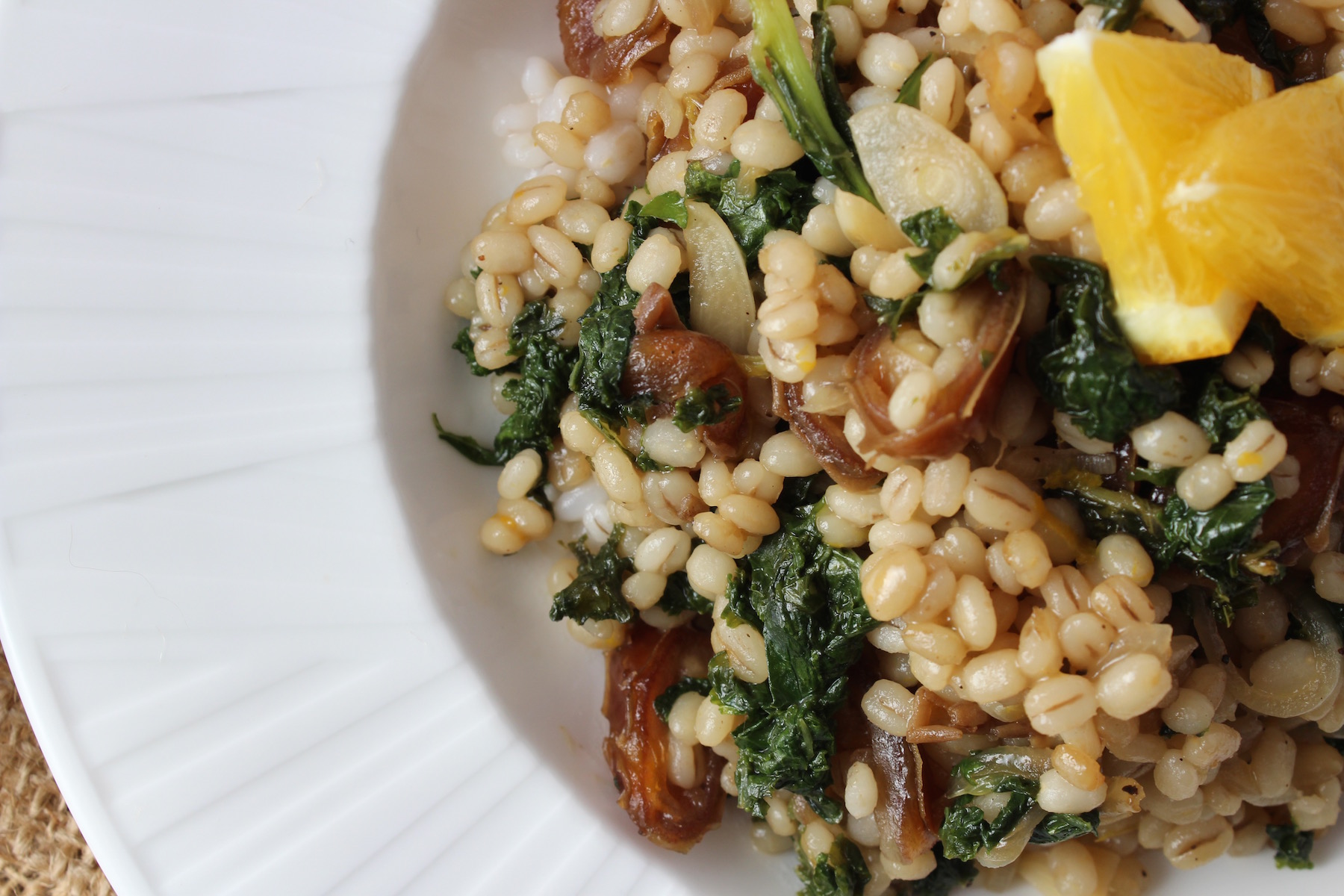 Author:
My Delicious Blog
2 c. cooked barley
3 Tb. olive oil
4 c. kale, ribs removed, chopped
1 medium yellow onion, sliced
1 clove garlic, peeled & sliced thinly
Handful of dried, pitted dates, sliced
1 tsp. honey
1-2 Tb. reduced sodium soy sauce
1 tsp. orange zest
Juice from half an orange
dash of kosher salt
dash of freshly ground black pepper
Squeeze of fresh lemon juice (before serving)
Handful of toasted walnuts (optional)
Cook the barley according to package directions.
After chopping the kale, sprinkle a little bit of olive oil over the pieces and 'massage' with your fingers to work the oil into the leaves; set aside.
Heat a non-stick skillet to medium.
Saute the onion and garlic about 2 minutes (careful not to burn).
Add the kale and cook about 1 minute.
Add the dates; cook another 2-3 minutes. Sprinkle with a little salt & pepper.
Add cooked barley to the mixture and stir through.
Add honey, soy sauce, orange zest and juice.
Season with more salt & pepper, to taste, then serve warm.
One cup of dried barley will yield about 4 cups cooked, so this recipe will leave you with about 2 cups left over. Simply refrigerate it for another salad, or make into a warm breakfast cereal with cinnamon and apples, or toss into soup. So many possibilities!
Recipe by
My Delicious Blog
at https://www.mydeliciousblog.com/warm-barley-kale-date-salad/