Rosemary-Garlic Potato Encrusted Grouper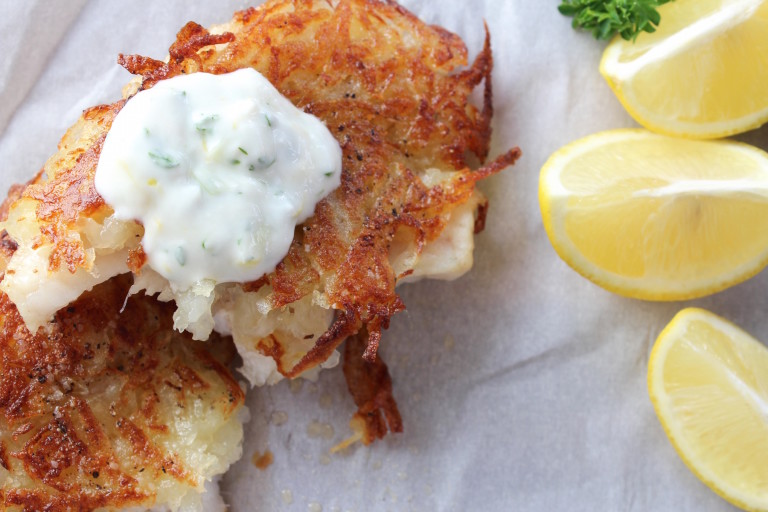 Author:
My Delicious Blog
2 medium Grouper fillets (or any other flaky fish) about 1" thick
~2 Tb. olive oil
1 sprig fresh rosemary
1 clove garlic, halved
1 large Russet potato, peeled
kosher salt & freshly ground black pepper
2 Tb. sour cream
1 tsp. fresh parsley, minced
1 tsp. scallion, minced
1 tsp. fresh chives
1 tsp. lemon zest
Heat oven to 350 degrees.
Rinse fillets and remove any bones. Pat dry with a paper towel and set aside.
Using a box grater, grate the potato into a small bowl. Using your hands, squeeze the bulk of the liquid out of the potato, then wrap in a paper towel to remove residual liquid.
Sprinkle both sides of the fish with a little salt and pepper (Optional: spray olive oil or cooking spray onto one side of the fish as an extra "glue" for the potato).
Top one side of the fish with a handful of potato - press around the edges to ensure it's all on the fillet. Set aside.
Heat a non-stick skillet over medium heat. Add olive oil, rosemary and garlic. Reduce heat to low (to avoid burning the garlic). After about 1 minute, when the rosemary starts to brown, remove the rosemary and garlic.
Increase the heat in the pan, then carefully plan the fish, potato side down, into the pan.
After about 30 seconds, reduce heat to medium to avoid burning. Cook another minute, then check under the fish to ensure your crust is browning (but not burning). When it looks sufficiently browned, flip carefully.
Cook another minute, then remove from burner and place pan in oven to finish cooking (approx. 3-4 minutes, depending on thickness of your fillets).
While the fish is in the oven, make the Sauce by simply combining all ingredients in a small bowl.
Remove carefully from pan, top with Sour Cream/Herb Sauce, and serve :)
1) Don't grate the potato until you're ready to top the fish, otherwise, it will turn brown.
2) Don't rinse the potato after grating, otherwise the necessary starches that provide crunchiness and a good sear will be washed away :)
3) I suggest using medium sized fillets so you have an easier time flipping them in the pan. If your fillets are too large, simply trim them to manageable size before coating with potato.
Recipe by
My Delicious Blog
at https://www.mydeliciousblog.com/rosemary-garlic-potato-encrusted-grouper/