Fish Tacos with Kumquat, Jalapeño & Napa Slaw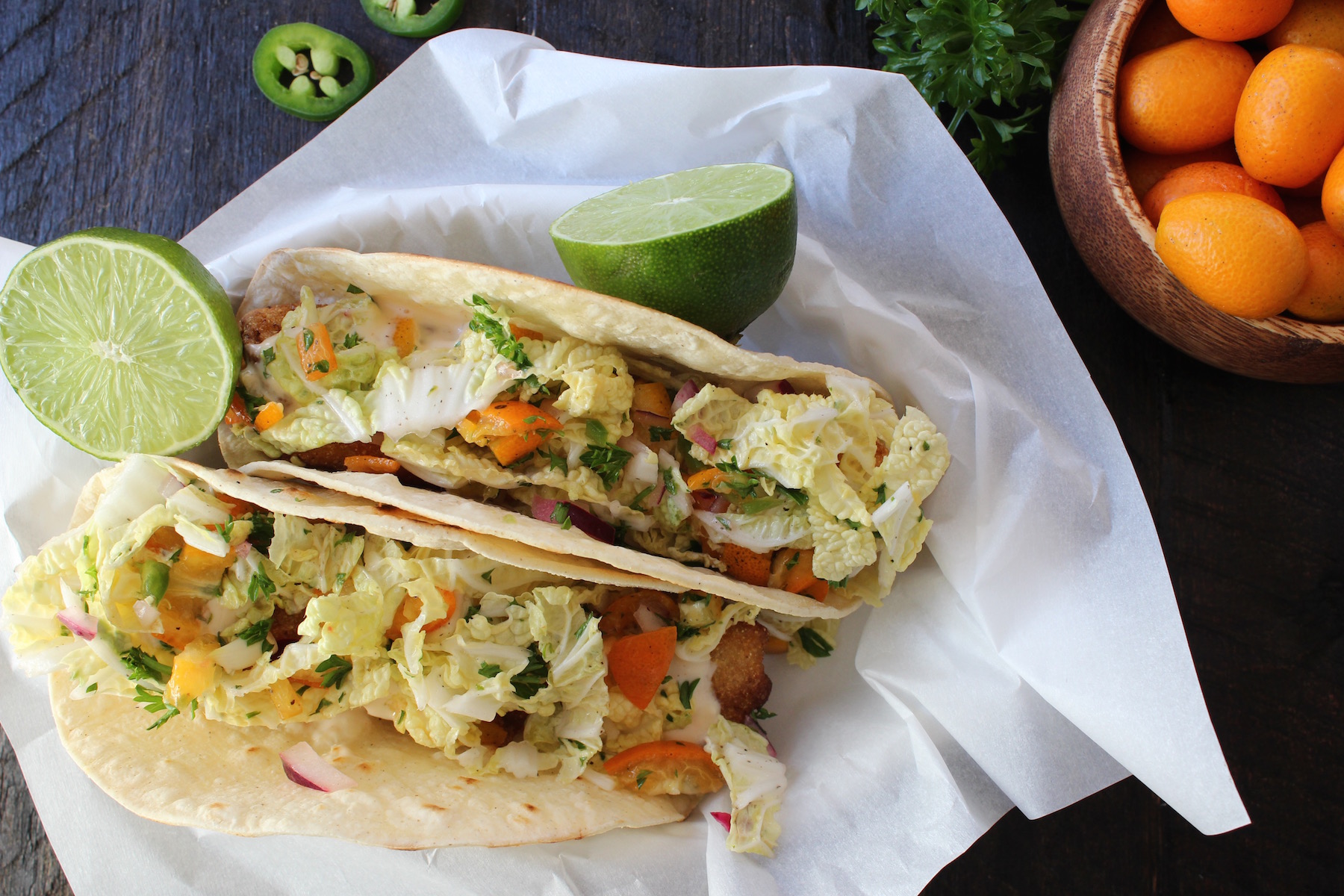 Author:
My Delicious Blog
1 c. finely ground yellow cornmeal
1 c. corn flour
1 c. all-purpose flour
2 Tb. + 1 tsp. kosher salt
½ tsp. cayenne pepper
½ tsp. freshly ground black pepper
1 c. low-fat buttermilk
Several dashes of hot sauce (I used Tabasco) or cayenne pepper
1 lb. fresh fish, de-boned, cleaned and cut into approx. 3-4" pieces/rectangles (to fit snuggly into a tortilla)
8-10 corn or flour tortillas
½ c. mayonnaise
½ c. sour cream
¼ c. whole milk
1 Tb. Sriracha sauce (more to taste)
1 garlic clove, minced
½ lime, juiced
2 c. Napa, finely shredded
Handful of kumquats (about 8-10), stems removed, seeded, chopped
4-6 Tb. red onion, thinly sliced or chopped
½ jalapeno, seeded, chopped
Handful of fresh parsley, chopped
Juice of 1 fresh lime
2 Tb. vegetable oil
Dash kosher salt
Dash freshly ground black pepper
Combine all the dry ingredients in a large bowl and mix well. Store in a dry, airtight container at room temperature until ready to use.
Combine buttermilk, hot sauce and fish in a shallow dish (add a bit more buttermilk if the fish isn't fully covered). Refrigerate about 30 minutes.
In the meantime, make the Creamy Taco Sauce and the Slaw.
Combine all ingredients in a bowl and whisk until well combined. Refrigerate until ready to use.
Combine all ingredients in a bowl and stir to combine. Refrigerate until ready to use.
Add peanut or vegetable oil into a cast-iron skillet or a deep fryer (you'll need enough oil to cover the fish in a skillet, or to get to the fill line in the fryer. I used about 24 oz. in my deep fryer).
Heat oil to at least 300 degrees (test with a deep fryer thermometer). To test heat, toss in a tiny piece of fish and if it bubbles rapidly and floats, it's ready to go.
Dip each piece of fish into the Fry Mix, then place carefully into the hot oil. Work in small batches (3-4 pieces at a time, so the temperature doesn't drop too quickly).
Cook for about 3 minutes, then remove each piece with slotted spoon or tongs and place on paper towels.
Allow the temperature to come back to at least 300 degrees, then make another batch. Repeat until all fish is cooked.
Heat flour or corn tortillas in a dry skillet or on a grill.
Assemble the tacos with a piece or two of fish, some creamy sauce and slaw. Sprinkle a little of lime if you wish, and you're good to go!
Recipe by
My Delicious Blog
at https://www.mydeliciousblog.com/fish-tacos-with-kumquat-jalapeno-napa-slaw/