Mahi Mahi with Strawberry, Mango & Mint Salsa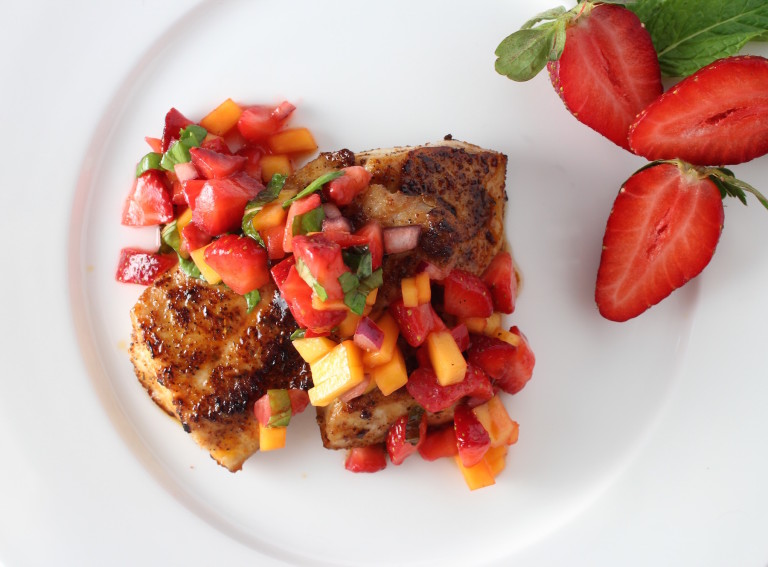 Author:
My Delicious Blog
1 c. fresh strawberries, small dice
¼ c. fresh mango, small dice
1 Tb. red onion, minced
1 tsp. red chile, seeded and minced
3-4 mint leaves, thinly sliced
3-4 basil leaves, thinly sliced
1 Tb. olive oil
1 Tb. red wine vinegar
½ tsp. granulated sugar
1 lb. Mahi Mahi fillets (or any other white, flaky fish - enough for 2-3 servings)
1 Tb. blackening seasoning (I used Paul Prudhomme's Redfish Magic)
1 Tb. unsalted butter
1 Tb. extra virgin olive oil
Combine all the Salsa ingredients in a small mixing bowl. Cover and refrigerate about 15 minutes before serving.
Sprinkle fillets with blackening seasoning on both sides.
Heat a nonstick skillet to medium/high. Add butter and olive oil. When warm, carefully place fillets. Reduce heat to medium and allow to cook for about 2 minutes. Turn fish and cook for another minute or so. (Mahi fillets are relatively thin, so they don't require a lot of cooking time.)
Serve with the Salsa.
Recipe by
My Delicious Blog
at https://www.mydeliciousblog.com/mahi-mahi-with-strawberry-mango-mint-salsa/