Fresh Tomato Soup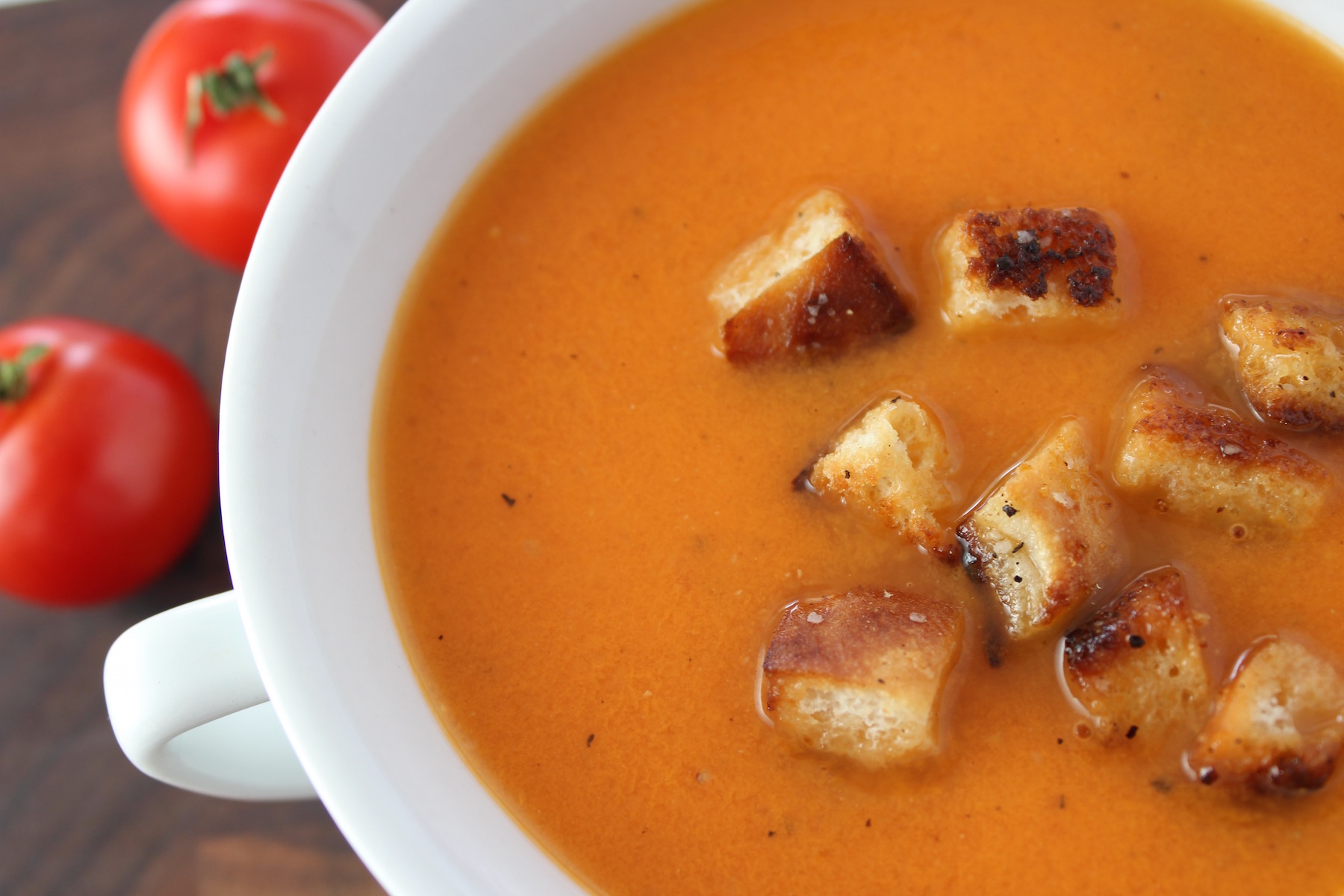 Author:
My Delicious Blog
4 Tb. unsalted butter
1 c. chopped, sweet onion (Vidalia)
1 tsp. tomato paste
4 c. fresh tomatoes (about 6 medium tomatoes)
2.5 c. chicken stock (homemade, ideally)
2 basil sprigs/stems
½ tsp. kosher salt
¼ tsp. freshly ground black pepper
2 dashes ground nutmeg (fresh, if you have it)
Fresh basil to garnish (optional)
Croutons (optional)
Fill a medium pot with water and bring to a boil.
Using a sharp knife, cut a large 'X' in the bottom of each tomato (sort of like a hot cross bun). When water boils, carefully drop each tomato into the water and allow them to sit for about 1 minute. Remove the tomatoes and allow to cool for a couple of minutes. Carefully peel off the skins; cut off the stem end and cut each tomato in half; squeeze out/discard the seeds; chop into large chunks, retaining any juices they exude; set aside.
Drain the water from the pot then add the butter and onion and cook over medium heat, just until onions are translucent (approx. 5 minutes).
Add the tomatoes/juices, along with tomato paste; allow to simmer a few minutes.
Add chicken broth, basil sprigs, salt and pepper.
Simmer over low heat about 20 minutes.
Discard basil sprigs then add nutmeg.
Using an immersion blender, puree mixture until very smooth. (If you don't have an immersion blender, transfer small quantities of the soup to a food processor or blender, then return to the pot).
Taste for seasoning.
Serve with croutons or chopped basil.