Fresh Blueberry & Watermelon Salsa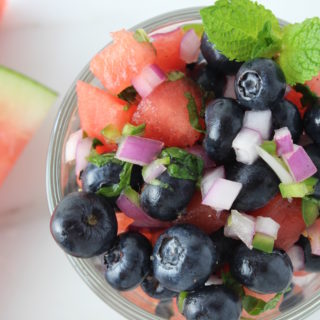 Author:
My Delicious Blog
1 c. fresh blueberries
½ c. watermelon, small dice
2 Tb. red onion, small dice
½ - 1 tsp. jalapeno, seeded & minced
1 Tb. lemon (or lime) juice
1 tsp. honey
Dash kosher salt
Dash freshly ground black pepper
2 Tb. fresh mint (or basil) - chopped just before serving time
Combine all ingredients (except for mint or basil) in a bowl.
Cover and refrigerate about 30 minutes.
When ready to serve, mix in chopped mint or basil (this avoids browning of the pretty green herbs).
Recipe by
My Delicious Blog
at https://www.mydeliciousblog.com/fresh-blueberry-watermelon-salsa/