Baked Tomatoes with Pesto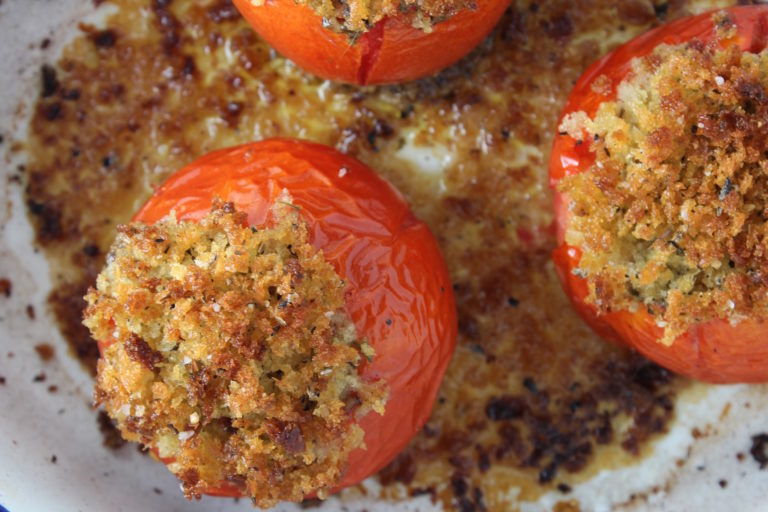 Author:
My Delicious Blog
4 medium, ripe tomatoes
~3/4 c. Panko bread flakes (more or less, depending on size of tomatoes)
2-3 Tb. olive oil
¼ tsp. kosher salt
⅛ tsp. freshly ground black pepper
2 Tb. basil pesto (homemade or store-bought)
Heat the oven to 450 degrees.
Splash a little olive oil in the bottom of a baking dish.
Cut a tiny slice from the bottom of each tomato, so each sits flat, then cut off the tops from each tomato, crosswise.
Using your fingers or a spoon, scoop out/discard the seeds (careful not to pierce the bottom of the tomato) then place in the baking dish.
In a small bowl, mix together Panko, olive oil, salt and pepper until the mixture holds together well.
Add about 1 tsp. of basil pesto to the cavity of each tomato.
Top each tomato with breadcrumb mixture (don't hesitate to overfill, if you have plenty!).
Place in oven for about 20 minutes, until the tops are nice and brown and the skins start to split/blister.
Recipe by
My Delicious Blog
at https://www.mydeliciousblog.com/baked-tomatoes-with-basil-pesto/