Ahi Tacos w/Cuke-Mango Salsa & Wasabi-Cilantro Sauce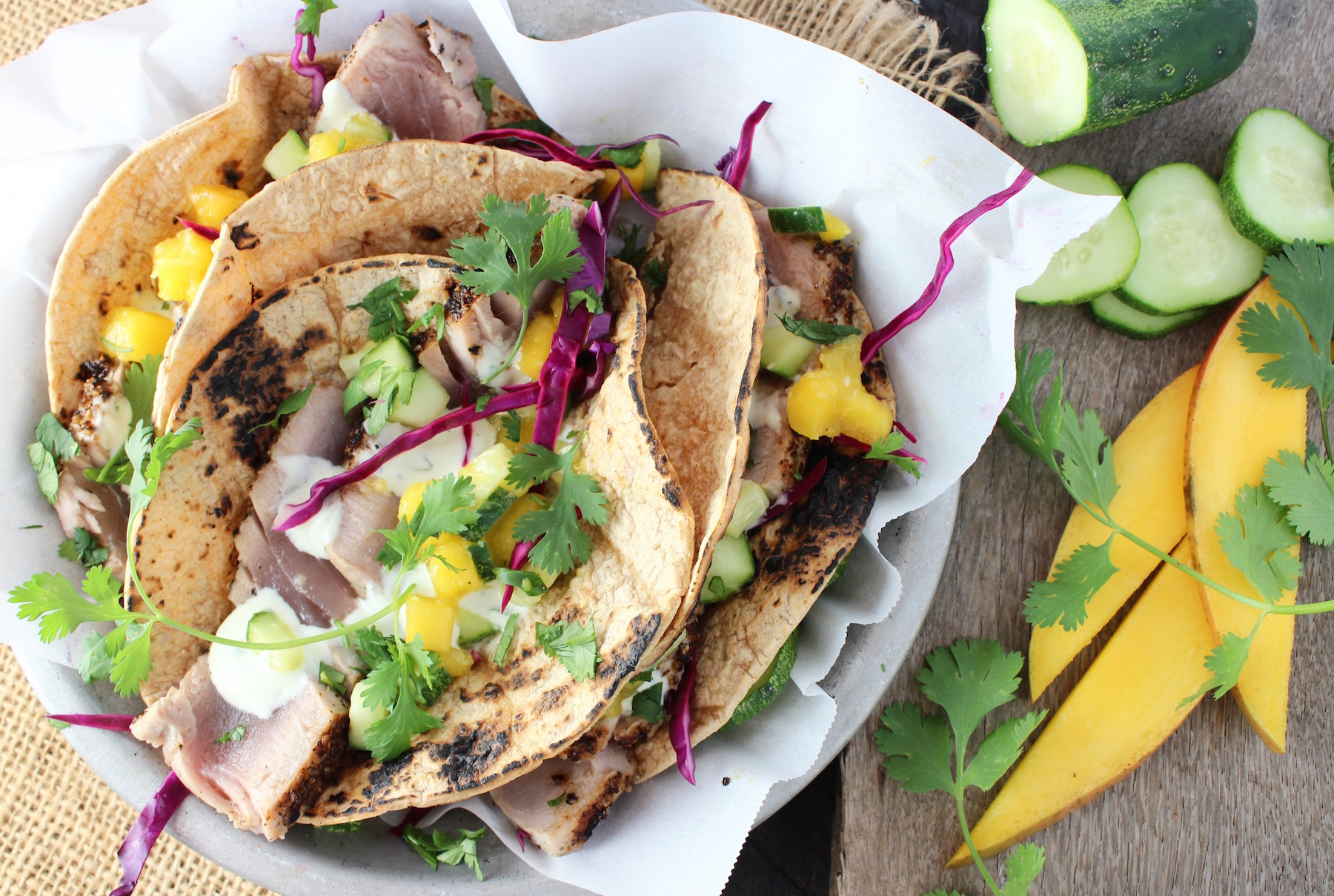 Author:
My Delicious Blog
½ c. cucumber, small dice
½ c. mango, small dice
¼ c. thinly sliced red cabbage
¼-1/2 tsp. fresh ginger, grated (depending on how spicy you like it)
2 tsp. rice vinegar
¼ tsp. sesame oil
½ c. sour cream
¼ c. mayonnaise
1 Tb. prepared wasabi (use less if you prefer less heat)
Small handful fresh cilantro, chopped
~1 lb. fresh tuna steaks (about 2-3 large pieces)
Kosher salt
Freshly ground (or cracked) black pepper
Olive oil
Corn or flour tortillas
Fresh cilantro for garnish
Combine all ingredients for Cucumber-Mango salsa; set aside or refrigerate about 10-15 minutes.
Mix together all ingredients for Cilantro-Wasabi Sauce; set aside or refrigerate about 10-15 minutes.
Heat a non-stick or cast iron pan to high.
Using a paper towel, pat dry the fish and generously sprinkle both sides with salt and black pepper.
Add about 1 Tb. olive oil to pan. Place tuna in the pan and sear about 1-2 minutes each side (to desired level of doneness).
Remove fish from heat and transfer to a cutting board. Once slightly cooled, slice with a very sharp knife.
Using a paper towel, wipe the pan then sprinkle a little olive oil in the pan to heat up the tortilla on each side to your desired level of doneness. OR, if you have a gas stovetop, heat a burner to medium/low and place the tortilla directly onto the grill for a 'charred' effect.
Assemble tortillas with tuna, salsa and sauce. Sprinkle additional cilantro, if desired.
Recipe by
My Delicious Blog
at https://www.mydeliciousblog.com/ahi-tacos-wcuke-mango-salsa-wasabi-cilantro-sauce/