Flounder with Brown Butter, Garlic & Lemon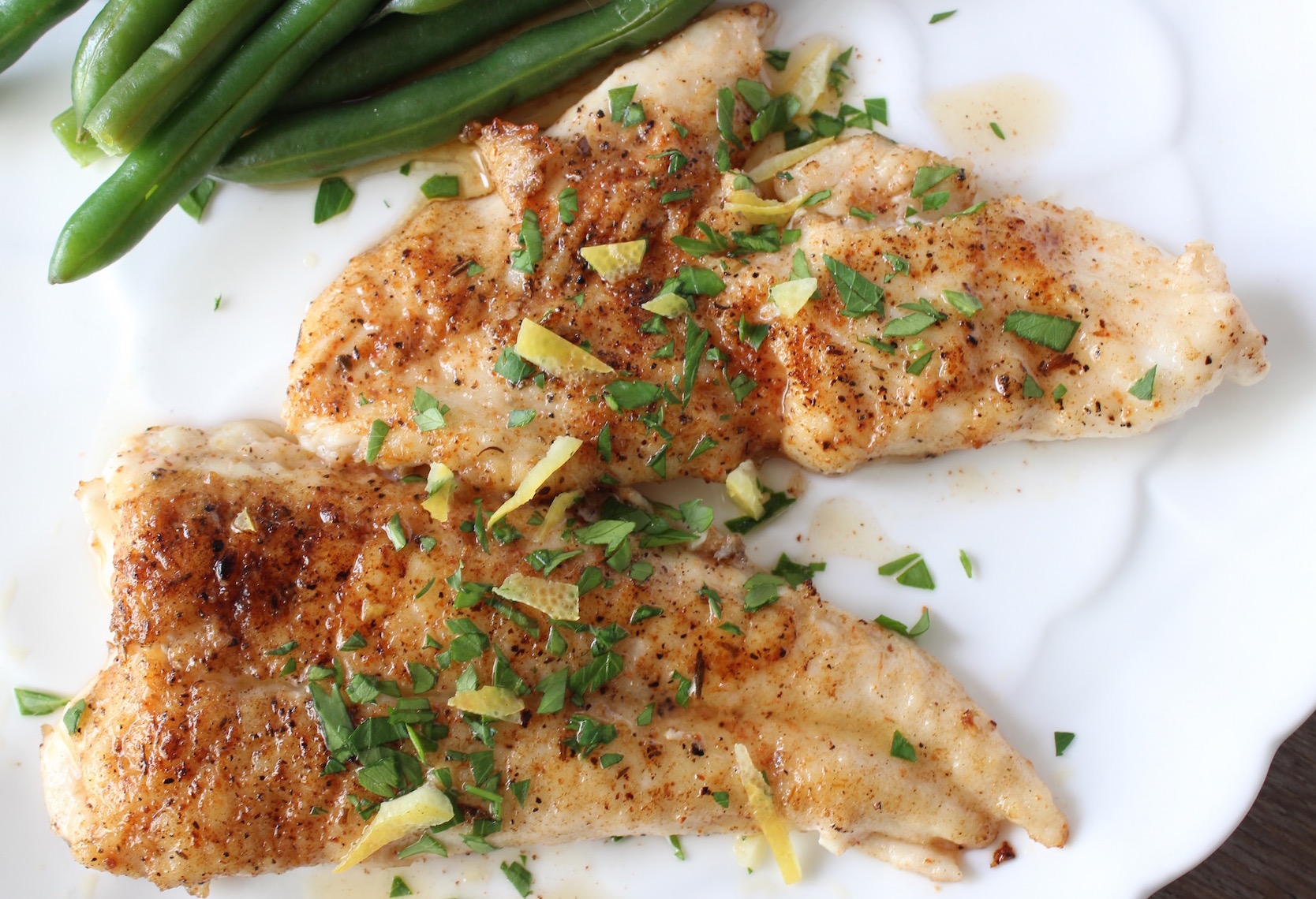 Author:
My Delicious Blog
4 Tb. unsalted butter
1 clove garlic, minced or pressed
2 fresh Flounder fillets
Dash kosher salt and freshly ground black pepper
¼ tsp. Cajun or blackening seasoning (optional)
1 tsp. lemon rind, thinly sliced or minced
Handful fresh parsley, minced
Lemon wedges
Don't use a non-stick pan! You need a clean, stainless pan in order to see the emerging color of the butter as it heats.
Cut the butter in tablespoon-sized pieces and place in the pan.
Heat the butter over medium heat - any higher and the butter will easily scorch.
Stir the butter constantly with a heat-proof spatula or wood spoon. (Note: once I started to heat my butter, I added in the minced garlic). As it warms, the milk solids start to come to the surface and you'll notice the color start to take on a golden-brown hue. As soon as it becomes the color of caramel, immediately remove it from heat and pour it into a heat-proof dish. Any longer and it will burn and become black, and that's no fun for anybody! Some of the solids might get mixed into the golden butter, but that's ok - they'll just sink to the bottom. You can also pass the butter through a fine mesh strainer to avoid most of the solids.
Once in a dish, skim away foam or any floating garlic with a small spoon.
Wipe out the butter residue in the pan with a paper towel.
Add 1 tsp. olive oil to the pan and heat to medium/high.
Sprinkle the fillets with salt and pepper (and Cajun or blackening seasoning, if using) on both sides. Place the fillets in the hot oil. Allow the fillets to cook for at least a minute then check to see if there's a brown crust forming on the first side. Use a very thin spatula to get under the fillets and flip each one carefully. Cook the other side 1-2 minutes. Both sides should be crispy and brown.
Transfer to a serving plate.
Top with a little brown butter, parsley and some lemon rind. Sprinkle a little lemon juice, if desired. Season with a little kosher salt, if needed.
Store any remaining brown butter in the refrigerator, in a tight container, up to 2 weeks.
Recipe by
My Delicious Blog
at https://www.mydeliciousblog.com/flounder-with-brown-butter-garlic-lemon/