Crispy Chocolate Chip Cookies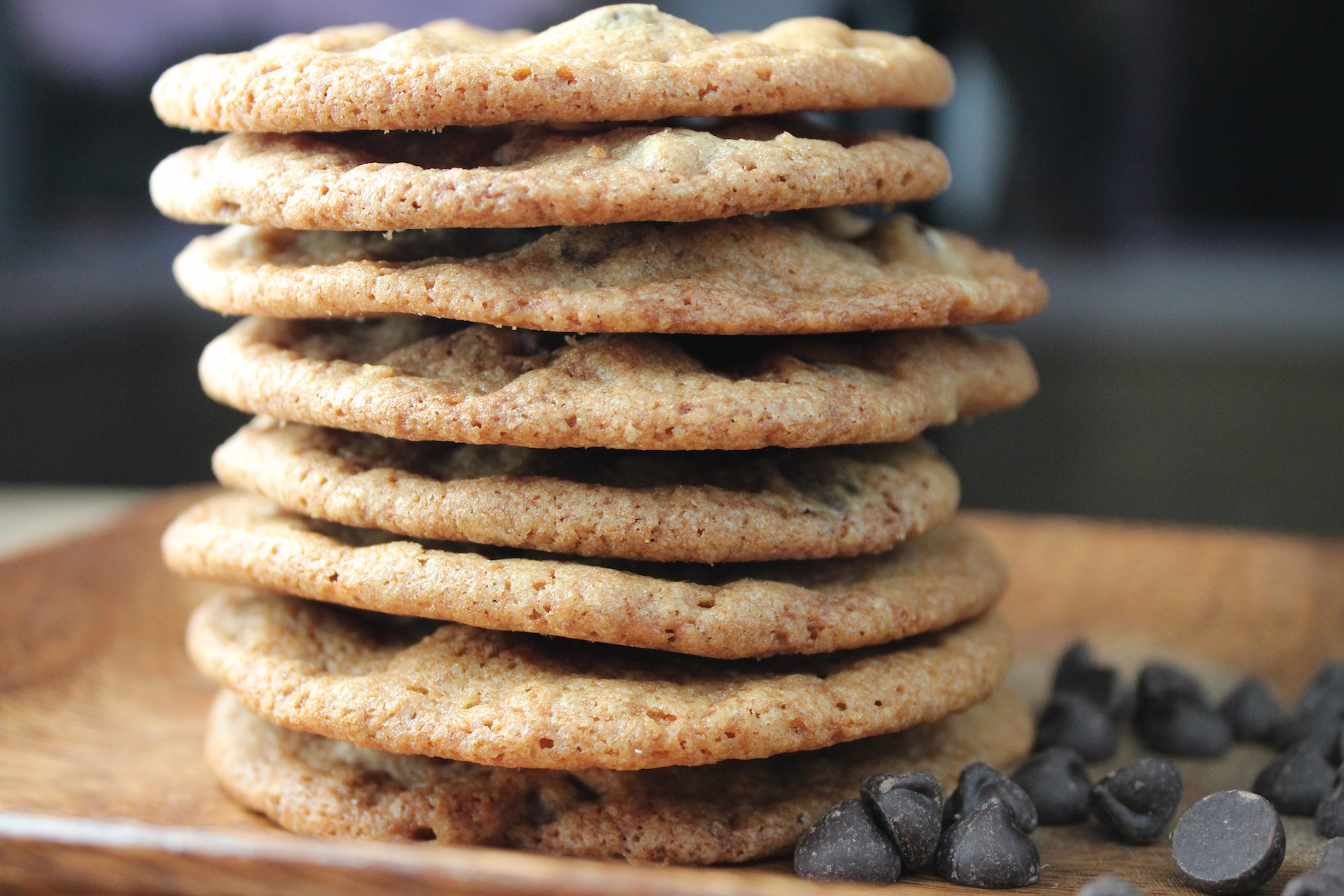 Author:
My Delicious Blog
½ c. granulated sugar
½ c. light brown sugar, packed
8 Tb. cold, unsalted butter, cut into small cubes
1 large egg
1 tsp. vanilla extract
½ tsp. baking soda
1¼ c. all-purpose flour
¼ tsp. salt
1 c. toasted almonds or pecans, minced
¾ c. dark chocolate morsels
¾ c. semi-sweet chocolate morsels
⅔ c. chopped, dried cherries (optional - if using, use only ¾ c. nuts)
Adjust oven rack to the top third level.
Heat oven to 300 degrees.
Line a baking tray with parchment paper.
Toast nuts over low heat in a non-stick pan. When fragrant, transfer to a cutting board & mince.
In a stand up mixer, beat sugars and butter until very smooth.
Add egg, vanilla and baking soda and mix on low speed 1-2 minutes.
Slowly add flour & salt and mix on low until just combined.
Stir in chocolate and nuts and mix, by hand.
Form dough into 2 tablespoon-sized balls and place on the parchment paper (8 per sheet works, about 4" apart, giving them room to spread).
Bake about 18 minutes until golden brown. Remove from oven, cool 1-2 minutes on the baking tray, then transfer to a cooling rack.
Repeat!
If you decide to omit the nuts, simply add more chocolate or other fill ins to balance out to about 1 cup (maybe coconut, raisins, other dried fruit).
Recipe by
My Delicious Blog
at https://www.mydeliciousblog.com/crispy-chocolate-chip-cookies/