BLTF (Bacon Lettuce Tomato w/FISH!)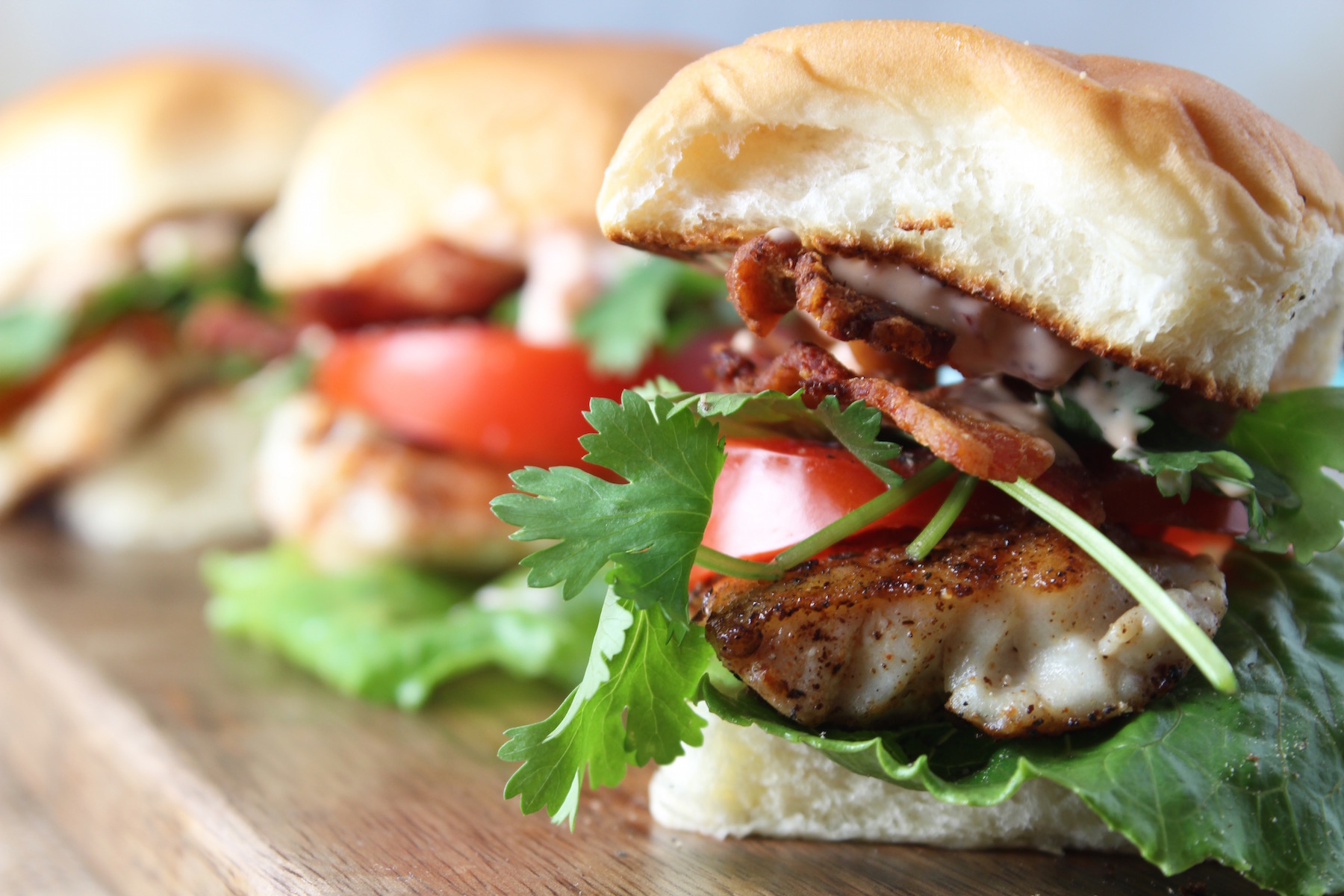 Author:
My Delicious Blog
2 Tb. mayonnaise
1 Tb. sour cream
1 tsp. ground chili paste (I buy mine at the Asian market)
Dash kosher salt
Dash freshly ground black pepper
1 lb. fish, cleaned & de-boned (any white fish will do), cut into 3" pieces
1 tsp. blackening seasoning (optional)
1 tsp. unsalted butter or olive oil
6 slider rolls (I used King's Hawaiian Original)
Fresh tomato, sliced
Fresh lettuce (Iceburg, Romaine, etc.)
4 slices thick-cut bacon, cooked & cooled
Fresh cilantro sprigs (optional)
Kosher salt and freshly ground black pepper
Mix together the mayonnaise ingredients and refrigerate until ready to use.
Sprinkle fillets with either blackening seasoning or salt & pepper.
Heat a non-stick skillet to medium. When hot, add butter or olive oil, then place fish in pan. Flip each piece after about 2 minutes. Reduce heat and cook until fish is firm but not dry (approx. 1-2 mins). Turn off heat and leave in pan.
Heat a non-stick skillet or flat iron grill pan to high. Slice each roll and place each side on the grill until brown and toasty.
Layer a piece of fish, then lettuce, tomato, bacon (as much as you can fit), cilantro (if using) then slather on some mayonnaise.
Recipe by
My Delicious Blog
at https://www.mydeliciousblog.com/bltf-bacon-lettuce-tomato-fish/