Kale, Cashew and Miso Salad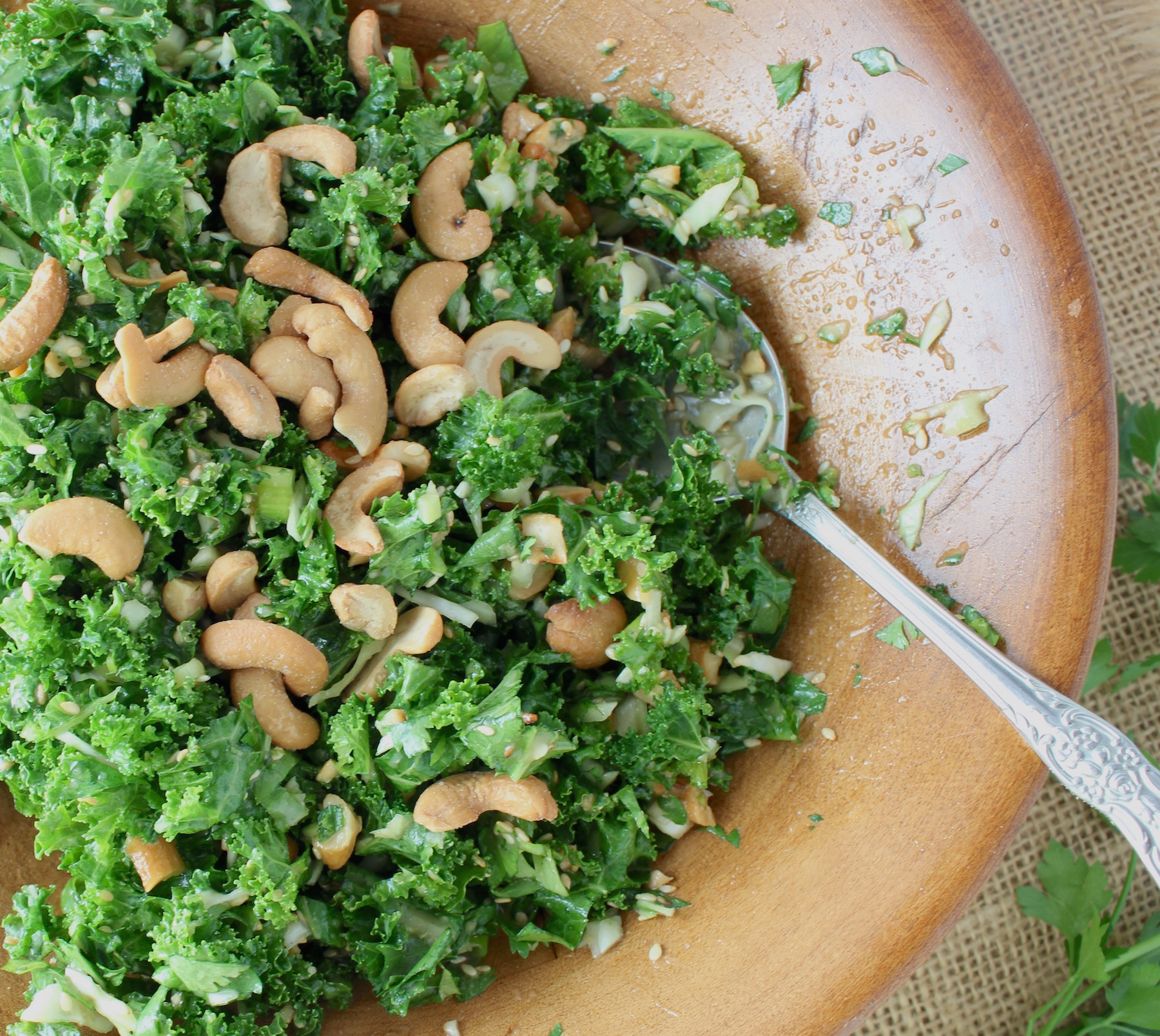 Author:
My Delicious Blog
2 c. lacinto (or curly) kale, thinly sliced
large handful fresh parsley, chopped (about ½ c.)
large handful fresh cilantro, chopped (about ½ c.)
6 scallions (white & green parts), thinly sliced
⅔ c. white cabbage, thinly chopped
½ c. lightly salted cashews, roughly chopped (plus some extra for topping/serving)
2 Tb. toasted sesame seeds
2 Tb. white miso
2 Tb. water
2 tsp. honey
1 Tb. rice wine vinegar
1 tsp. soy sauce
1 tsp. canola or peanut oil
1 tsp. sesame oil
Dash kosher salt
Slice (and chop, if pieces are too long) kale and place in a large mixing bowl. Sprinkle in a little bit of olive oil then mix together with your fingers to 'massage' the kale for a minute or so. Let sit for about 10 minutes so the kale continues to soften.
Prepare remaining salad ingredients and add to the kale bowl.
Whisk all dressing ingredients in a small mixing bowl. Set aside until ready to combine with salad then serve immediately.
1) If you have any left over and it has already been dressed, the salad will keep well in the refrigerator for up to 1 day.
2) This salad would be extra tasty with some grilled chicken, shrimp or even steak.
3) This salad makes a perfect amount for 2 lunch or dinner salads, but could also serve 4 side portions.
Recipe by
My Delicious Blog
at https://www.mydeliciousblog.com/kale-and-cashew-salad-with-miso-dressing/