Halibut with Warm Chourico & Corn Relish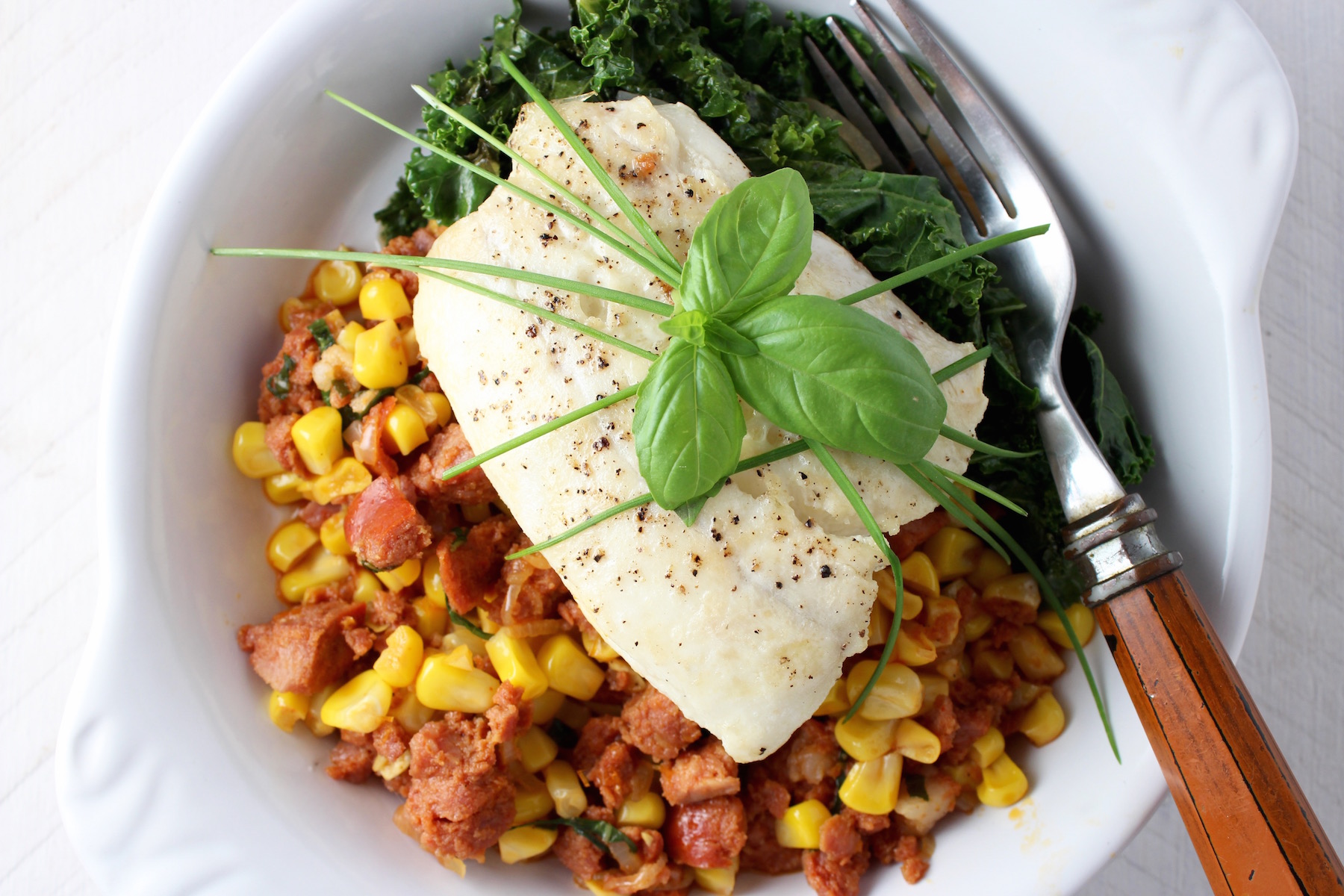 Author:
My Delicious Blog
8 oz. dry cured chourico, casing removed, chopped
1 clove garlic, peeled & minced
1 big ear of corn, niblets removed from husk
1 shallot, sliced thinly
½ c. low-sodium chicken, beef or vegetable both (whatever you have) *
4 Tb. unsalted butter
Kosher salt & freshly ground black pepper, to taste
Handful fresh basil, thinly sliced
Handful fresh parsley, minced
1 lb. Halibut, skin on OR removed (depending on preference), cut into 4 portions
2 Tb. olive oil
Kosher salt
Freshly ground black pepper
Fresh lemon wedges
Fresh basil or chives (for garnish)
Heat oven to 350 degrees.
Place the chourico in a non-stick skillet over medium heat. Allow to cook and release its juices and oils and break down (about 5-7 mins.).
Add garlic, corn, shallot and cook on medium/low for about 8-10 minutes.
Add broth and cook another 5 minutes.
Add butter, basil, parsley, salt & pepper (to taste). Turn off heat and set aside until fish is cooked.
Pat fish pieces dry with paper towel. Sprinkle both sides with salt and pepper.
Heat non-stick/oven proof skillet over medium heat. Add olive oil.
Place fish in pan, non-skin side down (if retaining skin). Flip fish after 3-4 minutes. Allow to cook on stovetop for about 5 minutes, then pop the pan into the oven. Allow fish to cook another 5-7 minutes then remove from oven.
Plate the fish, along with chourico/corn relish. Garnish with lemon and herbs.
* Add a bit more broth if the mixture seems a little "dry" - the more moisture the better with this dense fish.
Recipe by
My Delicious Blog
at https://www.mydeliciousblog.com/halibut-with-warm-chourico-corn-relish/