Basil Infused Whipped Cream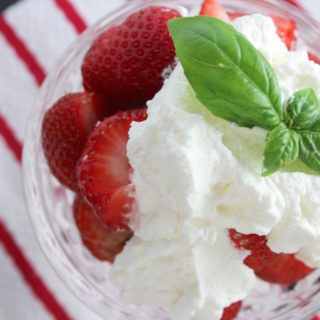 Author:
My Delicious Blog
1 c. whipping cream
Handful fresh basil (or other herbs), torn into pieces (about ⅓+ cup)
1 Tb. confectioner's sugar (or other favorite sweetener)
Heat cream over medium temperature in a small saucepan - until it just starts to simmer.
Remove from heat and toss in herbs.
Allow to sit at room temperature about 30 minutes, uncovered.
Pour the cream through a mesh strainer into a small bowl to remove the herbs.
Cover and refrigerate at least 3 hours (the longer the better).
Whip as usual, using your favorite sweetener, then serve!
Recipe by
My Delicious Blog
at https://www.mydeliciousblog.com/basil-infused-whipped-cream/