Mizuna, New Potatoes and Lemon Vinaigrette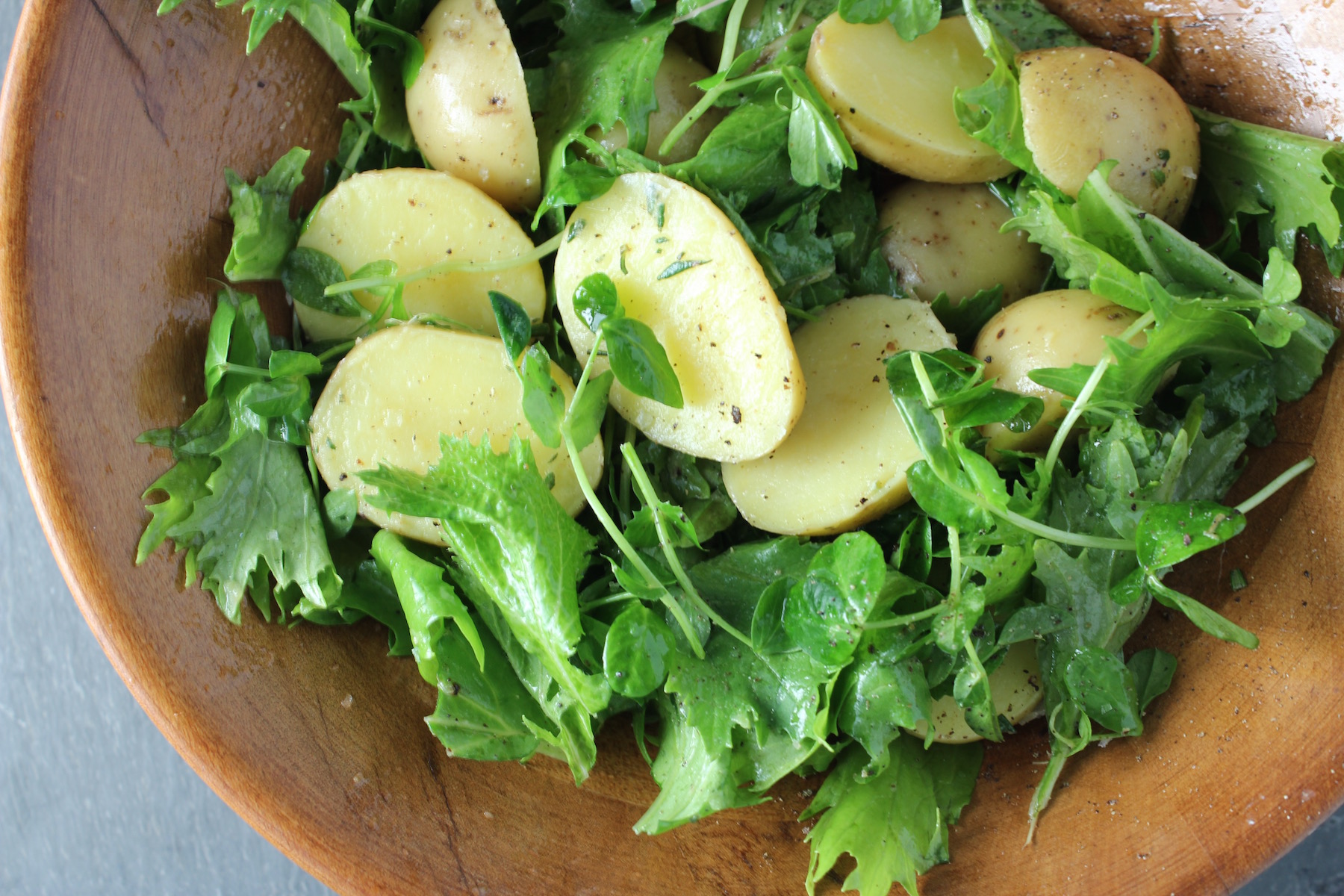 Author:
My Delicious Blog
8-10 new potatoes (skin on)
Large handful fresh Mizuna (about 2-3 cups)
Handful micro greens (optional)
1 Tb. fresh rosemary, minced
½ tsp. lemon zest
2 Tb. fresh lemon juice
⅛ tsp. Dijon mustard
1 tsp. granulated sugar
¼ tsp. kosher salt
Few grinds fresh black pepper
3 Tb. extra virgin olive oil
Wash potatoes then place in a pan and cover with water. Add about 1 tsp. kosher salt to the water. Bring to a boil, then reduce heat to simmer potatoes gently, uncovered. Cook about 15 minutes and test with a toothpick or skewer to ensure they're fully cooked.
While potatoes cook, wash and dry the greens in a salad spinner. Transfer to a serving bowl.
To make the Lemon Vinaigrette, combine all ingredients, then slowly whisk in the olive oil until fully emulsified; set aside until ready to use.
Drain potatoes (do not rinse!) and allow to cool a few minutes. Cut each in half and transfer to a mixing bowl. Spoon a few teaspoons of Lemon Vinaigrette over the potatoes, along with rosemary and mix gently.
Add some of the Lemon Vinaigrette to the mixed greens and fluff to combine. Spoon potatoes over the greens and gently toss to get the warm potatoes to soften the Mizuna. Add a little more fresh black pepper and/or salt, if desired.
Recipe by
My Delicious Blog
at https://www.mydeliciousblog.com/mizuna-new-potatoes-and-lemon-vinaigrette/