Garden Fresh Ratatouille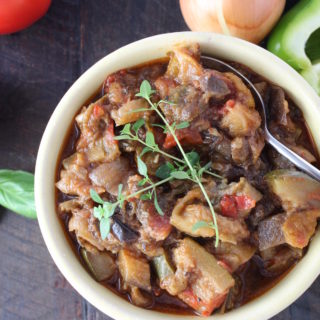 Author:
My Delicious Blog
4 Tb. olive oil
1 yellow onion, 1" chunks
5-6 garlic cloves, peeled and minced
1 red bell pepper, 1" chunks
1 green bell pepper, 1" chunks
1 yellow bell pepper, 1" chunks
1 fennel bulb, peeled, 1" pieces
2 Tb. tomato paste
Pinch red pepper flakes
Kosher salt and freshly ground black pepper
3-4 large tomatoes, peeled & seeded, 1" pieces
1 bouquet garni of fresh herbs (3 thyme sprigs, 3 basil sprigs, 3 bay leaves) - simply bundle up the herbs and tie with kitchen twine
4-6 Tb. olive oil
2 medium eggplants (Globe or Asian) 1½" chunks (if large eggplant, discard seedy center pulp)
Kosher salt and freshly ground black pepper
2-3 Tb. olive oil
3 medium zucchini, 1½" chunks
Pinch red pepper flakes
Kosher salt and freshly ground black pepper
Heat oven to 300 degrees. Position oven rack to center spot.
In a large Dutch oven, cook the Onion/Pepper Mixture over low heat: combine olive oil, onion, garlic and cook for about 5 minutes. Add peppers and fennel and continue to cook over low heat, stirring regularly, about 5-7 minutes. Sprinkle with salt and pepper. Add tomato paste to bottom of pan and let it warm for a minute so it starts to melt, then mix with all ingredients and simmer another 5 minutes.
In a separate saute pan, prep Eggplant: over low heat add olive oil and eggplant. Continue to stir until nicely browned and soft - about 10 minutes. Reduce heat if it cooks too quickly, and add more olive oil if it seems to dry. Sprinkle with salt and pepper and add to Dutch oven.
In the same pan, prep Zucchini: over low heat, add olive oil and zucchini pieces. Cook over low heat until soft but not too brown. After about 5 minutes, sprinkle with red pepper flakes and salt/pepper then cook another minute or two. Add to the Dutch oven.
Add tomatoes and bouquet garni to Dutch oven. Sprinkle a little more salt and pepper and stir well.
Increase heat to medium on stove top which allows Dutch oven to heat significantly before placing into oven.
Cover Dutch oven using its lid OR, cut a piece of parchment paper to fit its opening (be sure to cut a hole in the center for steam to escape), brush the under side of the parchment with olive oil and place it, oil side down, onto the mixture (if you do this you won't need the cover, which can sometimes steam the vegetables since air cannot escape).
Bake about 1 hour. Stir once or twice during the hour, to ensure all flavors and combined.
Remove from oven and take out the bouquet garni. Allow to rest for 10-15 minutes before serving.