Orzo Risotto with Broccoli & Roasted Salmon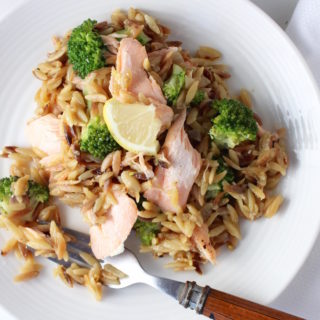 Author:
My Delicious Blog
1 lb. skin-on salmon fillet
Dash kosher salt
Dash freshly ground black pepper
1.5-2 c. small broccoli florets
½ tsp. kosher salt
1 Tb. unsalted butter
1 Tb. olive oil
1 small onion, chopped
2 cloves garlic, minced
1 c. dry orzo
2¼ c. chicken or vegetable stock
½ tsp. kosher salt
¼ tsp. freshly ground black pepper
Juice & zest of one 1 lemon
Handful fresh parsley, chopped
¼ c. freshly grated parmesan
Heat oven to 350 degrees.
In a non-stick, oven-proof pan, sprinkle a little olive oil and heat to medium/high.
Sprinkle fish with a little salt and pepper.
Place fish in warm pan, skin side down, so it starts to sear.
After a few minutes, turn off heat and place pan in oven to allow the fish to finish cooking -- this takes about 10-15 minutes, depending on thickness of your fillet. Cook until the flesh flakes apart, then remove from oven and allow to rest a bit. Remove skin and dark areas at the skin line. Break up the fillet into small pieces; set aside until ready to use.
While salmon cooks, bring a saucepan of water and ½ tsp. salt to boil. Drop in broccoli pieces and blanche about 5 minutes. Remove with a slotted spoon and place broccoli in ice water for a few minutes. Transfer to a bowl and set aside until ready to use.
In a non-stick pan, add butter and olive oil and heat to medium.
Add chopped onion and garlic and mix until coated. Cook to slightly translucent (about 5 minutes).
In a separate pan, simmer the stock and keep over low heat until ready to use.
Add orzo to the onion mixture and stir to combine. Stir frequently as the orzo browns over medium heat (about 5-7 minutes).
Reduce heat to medium/low, then add about ½ c. of warm stock to the orzo mixture and allow it to slowly be absorbed by the orzo (reduce heat if it's bubbling too rapidly). Before it gets too dry, add another ¼ - ½ c. of stock, stir well, and allow it to be slowly absorbed. Keep doing this until all the liquid is fully absorbed and the orzo is tender.
Add kosher salt and pepper, along with lemon juice, zest and parmesan. Mix well.
Add salmon and broccoli, then sprinkle with a little more lemon juice and parsley just before serving.
If the orzo seems a little 'dry' after incorporating your veggies and/or proteins, just add a little more stock to make it a bit creamier.
Recipe by
My Delicious Blog
at https://www.mydeliciousblog.com/orzo-risotto-with-broccoli-roasted-salmon/