Spicy Beef with Green Papaya Slaw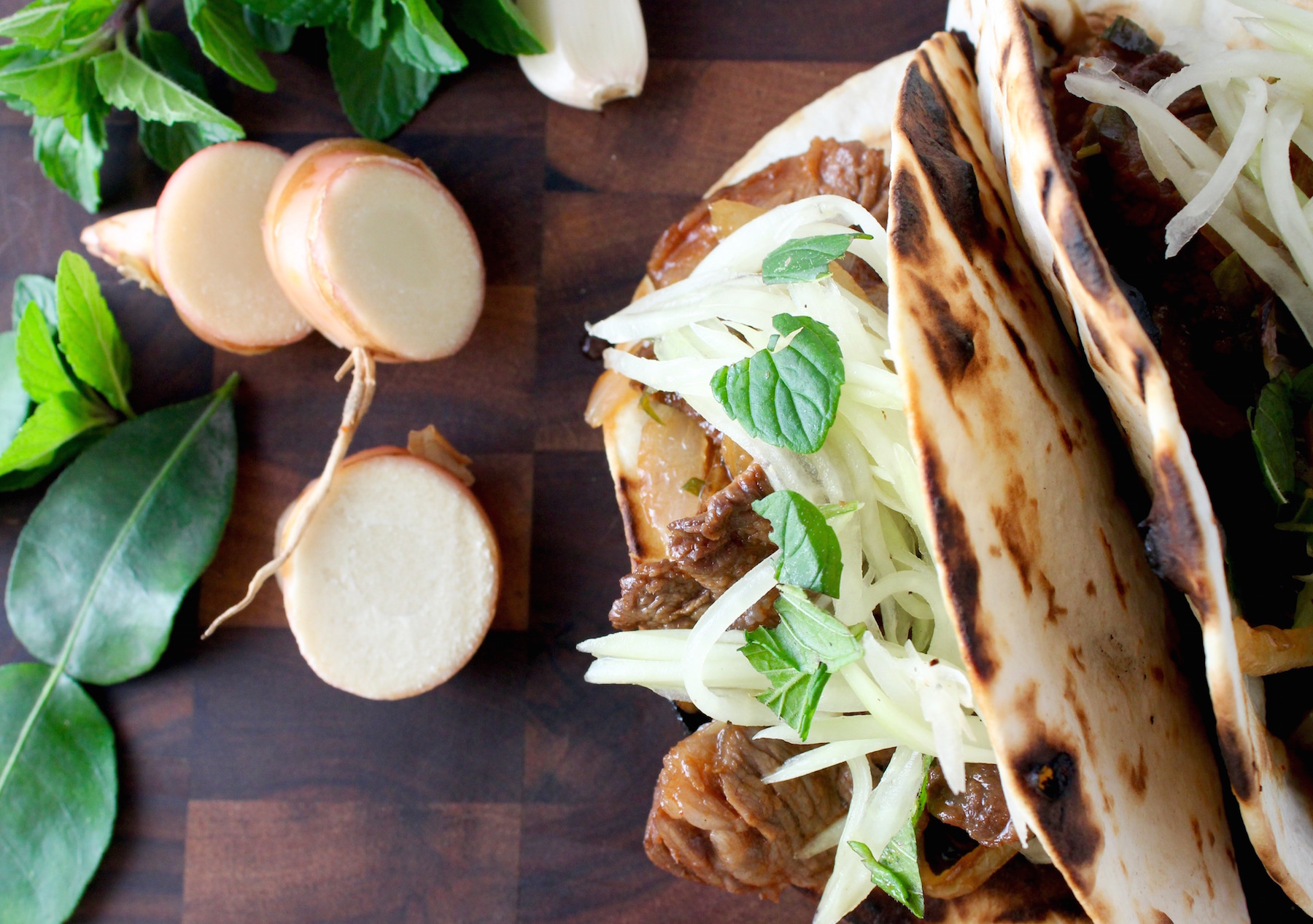 Author:
My Delicious Blog
1 lb. flank or skirt steak, thinly sliced across the grain
¼ c. Sriracha sauce
¼ c. olive oil
¼ c. packed brown sugar
2 Tb. rice vinegar
3-4 green onions, sliced thinly
~10 Makrut lime leaves, shredded (or 1 tsp. lime zest if you can't find them)
1 clove garlic, minced or mashed
1" piece ginger, peeled & grated (or galangal)
6+ flour tortillas
Vegetable or coconut oil
2 c. shredded green papaya
1 clove garlic, minced
1 small chile (red or green), seeds removed, sliced thinly
¼ c. fresh lime juice
1 Tb. brown sugar
2-3 scallions, sliced thinly
1 Tb. vegetable oil
Handful fresh mint, chopped
Handful fresh parsley, chopped
Dash kosher salt
Dash freshly ground black pepper
Combine flavorings and meat in a 1-gallon plastic sealable bag. Ensure all pieces are coated well, then seal and refrigerate at least 4 hours.
If you can't find pre-shredded green papaya, just peel the papaya then cut into large pieces; discard seeds and inner membrane.
Shred pieces in a food processor fitted with the shred attachment OR use a box grater.
Combine sauce ingredients then mix with papaya. Refrigerate at least 1 hour to combine flavors.
Place a large skillet (cast iron is ideal) on a grill over high heat. When hot, place a small amount of vegetable or coconut oil in the pan, then layer the beef strips in the pan in one layer. If they don't all fit, that's ok -- you don't want the pieces to steam, so don't overcrowd them, so you might need to work in two batches. The beef won't take long to cook since they're thin pieces, and you don't want them well-done. As soon as they look to your desired doneness, remove from pan, then cook the second batch (if applic).
In the meantime, place tortillas on the grill and allow them to scorch a bit so they're nice and toasty on both sides. Keep an eye on them, as they can burn quickly.
Place some beef in the tortilla, then top with the green papaya slaw. Top with fresh mint or parsley, whatever you have on hand, or maybe some fresh lime juice. Enjoy!
One large papaya should yield about 4-6 cups. Store what you don't use in the fridge for a few days for more experimentation.
Recipe by
My Delicious Blog
at https://www.mydeliciousblog.com/spicy-beef-with-green-papaya-slaw/