Kale Salad with Sweet Chili Dressing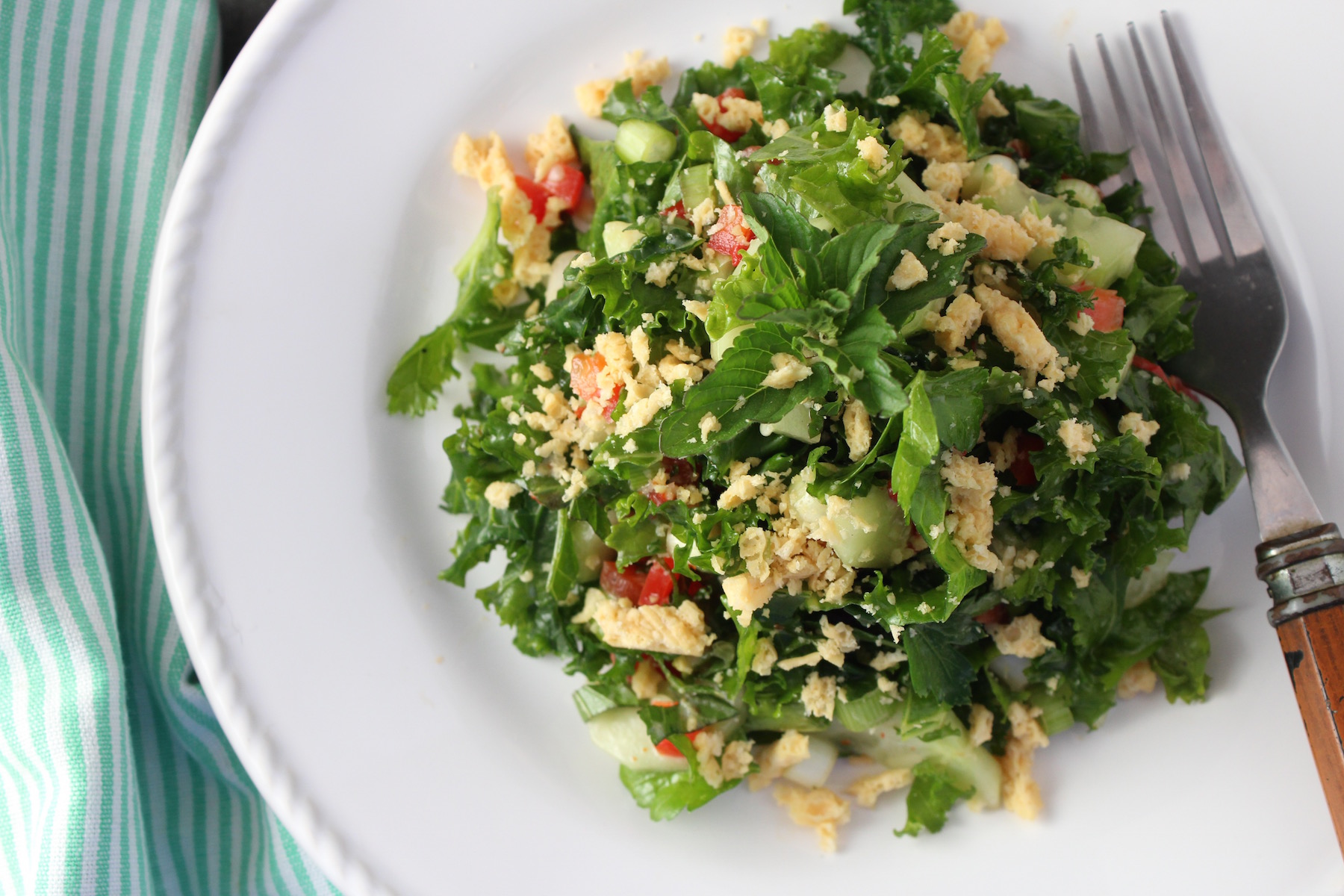 Author:
My Delicious Blog
2+ c. fresh kale (curly, Lacinto or other)
3-4 scallions, sliced thinly
½ cucumber, peeled & sliced thinly in half disks
2-3 Tb. red pepper, small dice
Handful fresh mint leaves (slice thinly if large)
Handful fresh basil leaves (slice thinly if large)
2 Tb. sweet chili sauce
2 tsp. rice vinegar
2 tsp. vegetable oil
1 tsp. toasted sesame oil
1 small clove garlic, minced
1 tsp. fresh lemon juice
Pinch kosher salt
2 tsp. low fat plain yogurt (optional)
½+ c. fresh parmesan cheese, shredded
Heat oven to 400 degrees.
Line a baking sheet with parchment paper or a silicone mat; set aside.
Whisk all Dressing ingredients in a small bowl; set aside or refrigerate until ready to use.
Make the Parmesan Crisps by placing 4 small mounds of cheese on the baking sheet, about ½" apart. Pat down gently, then place in the oven for about 4-5 minutes, until they look flat and crisp. Remove from oven and allow to cool 10-15 minutes.
Wash and dry the kale. Stack the leaves and roll them into a big 'cigar' shape then slice into thin ribbons using a chef's knife. Add to a large mixing bowl. Drizzle the kale with 1-2 tsp. olive oil, then 'massage' the leaves with your hands - get in there and rub the oil into the leaves for about 2 minutes -- this releases some of the 'toughness' in the leaves and breaks them down so they're more tender and flavorful. Let this sit for a minute or two, then add scallions, red pepper, cucumber and herbs.
Mix in the dressing, then break up the parmesan crisps and sprinkle on top.
Recipe by
My Delicious Blog
at https://www.mydeliciousblog.com/kale-salad-with-sweet-chili-dressing/