Blueberry & Basil Crisp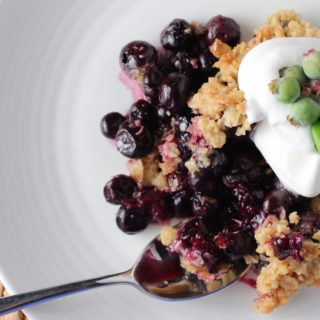 Author:
My Delicious Blog
¼ c. granulated sugar
7 or 8 fresh basil leaves
8 c. fresh blueberries
1 tsp. orange zest
1 Tb. orange juice
½ c. all-purpose flour
½ c. old-fashioned oats
½ c. brown sugar
¼ c. granulated sugar
¼ tsp. kosher salt
6 Tb. unsalted butter (cold)
Set oven to 350 degrees.
In a food processor, combine ¼ c. sugar and basil leaves. Pulse until the sugar is ground together with the leaves and it turns green.
In a large bowl, add blueberries, basil sugar, orange zest and juice. Mix to combine then pour into an 8X8 baking dish.
Wipe out the bowl of the food processor, then add the dry ingredients for the Topping. Pulse a few times to combine. Add butter and pulse several times until the mixture is very crumbly but still dry and the butter has been dispersed throughout.
Sprinkle the Topping over the berries, then place in the oven.
Bake about 1 hour, until the crust is nice and brown and the filling is bubbling.
Remove from oven and allow to cool at least 10 minutes before serving.
Serve with whipped cream or vanilla ice cream.