Zucchini Pancakes with Blistered Tomatoes & Basil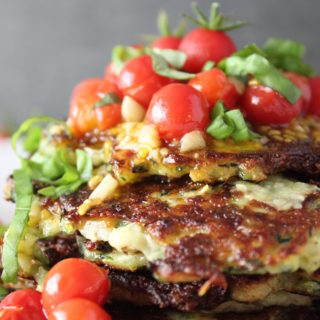 Author:
My Delicious Blog
2 c. (squeezed/water removed) zucchini (3-4 medium size)
Handful basil leaves (8-10), chopped
½ c. grated parmesan
1 small onion (or 1 shallot, or 3 scallions)
2 Tb. olive oil
1 egg, lightly beaten
1 tsp. lemon zest
⅓ c. all-purpose flour
Few grinds freshly ground black pepper
½ pint Everglades tomatoes (or cherry or Sungold tomatoes, halved)
2-3 Tb. olive oil
Pinch red pepper flakes
2 cloves garlic, peeled & minced
Dash kosher salt
Few grinds freshly ground black pepper
Fresh basil, chiffonade (for garnish)
Grate zucchini (skin on) using a box grater or food processor with grate attachment.
Place squash in a colander or large strainer over a bowl. Add about 1 tsp. kosher salt and stir it throughout the squash. Allow to sit 15-20 minutes so the squash releases its juices.
Rinse squash, squeeze it with your hands to remove most of the water then place into a clean towel and wring all remaining liquid out of it (it's a few extra steps, but you'll be glad you did it!).
Mix squash with remaining ingredients; set aside.
In a medium saucepan, add olive oil, red pepper flakes, garlic, salt, pepper and tomatoes. Heat to medium/high, then reduce heat once oil starts to bubble. Cook a few minutes so the garlic marries nicely with the olive oil, then turn off heat.
In a large non-stick skillet (or 2 separate skillets, or a griddle, so you can cook them all at once - otherwise you'll need to make 2 batches) over medium heat, add about 1 Tb. olive oil in each pan, then spoon in 4 separate piles of zucchini mixture and flatten so they're thin and uniform in size.
Cook until the first side is nicely browned, then flip (it takes 2-3 minutes each side).
Transfer to a plate and top with the tomatoes and basil.
Makes 8-10 pancakes, depending on how large your squash is. Easily serves 2 people, possibly 3 if you're not too hungry :)
Recipe by
My Delicious Blog
at https://www.mydeliciousblog.com/zucchini-pancakes-with-blistered-tomatoes-basil/