Mussels with Miso, Ginger and Lime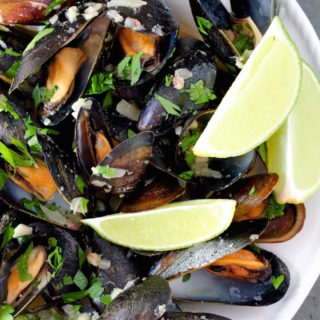 Author:
My Delicious Blog
1 lb. mussels
2 Tb. white miso paste
2 Tb. unsalted butter, room temperature
2 Tb. olive oil
1 small onion, minced
2 garlic cloves, peeled & minced
1 tsp. ginger, grated
½ tsp. chili paste (or more if you like it very spicy)
¾ - 1 c. vegetable or chicken broth
Juice of 1 lime
Lime wedges, for serving
Handful fresh parsley, chopped, for garnish
Crusty bread, grilled or pan fried
Wash, scrub and de-beard mussels. If any are open, tap them and if they don't close, toss them since they're no longer alive. Keep refrigerated until ready to cook.
Mix miso paste and butter together in a small bowl.
In a large skillet, heat olive oil over medium/low heat. Add onion, garlic, ginger and cook until tender (careful not to burn the garlic) about 2 minutes.
Add miso paste/butter mixture and stir to melt into the onion/garlic/ginger.
Whisk in chili paste and broth. Adjust heat to medium.
Place the mussels into the sauce and cover the pan.
Steam about 8-10 minutes. When all mussels have opened (if any have not, toss them), turn off the heat and transfer them to a serving dish. Spoon sauce over mussels. Sprinkle with lime juice and parsley and serve with bread.
Try to purchase your mussels the day you plan to serve them, since they typically don't store well for more than a day. When you get home, keep them under ice in your fridge until ready to work with them.
Recipe by
My Delicious Blog
at https://www.mydeliciousblog.com/mussels-with-miso-ginger-and-lime/