Lemon-Orange-Rosemary Granita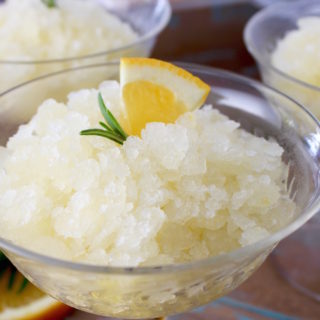 Author:
My Delicious Blog
3 c. water
¾ - 1 c. sugar
4 sprigs fresh rosemary
4-5 strips lemon zest
2-3 strips orange zest
1 c. lemon juice
¼ c. fresh orange juice
4 Tb. Grand Marnier
Simmer water, sugar, rosemary, lemon & orange zest in a small saucepan. Turn off heat and have it sit for 10-15 mins.
In a separate bowl (glass or metal), combine lemon& orange juices and Grand Marnier and place a fine mesh strainer over the bowl.
When sugar mixture has cooled, pour it over the strainer into the juice/Grand Marnier bowl and stir.
Place bowl in the refrigerator for about an hour (cooling will allow it to freeze more quickly).
Transfer the liquid to a metal 13X9 baking pan and place in the freezer on a flat surface. Stir with a spoon or fork every 20 minutes or so. It will start to get slushy, but keep up the stirring until it's all frozen and flaky.
Spoon into serving bowls. Top with fresh fruit, or enjoy it all by itself!
Store any leftover granita in a tight fitting plastic container in the freezer. It will keep well for several days (if it lasts that long!).
Recipe by
My Delicious Blog
at https://www.mydeliciousblog.com/lemon-orange-rosemary-granita/