Mango-Lime Curd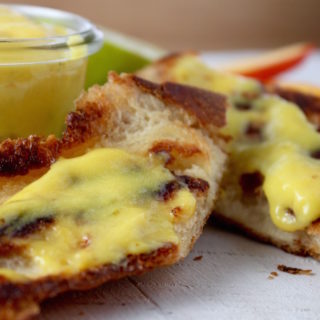 Author:
My Delicious Blog
1 large ripe mango, pureed (about ½ c.)
2 large egg yolks
¼ c. + 1 Tb. granulated sugar
Zest 1 lime
Juice ½ lime
2 tsp. dark rum
Pinch red pepper flakes (or more if you want it to be spicy!)
4 Tb. unsalted butter
Place a medium glass bowl over a pan of simmering water (i.e., create a double boiler). Add egg yolks & sugar and whisk until combined - keep the temperature to medium, so it simmers lightly, not a rolling boil.
While that cooks, zest the lime and place in a small bowl. Place a mesh strainer over the bowl - set aside until ready to use.
To the egg/sugar mixture, add mango puree, lime juice, rum, honey, red pepper flakes and butter.
Stir frequently with a wooden spoon, scraping the sides down regularly. Cook 15-17 mins, until the mixture is thick enough to coat the back of that wooden spoon (i.e., it should be thick enough to stick to the spoon and not run off easily).
Pour the mixture into the strainer over the lime zest bowl. Push the mixture through the strainer using a rubber spatula - this removes the red pepper flakes and any possible lumps. Be sure to scrape the bottom of the strainer, as lots of curd sticks there.
Stir the curd into the lime zest, then transfer to an 8-oz. Mason jar (or any lidded jar or container).
Allow to sit at room temperature, uncovered, about 30 minutes.
Cover, then refrigerate at least 2 hours before serving.