Nopales Salad & Fried Plantains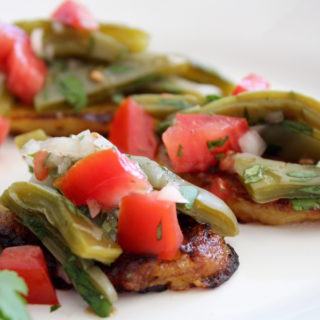 Author:
My Delicious Blog
½ lb. cactus paddle (nopales) pieces
1 sweet onion
Handful fresh cilantro (chopped + reserve 2-3 sprigs)
2 Roma tomatoes, seeded & chopped
Juice of ½ lime
Kosher salt and freshly ground pepper, to taste
Ranchero cheese (optional) - *if you use it, reduce the amount of kosher salt
1 ripe plantain (it should be dark yellow with lots of brown spots)
1-2 Tb. vegetable or coconut oil
Place cactus pieces in a saucepan and cover with water. Toss in ½ the onion, along with 2-3 cilantro sprigs, and a pinch of kosher salt.
Bring to a simmer and cook over low heat about 10 minutes.
Drain in a colander, rinse thoroughly with cool water and allow to cool for a few minutes.
Add the cooled cactus to a mixing bowl, along with ½ the remaining onion, chopped, the chopped cilantro, the tomatoes, lime juice, salt and pepper. Mix well and set aside until ready to serve.
Peel the plantain and then cut into diagonal slices.
Heat a non-stick skillet to medium/high and add a splash of oil.
Place each slice in the hot oil and cook over medium heat until the first sides are nicely brown. Flip and cook the other side until brown -- it takes a few minutes. Transfer to serving dish, top with the salad and enjoy!
1) This salad is best served at room temperature, or slightly chilled. If it's too cold, it doesn't have much flavor.
2) It can be served as a side salad, along with eggs, as burrito or taco filling - use your imagination!
Recipe by
My Delicious Blog
at https://www.mydeliciousblog.com/nopales-salad-fried-plantains/