Seafood Stew in Bread Bowl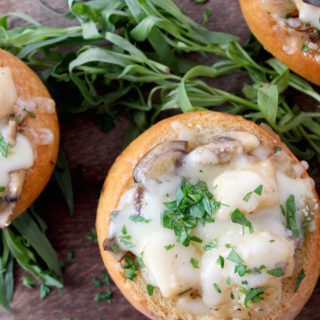 Author:
My Delicious Blog
6 small breads (like Sourdough, Pumpernickel or Country)
½ lb. medium-large shrimp, shelled, deveined & tails removed
¼ lb. sea scallops, cut into 4 pieces each
¼ lb. fresh salmon, skin removed
1+ c. sliced Portobello or Button mushrooms
Pinch saffron threads
¾ c. dry white wine
5 Tb. unsalted butter, room temperature (reserve 1 Tb. to make a thickener w/flour - see note below)
1 medium onion, chopped
1 rib celery, chopped
1-2 cloves garlic, mashed & minced
¾ c. chicken stock
1 Tb. all-purpose flour
¼ c. half & half (or heavy cream)
2 Tb. fresh tarragon, chopped
Salt & pepper, to taste
½ c. Provolone, shredded
Set oven to 375 degrees.
Soak saffron threads in a small bowl with the wine and set aside until ready to use.
Prepare bread bowls: cut off tops/remove bulk of the soft bread inside to form a little bowl. Place on baking sheet, then sprinkle the insides and outsides of each with a little olive oil. Place in oven 5-7 minutes (until edges of bread are slightly browned); set aside until ready to use.
Prepare seafood: In a non-stick skillet, heat 1 Tb. butter over medium/high heat. Add shrimp, fish and scallops. Sprinkle with kosher salt and fresh ground pepper. Cook just until the pieces are barely cooked through. Transfer to a dish.
In the same skillet, heat 1 Tb. butter over medium/high heat. Add mushrooms and saute until browned on all edges (approx. 5 minutes); transfer to the seafood dish.
In the same skillet, heat 2 Tb. butter over medium heat. Add onion and celery and cook until slightly translucent. Add garlic, wine (with saffron threads) and stock. Simmer over medium heat until liquid reduces about half.
Mix 1 Tb. softened butter with 1 Tb. flour until smooth. Stir into pan until well-combined/thickened.
Turn off heat, add cream and tarragon. Taste for seasoning, then add seafood/mushrooms.
Spoon into breads. Top each with shredded provolone. Place in oven about 5-7 minutes, until cheese is nicely browned, then serve.
Recipe by
My Delicious Blog
at https://www.mydeliciousblog.com/seafood-stew-in-bread-bowl/