Almond Biscotti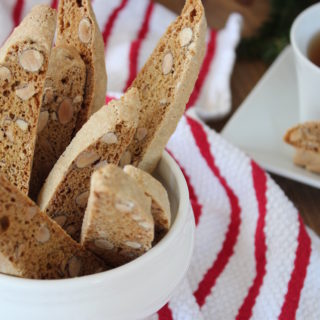 1¼ c. whole, unblanched almonds
2 c. all-purpose flour
1 c. granulated sugar
1 tsp. baking soda
Pinch of salt (I used kosher)
3 large eggs
½ tsp. vanilla extract
Preheat oven to 350 degrees.
Place almonds on a baking sheet and toast 8-10 minutes or until they begin to perfume the kitchen; remove from oven and cool.
Reduce oven to 300 degrees and line a baking sheet with parchment paper or foil.
In the bowl of a mixer fitted with a paddle attachment, place flour, sugar, baking soda and salt.
In a separate bowl, beat eggs and vanilla; set aside.
Blend dry ingredients on low speed, then pour in egg mixture; the dough starts to form after a minute or two, but will be sticky.
Add nuts and mix until they start to break up (keep your mixture in the locked position because this is a sturdy task!).
Turn the dough onto a well-floured surface then use a pastry scraper (or your hands) to fold the dough over itself 3-4 times to distribute the nuts. Add a little bit more flour if it's still too sticky. Let dough rest for a minute then divide into two equal parts.
With lightly floured hands, elongate each piece into a strip 2-3" wide, 12" long. Transfer each to the baking sheet, leaving 4" between them.
Bake 45-50 minutes or until they are slightly browned; remove and cool on baking sheet 5 minutes.
Carefully transfer each strip to a cutting board.
Using a sharp, serrated knife, cut the strips on a diagonal into ½" slices.
Place slices on the baking sheets (you'll need 2 sheets, total).
Return sheets to the oven and bake about 35 minutes.
Remove from oven and transfer cookies to a cooling rack.
Store in a container that allows air to escape, which will keep them from softening.