Kale & Quinoa with Cilantro Pesto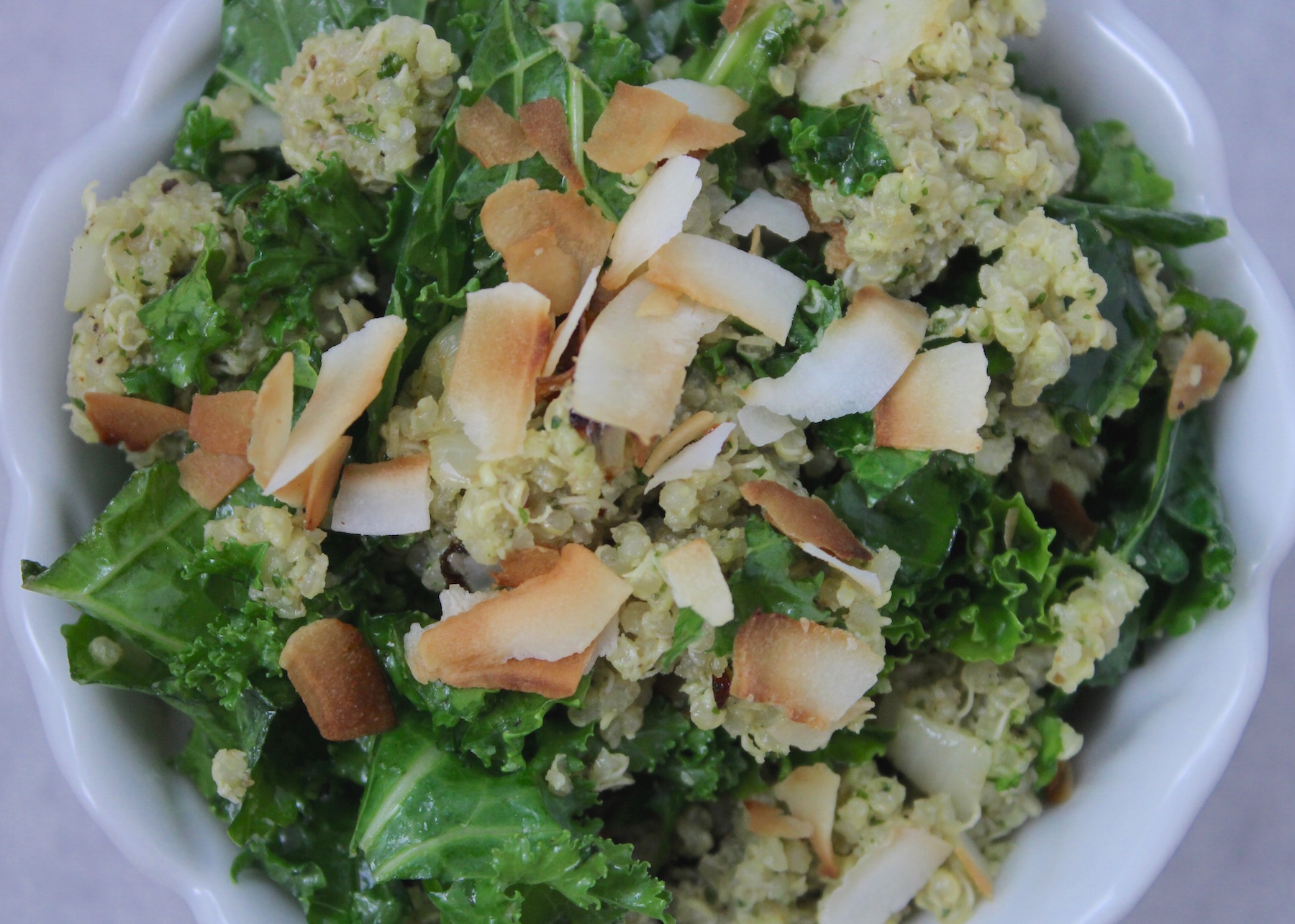 Author:
My Delicious Blog
2 c. raw kale, chopped into small pieces
1 c. quinoa, dry
Handful of scallions, sliced
½ c. unsweetened coconut flakes, toasted
1 c. cilantro
1 clove garlic
¼ c. walnuts, toasted
¼ c. parmesan cheese, grated
¼ tsp. jalapeno, minced (or dried red pepper flakes - whatever you have on hand for spicy)
1 tsp. lemon zest
¼ tsp. kosher salt
⅛ tsp. freshly ground black pepper
¼ c. olive oil (add more if it looks a bit dry)
In a food processor, make the pesto by tossing in cilantro, garlic, walnuts, cheese, jalapeño, lemon zest, salt & pepper. Whiz a few times in the blender, then pour the olive oil in slowly until all is combined and "pesto-like".
Prepare the kale by removing the stems, chopping in to small pieces and placing in a large bowl. Sprinkle kale with a little bit of kosher salt and olive oil and "massage" with your fingers (literally, massage each leaf so they all combine with the oil and salt), which makes the leaves more tender; set aside.
Prepare the quinoa by mixing 1 cup of dry quinoa with 2 cups water in a small saucepan. Once it boils, cover, turn off the heat and allow to sit for about 10 minutes. Fluff with a fork.
Toast the coconut flakes, slice the scallions and set aside.
When the quinoa has cooled, mix in the pesto , then combine with the kale and scallions. Top with the toasted coconut. Season with salt & pepper as needed.
We enjoyed this tasty salad while it was still a little warm. My husband wanted a bit more protein, so he sautéed a chicken breast to go along with it and it was quite delicious. The next day, the cold salad was still delicious - I just added a bit more salt.
Recipe by
My Delicious Blog
at https://www.mydeliciousblog.com/kale-quinoa-salad-with-cilantro-pesto/