Classic Shrimp Salad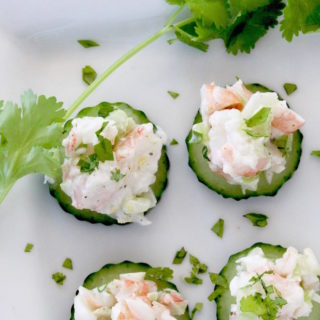 Author:
My Delicious Blog
1 c. water
6-8 whole peppercorns
2 lemon peels
1 bay leaf
Dash kosher salt (optional)
1 lb. medium (31-35 size or smaller) shrimp, peeled & deveined
2 ribs celery, minced
2 Tb. mayonnaise
1 tsp. lemon zest
½ tsp. lemon juice
1-2 tsp. fresh cilantro, minced (+ more, for garnish)
Kosher salt and fresh ground pepper, to taste
1 English cucumber, ¼" slices
In a large saucepan, add the poaching liquid ingredients.
Bring to boil, reduce heat to medium and add shrimp in one layer (if it's too crowded, make two batches). The water doesn't necessarily have to cover the shrimp. . .
Gently simmer until shrimp are pink -- this should take only a couple of minutes. Turn off heat and, using a slotted spoon, transfer shrimp to a plate in one layer and refrigerate 10-15 minutes (be sure to remove all the peppercorns - they're sneaky!).
When chilled, roughly chop shrimp (don't mince or you'll have pulp); transfer to a mixing bowl, then add celery, mayonnaise, lemon zest, lemon juice, and cilantro. Mix to combine and season with salt and pepper, to taste.
Top each slice of cucumber with about 1 teaspoon of salad. Garnish with minced chives, or a cilantro leaf, then serve.