Crispy, Crunchy Chickpeas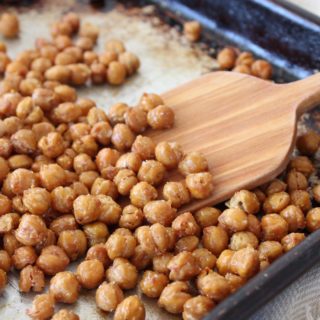 Author:
My Delicious Blog
2 15-oz. cans chickpeas
2 Tb. olive oil
½ tsp. kosher salt
2-4 tsp. spices of choice (I used smoked paprika, garlic powder and onion powder in today's mix)
Heat oven to 350 degrees.
In a colander, drain liquid from chickpeas and rinse well.
Transfer chickpeas to a clean kitchen towel and gently rub the towel over the chickpeas to start loosening the skins. If, after rubbing with the towel, some skins remain on the chickpeas, remove them by pulling the skin off each one with your thumb and index finger.
Discard skins and transfer chickpeas to a mixing bowl.
Add olive oil and salt and toss to combine then transfer chickpeas to a rimmed baking sheet.
Bake 45-50 minutes, until nicely brown (you'll start smelling their nutty aroma around 40 minutes, so check to ensure they don't burn).
Once you remove from the oven, sprinkle on desired seasoning while still warm and allow them to cool before serving (they'll get crispier as they cool).
Recipe by
My Delicious Blog
at https://www.mydeliciousblog.com/crispy-crunchy-chickpeas/