Panzanella with Zucchini & Basil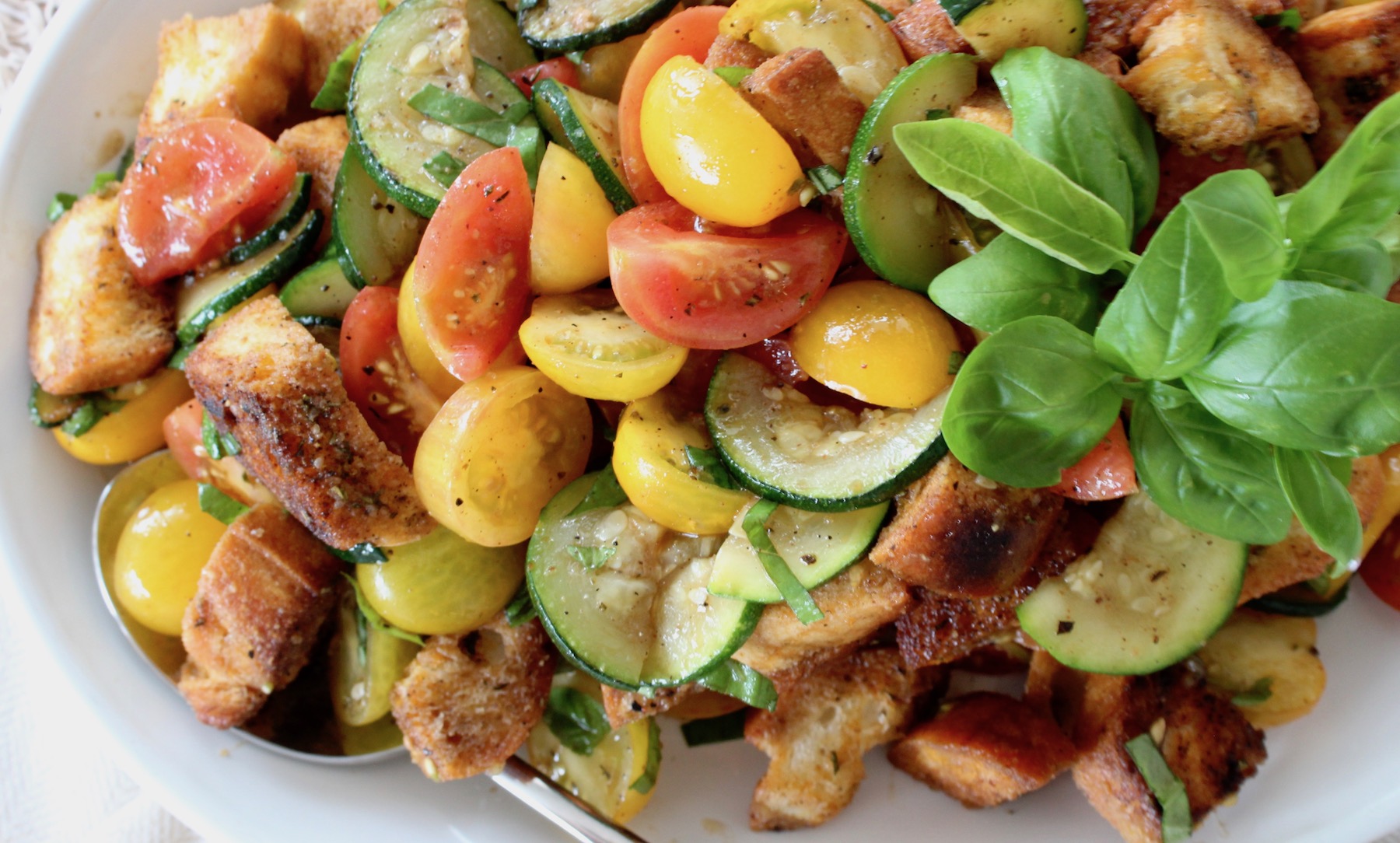 Author:
My Delicious Blog
2 Tb. unsalted butter, melted
3 Tb. extra virgin olive oil
1 Tb. fresh rosemary, minced finely
½ tsp. garlic powder
½ tsp. paprika
1 tsp. kosher salt
¼ tsp. freshly ground black pepper
3 c. bread cubes/chunks (about 1" or larger) from crusty bread
1 large zucchini, cut lengthwise and sliced thinly
1+ pints small tomatoes, or 3-4 large, ripe tomatoes, stems removed, cut into large chunks
Large handful fresh basil, chopped or chiffonade
½ tsp. Dijon mustard
1 garlic clove, minced finely
3 Tb. Balsamic vinegar
½ tsp. kosher salt
¼ tsp. freshly ground black pepper
Pinch granulated sugar
½ c. extra virgin olive oil
Heat oven to 350 degrees.
In a large bowl, combine butter, olive oil, rosemary, garlic powder, paprika, salt and pepper and mix to combine; add bread chunks/cubes and mix to coat all pieces.
Transfer bread to a rimmed baking sheet (be sure to scrape out all seasonings from bowl); bake 7-8 minutes then remove from oven and cool thoroughly.
In a saute pan over medium heat, add a little olive oil and the zucchini; sprinkle with kosher salt and pepper and saute a few minutes, then remove from heat and allow to cool thoroughly.
Add Dressing ingredients to a lidded jar and shake to combine (or place ingredients in a small bowl and whisk together); set aside until ready to use.
About 30 minutes before serving, add zucchini, tomatoes and basil to a large mixing bowl then add bread and mix gently.
Pour about half the dressing into the bowl, stirring to combine. Taste and add a little more Dressing if needed (note: you may not need all the dressing - if so, just use it for another salad the next day).
Allow the salad to sit about 30 minutes so flavors combine - the longer it sits, the better the flavor, especially in those bread chunks!
Recipe by
My Delicious Blog
at https://www.mydeliciousblog.com/panzanella-with-zucchini-basil/