Grilled Florida Lobster with Cajun Butter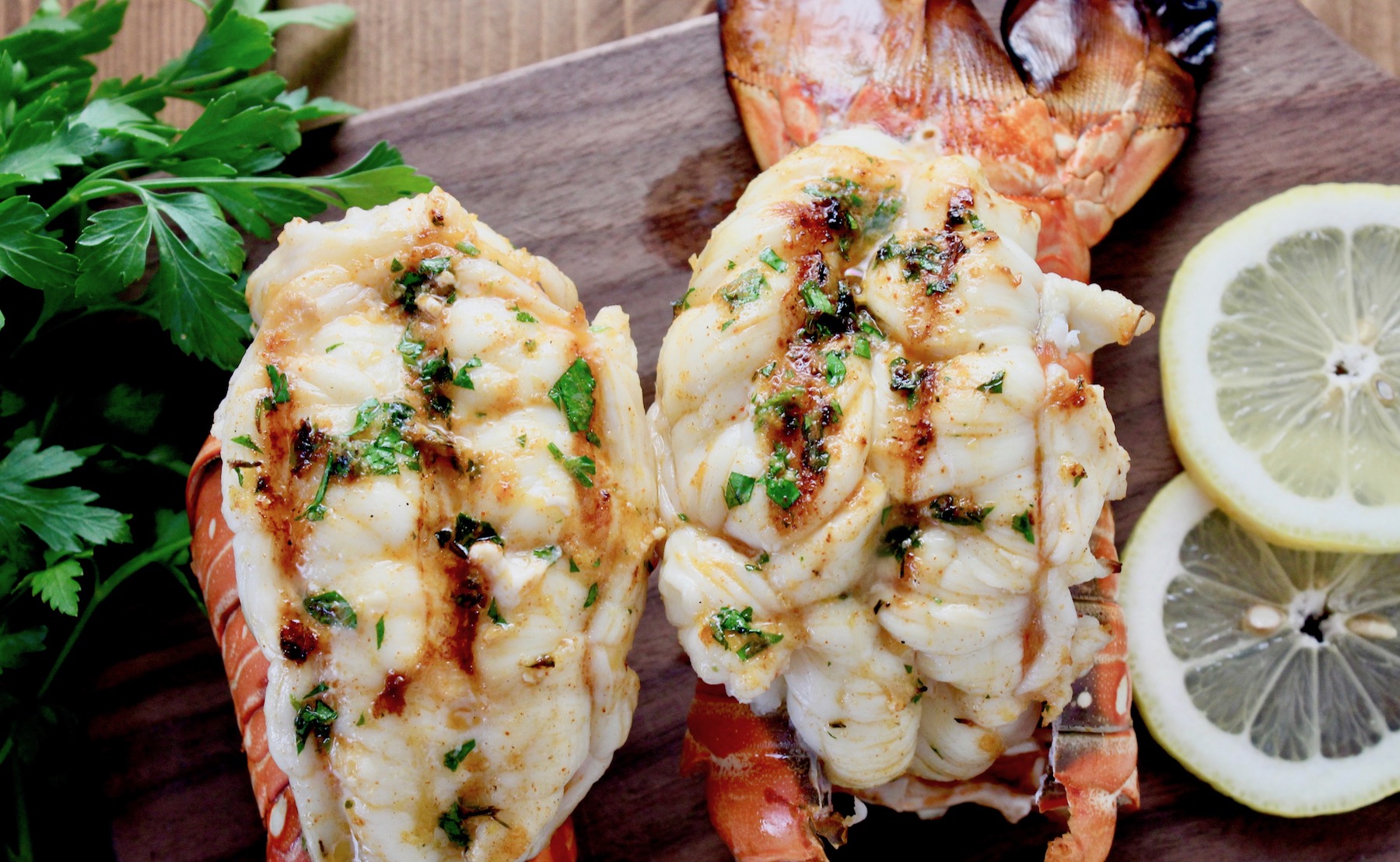 Author:
My Delicious Blog
6 Tb. unsalted butter, softened
1½ tsp. Cajun seasoning (or a mixture of paprika, garlic powder [or fresh minced garlic], cumin, cayenne pepper, salt, black pepper)
1 tsp. lemon zest
1 tsp. minced parsley (alt. chives, basil, cilantro)
Pinch kosher salt
4 Florida spiny lobster tails (approx. 6-7 oz.)
Fresh lemon wedges
Minced parsley, for garnish
Just before you're ready to cook the lobster, combine butter, seasoning, parsley and lemon zest in a small bowl; set aside until ready to use.
Place lobster tails on a cutting board with domed shell upward.
Butterfly the tails: using a sharp chef's knife or kitchen shears, cut through the tail lengthwise (if using a knife, be sure not to press all the way through to the bottom shell or the cutting board). Spread the shell apart with your fingers and carefully pull out the meat from top to bottom, leaving the bottom portion attached to the tail. Prop the meat back onto the shell so it covers the incision.
Heat a clean grill to medium/high and season the grates with a little vegetable oil.
Place tails on the hot grill, shell side down, and spread a little of the butter over the meat.
Cover the grill, cook about 5 minutes then open the cover and you'll likely notice the shells have turned bright orange/red. Spread on a little more butter (be sure to reserve about 1 Tb. for the final step) then flip onto the meat side and cook another 3-5 minutes, just until the meat is opaque/white and slightly firm.
Remove from grill, spread on remaining butter, sprinkle lemon juice and parsley, then serve in the shell.
Recipe by
My Delicious Blog
at https://www.mydeliciousblog.com/grilled-florida-lobster-with-cajun-butter/