Grilled Pineapple with Cinnamon-Rum-Orange Yogurt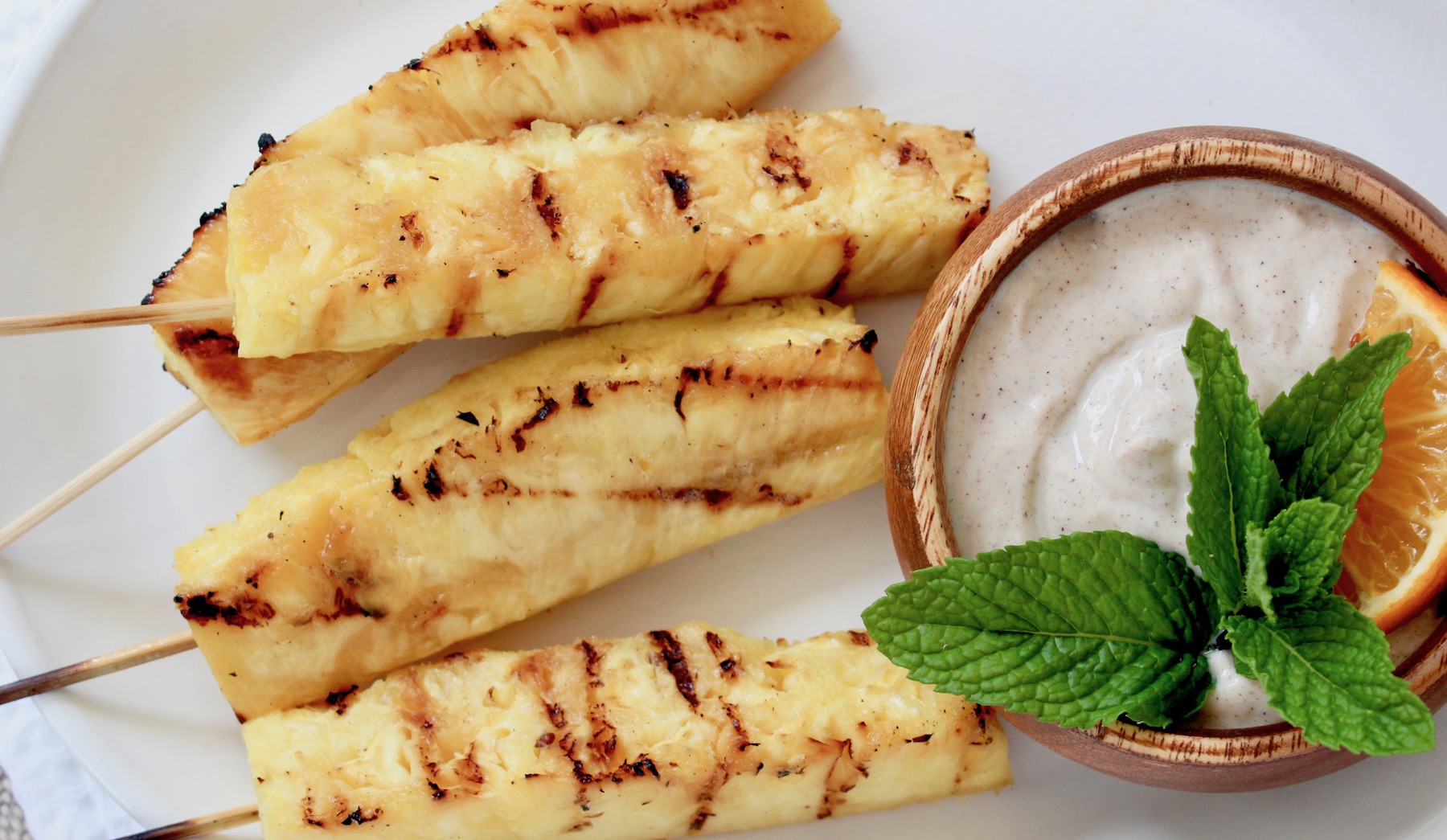 Author:
My Delicious Blog
1 c. low-fat Greek yogurt
1 Tb. light brown sugar
1 Tb. honey
½ tsp. ground cinnamon
¼ tsp. vanilla extract
1-2 tsp. golden rum*
2 tsp. fresh orange juice
½ tsp. orange zest
1 large ripe pineapple
Fresh mint sprigs (for garnish)
Combine yogurt, brown sugar, honey, cinnamon, vanilla, rum, orange juice and zest and whisk until smooth; refrigerate until ready to use.
Soak bamboo skewers in a shallow dish filled with water for about 15 minutes.
Twist off green top from pineapple; set aside for planting at a later date.
Using a sharp chef's knife, slice off top and bottom of pineapple.
Stand the pineapple upright, then run the knife down through the spiky skin to remove it in strips. Use a small pairing knife to remove any remaining core pieces or 'eyes'.
Cut pineapple in half, lengthwise. Cut each half into spears and slice off any excess/tough cores.
Skewer each piece lengthwise then brush with a little vegetable oil.
Heat a clean grill to medium/high, then place pineapple skewers on grill. Cook 5-6 minutes each side, until you see nice grill marks and they have some golden brown color.
Remove from grill and serve (either as spears or cut into pieces) alongside the yogurt sauce.
* If you don't want to use rum (which lends a lovely subtle undertone), be sure to add more fresh orange juice because the thick yogurt needs to be thinned to work well as a sauce).
Recipe by
My Delicious Blog
at https://www.mydeliciousblog.com/grilled-pineapple-with-cinnamon-rum-orange-yogurt/