Cheesy Polenta with Roasted Veggies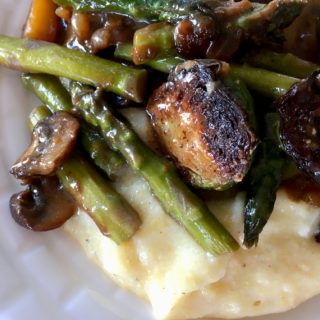 Author:
My Delicious Blog
4 c. chicken (or vegetable) stock
1 c. yellow cornmeal
1 tsp. kosher salt
1 tsp. freshly ground black pepper
1 c. Parmesan cheese, finely grated
¼ c. sour cream (full fat or low fat)
2 Tb. unsalted butter
Large handful fresh mushrooms, sliced
~10 fresh asparagus, stems removed, 1" pieces
~10 Brussels sprouts, stems removed, cut in half
2 Tb. bacon fat (if you don't have it, just use olive or other preferred oil)
2 Tb. olive oil
1 Tb. unsalted butter
¼ tsp. kosher salt
Freshly ground black pepper
Fresh parsley, minced (optional - for garnish)
Heat a heavy bottom saucepan to high.
Pour the stock into the pan and bring it to boil.
Reduce heat to medium and SLOWLY whisk in the cornmeal. Whisk for 1 minute to ensure no lumps, then switch out the whisk for a wood spoon.
Add salt and pepper and simmer over medium-low heat about 10 minutes (until thick and the cornmeal has absorbed all the liquid), stirring regularly.
Turn off heat, stir in cheese, sour cream and butter until well-combined.
Cover and set aside until ready to serve (but don't let it sit for more than a few minutes, because it will start to firm up).
In a large, non-stick saute pan over medium heat, add mushrooms in an even layer and sprinkle with a pinch of kosher salt. As they cook, they'll release moisture and roast. When nicely brown (about 2 minutes), transfer to a plate.
To the pan, add 1 Tb. olive oil and asparagus. Sprinkle with a pinch of salt, saute 2-3 minutes until fork tender then transfer to the mushroom plate.
To the pan, add 2 Tb. bacon fat and 1 Tb. olive oil over medium heat. Add Brussels sprouts (cut side down), sprinkle with ¼ tsp. kosher salt and a few grinds black pepper. Cook until the first side is mahogany in color - nice and brown, then flip. Cook until fork-tender (this will take a few minutes).
Add asparagus and mushrooms back into the warm pan, add 1 Tb. butter to bring all the pieces together (or add some warm gravy, if you have it), then spoon the mixture onto hefty dollops of polenta in each bowl. Sprinkle with minced parsley (optional).
1) Generous amounts of fat and salt go a long way to reduce bitterness in certain veggies, like Brussels sprouts.
2) You may have leftover polenta, so just pour it into a medium, square container and refrigerate -- it's yummy reheated (maybe add a little milk or stock to soften it a bit for a soft serving OR cut the firm polenta into squares and pan sear it on both sides in butter and/or olive oil for a delicious treat).
Recipe by
My Delicious Blog
at https://www.mydeliciousblog.com/cheesy-polenta-with-roasted-veggies/