Grilled Swordfish with Roasted Tomatillo Salsa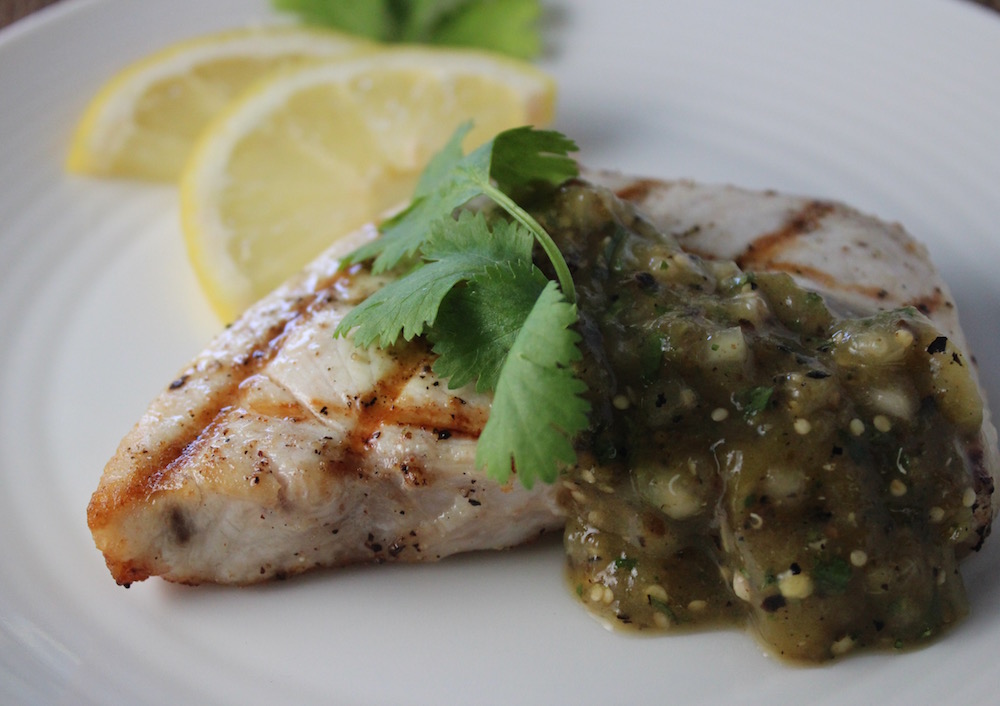 Author:
My Delicious Blog
2 Swordfish steaks (about 1" thick)
Pinch of kosher salt
Pinch of freshly ground black pepper
1 tsp. olive oil
3-4 tomatillos, husked and rinsed
1-2 serrano chilis (or 1 jalapeno) stemmed
2 large cloves garlic, peeled
6 sprigs fresh cilantro, roughly chopped
1 small onion, finely chopped then rinsed under cold water & drained
½ tsp. kosher salt
¼ c. water
Make salsa by roasting tomatillos, garlic & peppers on a baking sheet under a High broiler.
When first side is charred (about 5 minutes), turn each piece and return to broiler another 5 minutes.
When all pieces are charred and soft, remove pan and allow to cool.
Transfer peppers, tomatillos and garlic to a blender and roughly chop.
Add ¼ c. water and cilantro; blend to a course puree.
Transfer mixture to a serving bowl. Combine with chopped onion and salt.
Grill fish on medium/high - about 4 minutes each side; allow to rest a few minutes before topping with salsa.
Recipe by
My Delicious Blog
at https://www.mydeliciousblog.com/grilled-swordfish-with-roasted-tomatillo-salsa/