Grilled Shrimp & Basil Watermelon Salad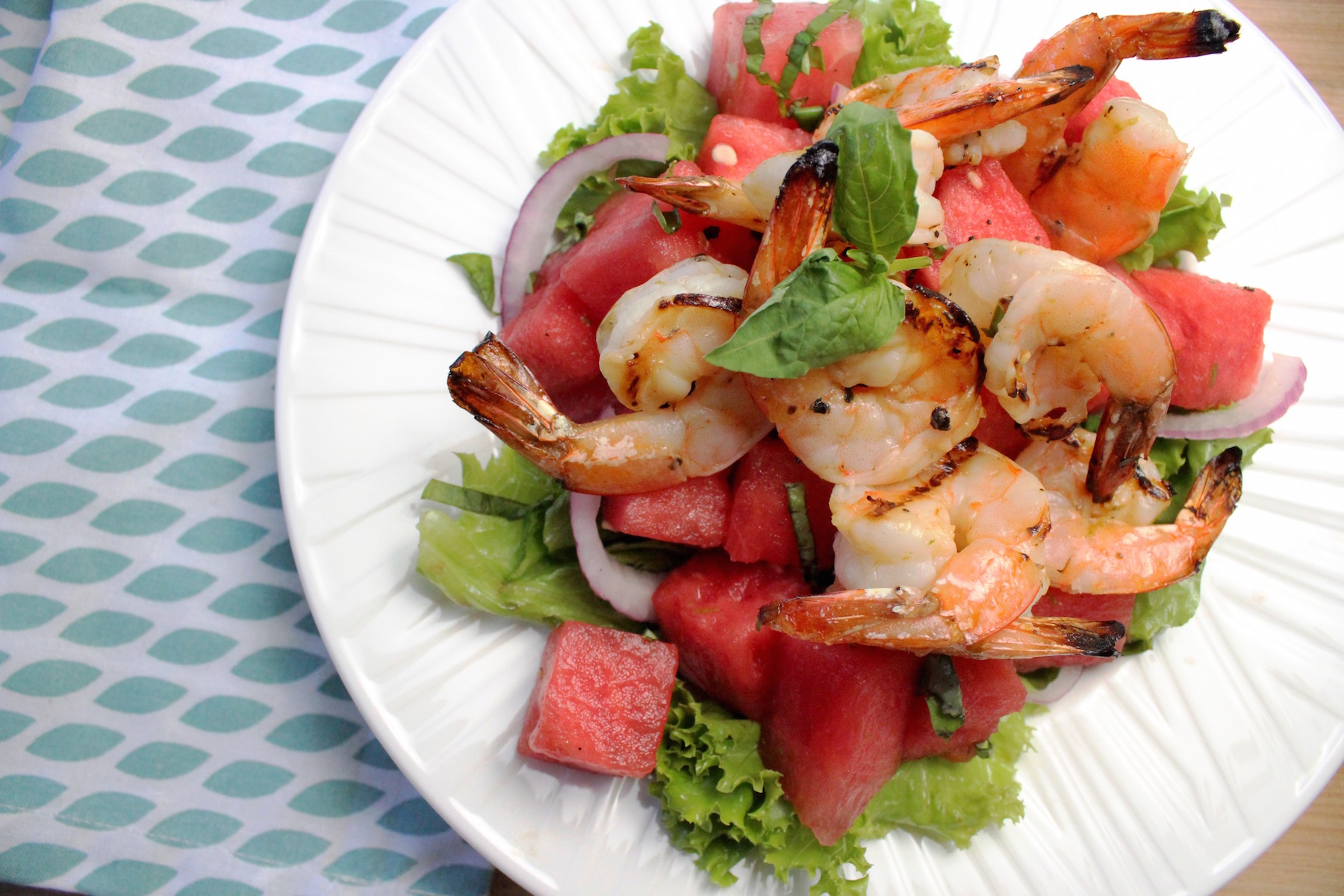 Author:
My Delicious Blog
1 lb. large shrimp, deveined, shells removed (leave tail shells for a prettier look)
6 c. chopped lettuce (green leaf, red leaf, spinach - whatever you have on hand)
½ red onion, thinly sliced
½ c. feta cheese, crumbled (optional)
¼ c. fresh lemon juice
¼ c. fresh lime juice
1 Tb. honey
1 tsp. kosher salt
½ tsp. freshly ground black pepper
½ c. olive oil
4 c. seedless watermelon, cubed
8-10 fresh basil leaves, thinly sliced (chiffonade)
1 lime, zested
Juice of 1 lime
Dash of kosher salt
Dash of freshly ground black pepper
Soak 6-8 bamboo skewers in cold water ~30 minutes.
For the dressing: in a small bowl, whisk citrus juices, honey, salt & pepper. Slowly whisk in oil until it gets a bit thicker (it will be a light dressing).
Place shrimp in a shallow bowl and add ¼ c. of the Citrus Dressing. Refrigerate 15 minutes.
While shrimp marinates, make the Watermelon Salad: in a large bowl, combine melon, lime zest & juice, salt and pepper. Cover and refrigerate until shrimp are cooked/ready to serve. NOTE: If you do not plan to serve the salad immediately, hold off cutting the basil until just before serving so the edges don't turn black.
Heat grill to medium/high.
Skewer shrimp (about 6 on each) and place on grill.
Cook about 2 minutes each side (they will be pink/coral when ready).
Toss the greens and onion with the remaining Dressing; add in basil, Watermelon chunks, shrimp, and Feta (if using).
Recipe by
My Delicious Blog
at https://www.mydeliciousblog.com/grilled-shrimp-basil-lime-watermelon-salad/