Zoodles with Tomato, Corn & Basil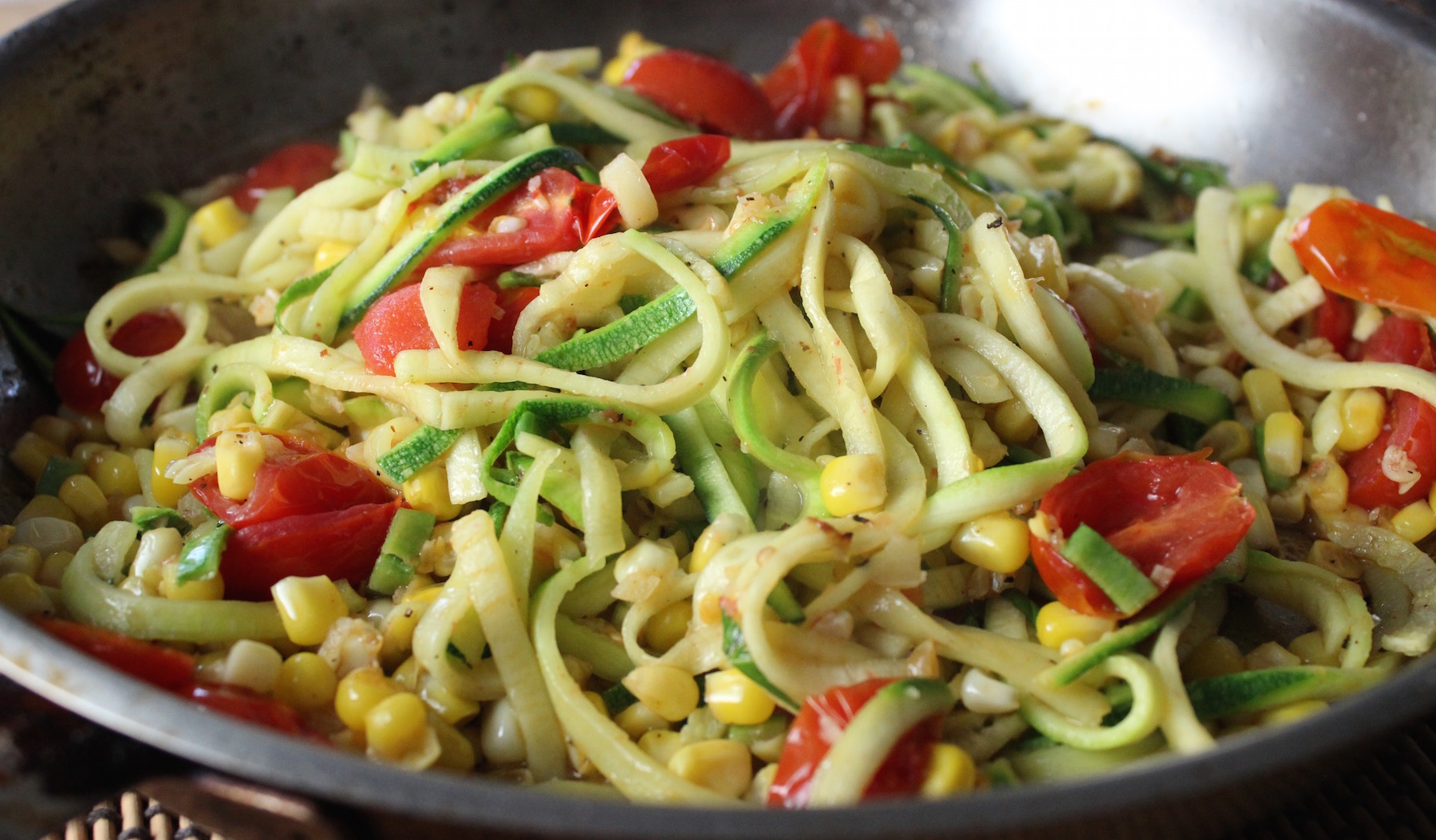 Author:
My Delicious Blog
2 medium zucchini, spiral sliced
1 ear of fresh corn, kernels removed
4 Tb. olive oil
¼ tsp. red pepper flakes
2 large cloves garlic, thinly sliced
½ pint grape tomatoes, halved
½ tsp. kosher salt
¼ tsp. freshly ground black pepper
1 tsp. lemon zest (optional)
8-10 fresh basil leaves, chiffonaded (add at end)
Follow directions for spiraling zucchini, depending on the equipment you have. Set aside.
Fill a small saucepan with water and add corn on the cob. Simmer on medium/low about 6-8 minutes. Remove from heat, drain water, add cold water and allow to cool for a few minutes.
When corn has cooled, remove kernels (simply stand the cob up straight and scrape down each row with a chef's knife). Set aside.
In a large saute pan add olive oil, red pepper flakes and garlic. Cook about 2 minutes over medium heat.
Add tomatoes. Cook on medium/low until tomatoes blister a bit (this takes a few minutes).
Add corn kernels and sprinkle with salt and pepper.
Add zoodles and mix with kitchen tongs. Allow to simmer a few minutes so flavors combine and zucchini warms up.
Add lemon zest (optional), basil leaves and serve.
When "spiraling" the zucchini, the zoodles become very long, so it helps to stop spiraling at the halfway point and simply cut across the strands with some kitchen shears. Otherwise, your noodles will be more challenging to control in your pan :)
Recipe by
My Delicious Blog
at https://www.mydeliciousblog.com/zoodles-with-tomato-corn-basil/