Sugar-Lemon "Cured" Sockeye Salmon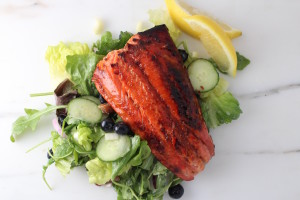 Author:
My Delicious Blog
2 Sockeye Salmon fillets (about 1 lb. total)
¼ c. brown sugar
1 Tb. lemon zest (about one lemon)
⅛ tsp. crushed red pepper
½ tsp. kosher salt
1 tps. olive oil or coconut oil
3 c. fresh baby greens (or any lettuce you have on hand)
½ c. fresh blueberries
½ c. celery, chopped
½ c. English cucumber, sliced
2 Tb. red onion, sliced thinly
¼ c. Medjool dates, chopped (or dried cranberries or golden raisins)
¼ c. fresh orange juice
1 Tb. fresh lemon juice
1 small clove garlic, peeled & grated
1 tsp. honey
2 Tb. olive oil
¼ tsp. kosher salt
⅛ tsp. freshly ground black pepper
1 Tb. low-fat plain yogurt
In a deep dish, place fillets skin-side down.
In a small mixing bowl, combine sugar, lemon zest, crushed red pepper and salt.
Cover fillets with sugar mixture. Allow to sit at room temperature 10 minutes, then refrigerate 1 hour.
While waiting, prepare the Garlicky Orange Dressing by whisking together all ingredients, then refrigerating until ready to use.
Remove fish from refrigerator and pat each fillet with a paper towel to remove excess moisture.
Heat cast iron skillet to medium/high on grill. Add oil then drop in fish, flesh side down. After a couple of minutes, flip and cook on skin side for another 2-3 minutes. (You could also start skin-side down and simply leave it there until cooked through).
Remove from pan and allow to sit for a couple of minutes before serving.
Remove skin and serve over dressed salad.
Recipe by
My Delicious Blog
at https://www.mydeliciousblog.com/sugar-lemon-cured-sockeye-salmon/