Shrimp & Scallop Zoodle Saute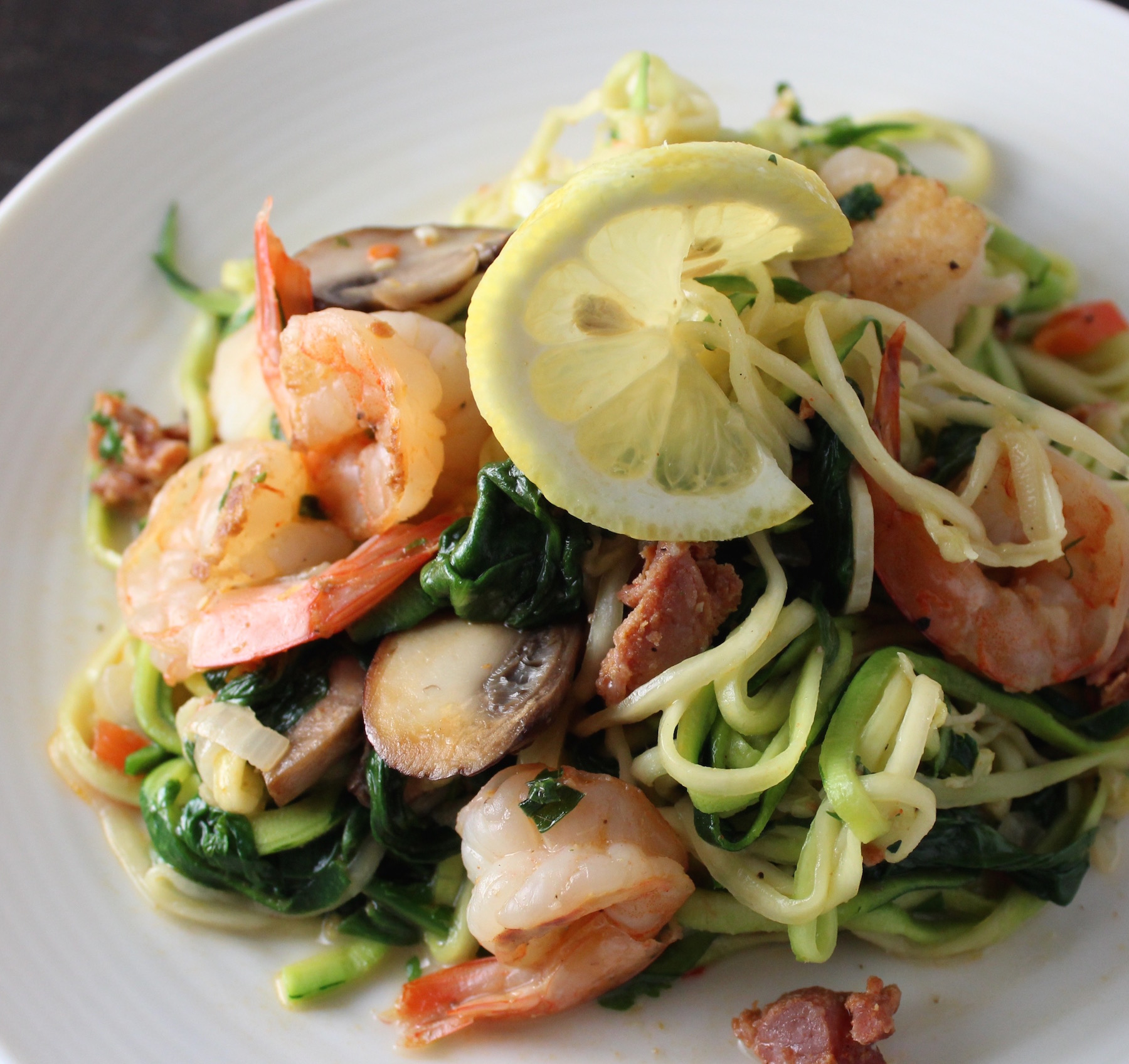 Author:
My Delicious Blog
2 small zucchini, spiral sliced
1 Tb. olive oil
1 Tb. unsalted butter
2 cloves garlic, sliced thinly
1 c. chorizo, small dice
1 small yellow onion, chopped
¼ c. white wine
½ c. chicken stock
½ tsp. kosher salt
¼ tsp. freshly ground black pepper
Large handful of baby spinach
1 c. portobello mushrooms, sliced
8 large shrimp
6 large sea scallops
1 Tb. lemon zest
Follow instructions for using your brand of spiral slicer to make the zucchini noodles. Set aside.
In a large non-stick skillet, heat olive oil and butter over medium/high heat.
Add garlic, onions and chourico and saute for about 2 minutes.
Add wine and stock. Slowly simmer to reduce the amount of liquid by half (this takes a few minutes).
Add zucchini noodles and spinach and mix to combine flavors.
In a small pan over medium heat, toss in sliced mushrooms (no oil necessary) and allow them to sit for a couple of minutes. Fluff them a bit so they brown on both sides (this results in a yummy, roasted flavor). Remove once they're brown and add to zucchini mixture.
In the same pan, add a dab of butter and heat to medium/high. Sprinkle the shrimp and scallops with a pinch of salt & pepper, then add to the hot pan. Cook shrimp 1-2 minutes on each side (until they're pink). Cook scallops until seared (at least 1 minute), then flip for another minute or so. Remove from pan and combine with zucchini mixture.
Top everything with lemon zest, season to taste, then serve.
Recipe by
My Delicious Blog
at https://www.mydeliciousblog.com/shrimp-scallop-zoodle-saute/