Citrus Infused Whole Roasted Snapper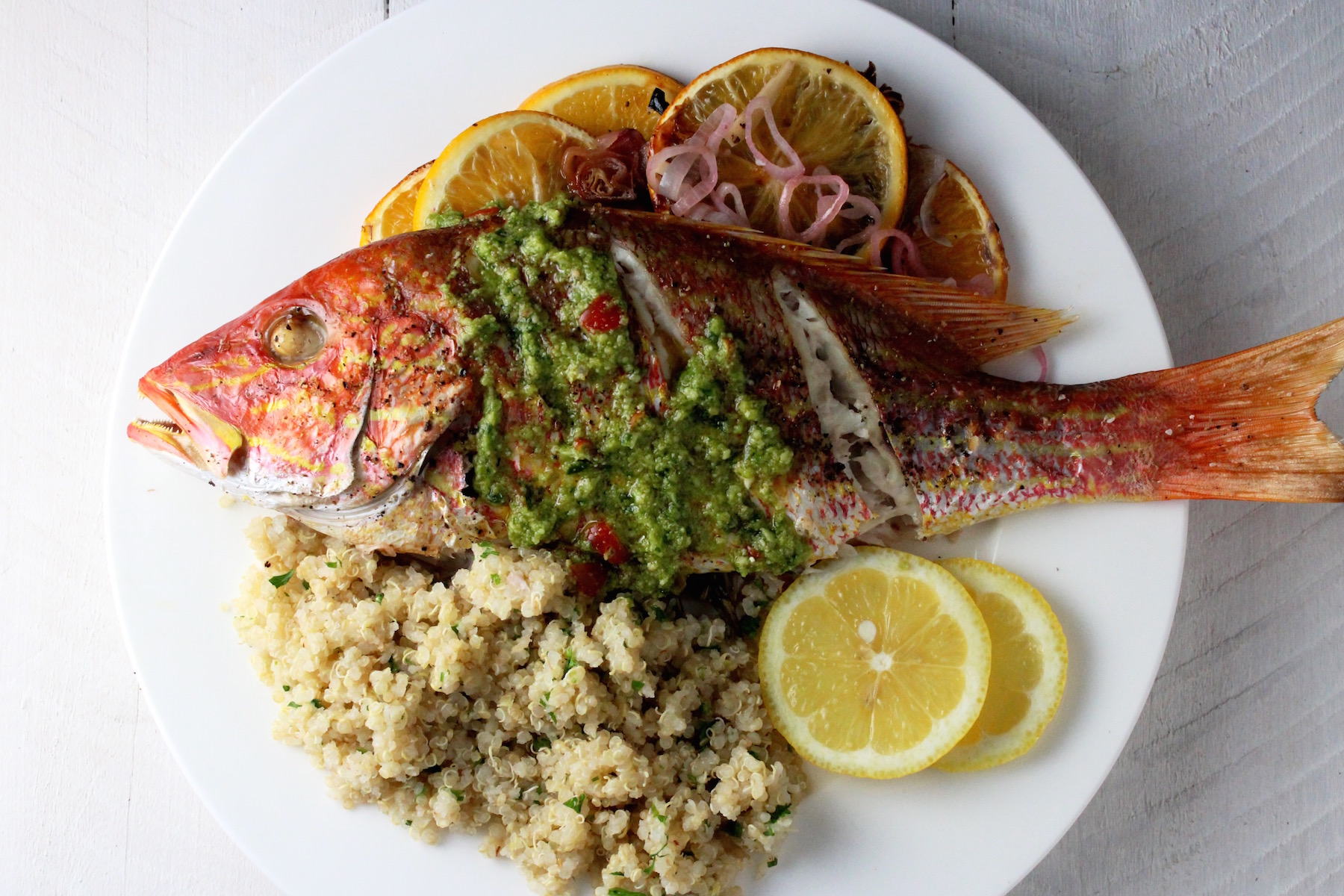 Author:
My Delicious Blog
1 2-lb. whole Snapper, rinsed & patted dry (*)
1 orange, sliced
1 lemon, sliced
1 garlic clove, sliced
1 shallot, sliced
few sprigs fresh rosemary
olive oil (for drizzling)
pinch kosher salt
pinch freshly ground black pepper
1 garlic clove, chopped
heavy pinch kosher salt
2 c. packed fresh basil leaves
1 small tomato, seeded and chopped
¼ c. olive oil
1 tsp. lemon zest
1 tsp. lemon juice
¼ c. grated parmesan
1 c. dry (white) quinoa
2 c. water
handful fresh herbs (parsley, mint, thyme - whatever you have on hand)
1 Tb. lemon zest
1 Tb. lemon juice
2 Tb. unsalted butter (or olive oil)
1 tsp. kosher salt
¼ tsp. freshly ground black pepper
Heat oven to 425 degrees.
Line a rimmed baking sheet with parchment paper.
Cut 2-3 diagonal slits in each side of the fish (down to the bone).
Rub each side of the fish with olive oil; sprinkle each side with salt & pepper, plus the inside cavity.
Stuff the cavity with lemons, oranges, garlic, shallots, rosemary.
Layer several slices of lemons and oranges on the baking sheet, along with any left over shallot, garlic and rosemary; place fish on top.
Place baking sheet in the oven. Roast for about 40 minutes. To test doneness, try to pull out a fin - if it comes out easily, it's done.
When finished, remove from oven and allow to cool slightly. Carefully remove the fish and serve whole on a platter.
Combine 1 c. quinoa with 2 c. water in a small saucepan. Once it boils, cover and turn off the heat. Allow it to sit for about 15 minutes then fluff with a fork.
Mix in herbs, butter, lemon juice/zest, salt & pepper. Set aside until ready to serve.
In the cavity of the mortar, add the garlic clove along with a generous pinch of kosher salt; blend with the pestle until you get a smooth paste.
Add basil and continue to mash/pound until all the basil is well-combined and very smooth.
Add tomato and continue to mash until smooth.
Add olive oil, lemon zest & parmesan; continue to mash until well combined (if it's too thick, add a bit more olive oil).
Refrigerate until ready to use.
If you don't have a mortar & pestle, simply add all pistou ingredients into a food processor and blend until smooth!
Recipe by
My Delicious Blog
at https://www.mydeliciousblog.com/citrus-infused-whole-roasted-snapper/