Ginger & Lemon Icebox Cake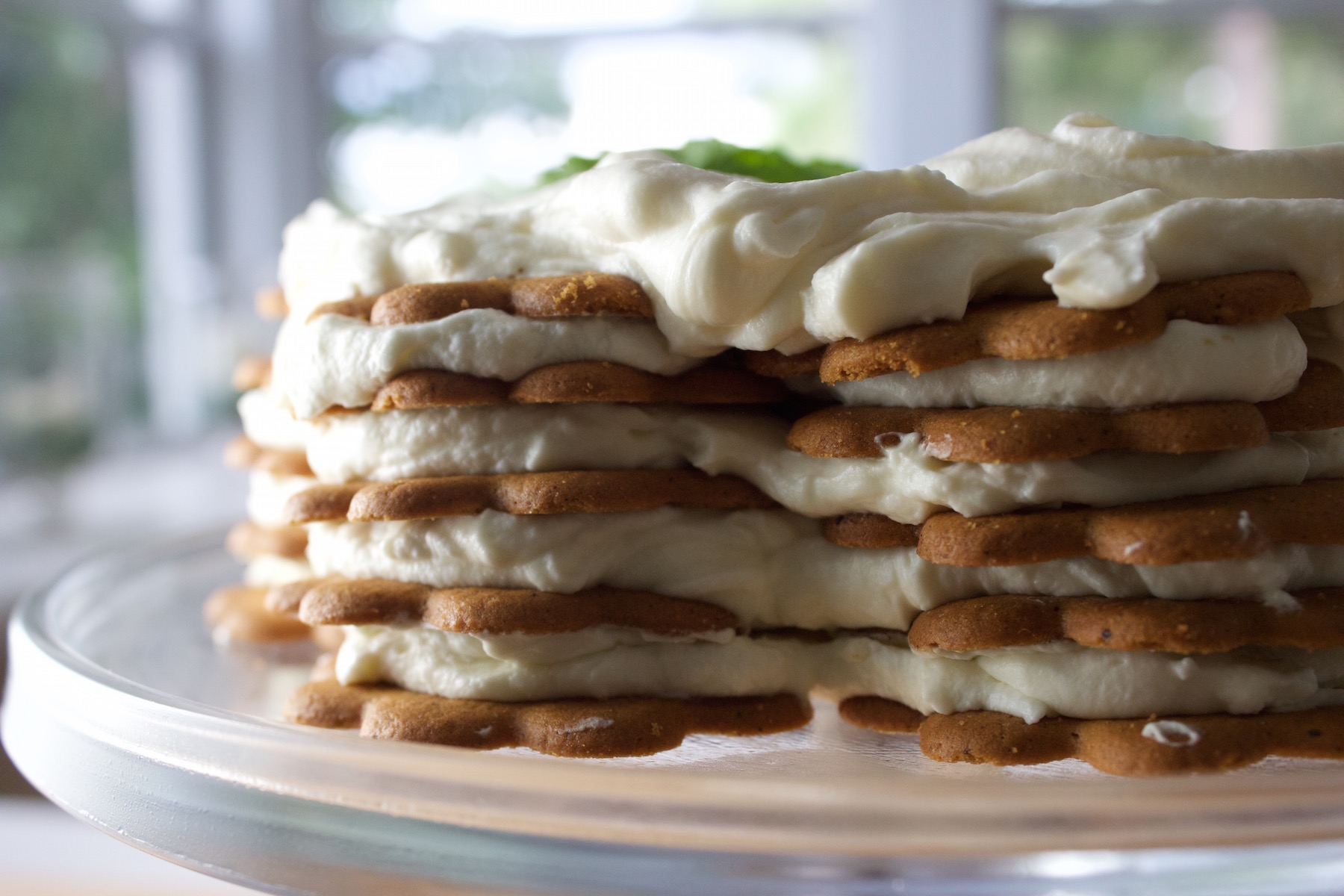 Author:
My Delicious Blog
2 c. (16 oz.) whipping cream, chilled
1 c. (8 oz.) lemon curd (I used Dickinson's)
1-2 pkgs (approx. 40-50) crispy, thin ginger cookies (I used Annas Swedish Thins)
Fresh mint (or lemon) for garnish
Whip the cream until soft peaks form.
In a medium mixing bowl, add the lemon curd and stir until it softens (this will make it easier to fold into the cream).
Add about ⅓ of the cream to the bowl and gently fold it into the lemon curd using a rubber spatula. When that looks combined, add another ⅓ of the cream and fold again. Keep doing this until all the cream has been incorporated into the lemon curd and you end up with a light yellow, fluffy filling.
Using a pretty, flat dish, place a layer of cookies into an 8" round (be sure to place a cookie in the center). If you want to have as much cookie layer as possible, you can even break some cookies into small pieces to fill in gaps at each layer of cream.
On top of the first cookie layer, add a dollop of the cream and gently spread across the cookies.
Keep layering cookies with cream. You should get about 5 layers of cookies and 5 layers of cream. Finish with cream and garnish with fresh mint (or lemon).
Place in refrigerator for at least 4 hours, but ideally, overnight.
You can add more layers if you like - just make your cream layers thinner. I found 5 layers works nicely, and you still have leftover cookies to snack on later!
Recipe by
My Delicious Blog
at https://www.mydeliciousblog.com/lemon-ginger-icebox-cake/